As an Amazon Associate, I may earn from qualifying purchases at no extra cost to you. These are the same products I'd recommend to friends and family.
Shop vacs are vacuum cleaners that are specially designed to clean up heavier dirt and debris. With a bigger hose diameter and special filters, they are on par with their household counterparts.
Do you have a huge amount of dust piled up in your garage or porch? Are you working in a commercial space with the vacuum cleaners creating a ruckus?
Whatever your use-case is, I agree with you on one thing:
Noisy vacuum cleaners are annoying.
Therefore, I spent 21+ hours scouring the web to do all the heavy lifting for you. Also, I spent the last couple of weekends talking to my neighbor who runs a small vacuum sales and repair shop in Houston, TX. (Yeah, I don't have much life really!) ?
While the information I acquired during my thorough research process might not make me fun at parties…
It will certainly help you pick the absolute best quiet shop vacuum.
Ready? Let's dive right in!
Product Name
Festool 583492 CT 26 E HEPA
Affordable Pick
Makita VC4210L
Editor's Pick
FEIN Turbo II






Who's it for?
Premium choice for woordworking and jobsite dust collection
The affordable workshop vacuum
The vacuum with large capactiy
Extremely easy to move around
Product Name
Festool 583492 CT 26 E HEPA

Who's it for?
Premium choice for woordworking and jobsite dust collection
Affordable Pick

Who's it for?
The affordable workshop vacuum
Editor's Pick


Who's it for?
The vacuum with large capactiy

Who's it for?
Extremely easy to move around

Note: If you're a true garage warrior or a passionate DIY-er, you might also love our research on helping you buy the quietest air compressor. My husband Daniel—who is big into the DIY garage scene has also included some tips to help you quieten your existing air compressor.
---
Ultra Quiet Shop Vac Reviews
1. Festool 583492 CT 26 E HEPA Dust Extractor
Update: 1 March 2021
This product is currently unavailable, so we'd recommend you check out Fein Turbo for now. It's the closest alternative available on the market right now.
If you're looking for a premium quiet shop vac, especially for woodworking or job site dust collection, the Festool 583492 could be a great choice.
This vacuum cleaner is a wet-dry one which means that it cleans both wet and dry debris.
It includes a standard-equipment HEPA filter, that removes 99.99% of dust and particulate down to 0.3 microns. This wet-dry shop-vac also has a dust extractor that helps to create safer, cleaner, and more efficient work sites.
It has a collapsible bag design that eliminates dust cake between cycles, delivering full and sustained suction force and longer bag life. Moreover, it produces only 62 dB of noise in its lowest setting.
Being very lightweight and compact, you will find it extremely easy to handle. The wheels facilitate easy movement around your home or yard.
It has an 11.5-foot long anti-static hose that is flexible and kink-resistant and will minimize shock hazards as well as reduce static cling—which means you won't have to buy an extension.
You will find a hook for the 12 gauge power cord on the back of this vac. If not kept properly, this cord may be a tripping hazard. It comes with a 10 amp motor that delivers an impressive airflow of 137 cubic feet per minute, and a water lift capability of 96″.
Its anti-static design helps to eliminate dust particle buildup on the hose exterior, while also preventing clogging and errant shocks.
It has its downsides too.
One of my neighbors who had this product complained about the hose tending to curl up, causing difficulty in moving it around. Another thing she mentioned that's worth noting is that it doesn't come with an exhaust port.
Although the price leans towards higher-end, it's a no-brainer choice if you have the budget.
Pros:
HEPA filters
62dB noise (lowest-setting)
Anti-static hose
Automatic water level sensor
Self-cleaning filter bag
Cons:
---
2. Makita VC4710 12-Gallon Wet/Dry Vacuum (Silent Wet Vacuum Cleaner)
Update: March 2021
This product is currently unavailable, so we'd recommend you go with the Makita VC4210L for now. It's the closest alternative with all the goodness you'd expect from Makita.
If you are looking for an affordable yet high-quality ultra-quiet shop vac, the Makita VC4710 might be worth a look. It's an ideal choice for construction sites, and we feel comfortable enough to dub it "the ideal workshop vacuum."
This is one of the quietest shop vacs in the market—with noise levels of about 59 dB. The Motor chamber is made up of sound-absorbing materials so the sound level is so low.
It has a suction power of 135 CFM—which almost matches that of the Festool 583492. With a powerful motor of 12 AMP, this wet-dry shop vacuum from Makita is sure to live up to your expectations.
Just like Festool's shop vac, even this product has the HEPA filter that is known to remove 99.99% of dust and down to 0.3 microns. You don't have to worry about emptying the bag frequently because this product comes with a 12-gallon tank capacity.
It has an Automatic Filter Cleaning System with a blow-back feature that is timed at set intervals to maintain filter performance for longer filter life. A 16 feet long hose enables you to cleans corners without moving it too much. However, as a note of caution, I'd recommend you to be careful with the hose as it's length makes it extremely easy for people to trip over it.
Makita's offering comes with its fair share of downsides, though.
Some users have complained about the HEPA filters being too expensive, and thus increasing the maintenance cost of the machine. Moreover, the vacuum cleaner does not have an elevated handle—making it a little challenging to move around.
Overall, if you are looking for a noiseless and affordable option, Makita VC4710 won't disappoint you.
Pros:
Super compact
Great performance
Compact design
59dB noise (lowest setting)
Variable speed control dial
Cons:
No elevated handle
Expensive HEPA filters
Easy to tip over
---
3. FEIN Turbo II Vacuum Cleaner
If you are looking for a quiet and powerful shop vac, consider the FEIN Turbo II Vacuum Cleaner. We wouldn't be reluctant to crown it as a great pick for workshops, woodworking, and "power tool vacuum" in the low-noise vacuum category.
The noise rating is 66 dB which is perfectly acceptable for a product of this category.
FEIN Turbo II Vacuum Cleaner is a 1100W quiet shop-vac. This wet and dry vacuum cleaner has powerful suction with 98.4″ of static water lift which is pretty powerful. You can also remove dust from power tools.
It is designed for hard labor around your garage. With a 9-gallon tub, you can use this orange-wonder on DIY projects or small construction sites.
The vacuum has a textile permanent filter, a filter cartridge, and a paper-dust bag. The cartridge and paper-dust bag are for dry-vacuuming only.
You also get two different cord sizes to include which are 13′ ft hose and 18 ft hose which you can buy as per your needs.
Some consumers have complained about the auto-start function to be limited to only 6A tools. Another downside is the lack of variable suction. It's hardly a deal-breaker, though.
It comes with a one-year warranty.
Pros:
Sturdy build quality
66dB noise level
Easy to use
Cons:
No variable suction
Auto-start is limited to 6A tools
---
4. CraftsMan CMXEVBE17595 Wet/Dry Vacuum
If you are looking for a shop vac with a large capacity that isn't annoyingly loud, the CraftsMan CMXEVBE17595 could be a great option.
While the manufacturer hasn't disclosed the noise it produces, consumers who have used it suggested that the noise levels are around 73 dB. It's certainly not the quietest—but it's still decent enough to help it secure a place on this list.
This is a 16 gallon wet and dry shop vacuum with 6 Peak Horsepower. You will also find a 20-foot power cord which makes it ideal to cover all the areas due to its length.
You will find this product very easy to use and handle, thanks to the 20ft cord length.
Using the high-speed exhaust port, you can use it as a blower as well. It is ideal for workplaces and workshops that have a lot of dirt and debris that need to be cleaned.
It is super lightweight and easy to move around with a 7ft hose. It also comes with a 1-year warranty.
Unlike the Makita Wet/Dry Vacuum, this product does not come with a HEPA filter. Although, it does come with a cartridge filter.
Another downside is that it is a bit heavier—which can restrict you from lifting it up and moving easily.
Pros:
Strong suction
Large capacity
Long power cord
Multiple accessories
A big tube which can suck almost everything
Cons:
Heavyweight
No HEPA filter
---
5. Ridgid WD1450 14-Gallon 6-Horsepower Wet/Dry Vacuum
If you are looking for a shop vac that is also super easy to use, you could consider the Ridgid WD1450.
You do not have to worry about handly a bulky or a complicated vacuum cleaner. It is super simple for usage and maintenance. The quick-release accessory storage bag keeps accessories close at hand but is quickly removable making it easier for you to empty debris from the drum.
Consumers appreciated how well this shop vacuum moved around. The 360-degree wheels allow you to walk it around by the hose, though the hose did come unattached once or twice.
This shop vac has a 6 peak horsepower, 11 AMP motor that produces 150 CFM of airflow. It has a fine-dust filter for picking up dry materials and small amounts of liquid.
Along with powerful suction to handle tough job-site clean-up, it also has a 20 ft. cord. You do not need to worry about emptying the dust bag again and again as it comes with a 14-gallon tank capacity.
It has a patented scroll noise reduction feature to control the airflow for quieter operation. There is also a blower feature for cleaning dust and debris away.
It is a little noisy though—it runs between 85 dB and 87 dB of sound. At 85dB of noise—it certainly isn't the most silent shop vac on this list. But if you are willing to compromise a bit on the noise levels, its ease-of-use and efficiency still make it a solid pick.
Although it does convert to a blower, the motor is not detachable.
Pros:
Long shop vac cord
Blower feature
Simple usage
Fine dust filter
Cons:
A little noisy
Does not include muffler attachment
---
6. Ryobi 18-Volt ONE+ 6 Gal. Cordless Wet/Dry Vacuum (Quietest Wet/Dry Vaccum)
If you're looking for a cordless shop vac that's a bit on the quieter side, Ryobi's offering is worth a look.
This wet dry shop vac is budget-friendly, compact, and lightweight.
This cordless vac has 80 CFM which is pretty powerful. The 360-degree mobility helps the vacuum to stay balanced when it rolls over the cords and thresholds.
You get to see onboard accessory storage which conveniently holds your crevice tool, floor nozzle, and extension wands. Also, it holds the 7ft hose, which comes along, when it is not in use.
It has a 6-gallon storage capacity, which is a little less as compared to the Ridgid wet/dry vac, which has a capacity of 14 gallons.
Although, I'm a little concerned about the use of elastic cords. They're great for now and should last a couple of years at least. But sooner or later, they'll begin to wear out and no longer be useful. At least it's not an outdoor unit that will have them degrade faster in the sun.
Though it runs on battery, ironically, it doesn't come with a battery charger.
It does come with a 3-year warranty, so if you have any trouble with the usage, you can always go to the manufacturer.
Pros:
Extremely handy
Compact size
Cordless
360- degree mobility
Cons:
Battery operated
No battery charger included
Less storage
---
7. Vacmaster Beast 5 Gallon Shop Vac (Smallest Quiet Shop Vacuum)
If you are looking for a wall-mounted shop vac, the Vacmaster might be a good choice.
It comes with a blower function and a long 21 feet hose. It easily detaches from the wall brackets and thus is very space-efficient.
With 102 CFM and 82.6″ of water lift, the Vacmaster Beast 5-Gallon Wet/Dry Vacuum boasts impressive numbers for this low-capacity class.
Vacmaster included two different types of filters for this model. One, the fine dust cartridge filter, works well for dry vacuuming applications. On the liquid side of things, the Vacmaster Beast 5-Gallon Wet/Dry Vac includes a foam filter. Customers like the blower feature that the product comes with.
It's particularly helpful as a shop vac to store in the garage for vehicle clean up and comes with a limited 5-year warranty.
One downside is that it has a hard time storing all the accessories and keeping the hose under complete control. This is one that you might want to keep the box for storage so everything stays together.
Pros:
Easy to store
Two filters
Inexpensive
High performance
Cons:
Difficult to store accessories
---
8. DeWALT DXV10P 10 gallon Quiet Poly Wet Dry Vacuum
Update: March 2021
This product is currently unavailable, so we'd recommend you check out Ridgid WD1450 instead.
---
Buying Guide: What To Consider When Buying Shop Vacs?
1. Different Types of Shop Vacs:
Here are the different types of shop vacs available in the market.
Wet Dry
This type of vacuum sucks up both types of debris – wet and dry and also suck water and other liquids. They have long cords and attachments for dry and wet surfaces. Moreover, most of them have wheels for moving around.
Wall Mountable
These usually have brackets to hand the vacs on the wall. These are very space-efficient. They hold the vacuum off the ground. They also have brackets for storing additional attachments.
Cordless/Portable:
These are lightweight and portable- easy to carry around. Although, they do have a limited run time. They use an internal or external battery for power.
Canister/Tank material:
These are inexpensive, lightweight, and versatile. They are easy to clean and are dent-proof. These also take moisture very well. If banged into any machinery, it doesn't lead to the formation of scratches – these are very flexible.
As compared to the plastic ones, there are more expensive and also heavier. Unlike plastic canister material, stainless ones may result in scratches and dents. They may be moisture resistant but take too long to dry. But, these are easier to clean.
---
2. Power
Power is the most important thing that you need to look in a vac before you move to other features.
The best shop vacs have motors that are rated 6.5 Peak Horsepower. PHP is the term that is used to analyze how powerful the motor is.
AirPower rating or AP rating is another factor that you should look for. It tells how well the vacuum cleaner can pick up the heavy objects. It is helpful essentially in the shops wherein the vacs can pick up bolts, screws, and heavy debris.
So, make sure you buy the vac which fulfills the power requirements for your needs.
---
3. How Loud is a Shop Vac? (Noise Levels Decibels Comparison)
Shop vacs, due to their powerful nature, are louder than most regular vacs.
Vacuum levels range from 55db for super quiet to 65-70 dB for medium. Anything above 75 dB is loud. So, ideally, any vac below 70 decibels should work fine if you are looking for a silent shop vac.
To put it in perspective, a quiet room has 40 dB of noise. A TV or radio has a sound output of about 70 dB.
Unfortunately, most manufacturers are not keen on advertising noise levels, so it can be a bit of the hassle if you're in the market for a low-noise shop vacuum.
The good bit?
You're currently researching on Soundproof Expert, which means…
We've done all the heavy lifting for you!
Here are the noise levels (dB) of all the models covered on our list:
---
| | | | |
| --- | --- | --- | --- |
| Sr. No | Vacuum Product | Noise (Decibels) | Review |
| 1 | Festool 583492 | 62 dB | |
| 2 | Makita VC4710 | 59 dB | |
| 3 | FEIN Turbo II | 66 dB | |
| 4 | CraftsMan CMXEVBE17595 | 73 dB | |
| 5 | Ridgid WD1450 | ~80 dB | |
| 6 | Ryobi 18-Volt ONE+ | Not available | |
| 7 | Vacmaster Beast 5 | Not available | |
4. Size, Design, and Accessories
Usually, people don't care much about how a shop vac looks as it is used for commercial or industrial places. But, if you are looking for aesthetics, make sure you choose a vac with a fancy design.
Additional accessories are always appreciated.
Look if your shop vac comes with a bracket for storage or additional suction heads.
---
5. Hose Thickness and Length
Usually, most people don't check the hose before buying a vac.
But in my experience, it is pretty critical. The thickness of the hose determines how much suction the vac can take.
If it's too thick- it becomes difficult to handle and if its too thin- it might get cut off soon.
Of course, you can always get an extension of the hose.
---
6. Tank Capacity
As opposed to the popular belief, it is not necessary that a greater tank capacity will have better results.
If you wish to clean a smaller area, like a car, you can choose a vac with a smaller capacity. Although, if you want to clean a bigger, commercial area, you should choose a tank with a bigger capacity. Ridgid WD1450 comes with a 14-gallon tank capacity as opposed to Vacmaster which comes only with a 5 Gallon capacity.
---
7. Shop-Vac Cords
You should always opt for vacs with a longer cord.
Even if the cord is short, you can use an extension to extend the cord so that it is accessible in the whole room. Make sure you check the material of the cord.
---
8. Filters
You should make sure your shop vac has a standard filter. There are two types of filters—foam and cartridge.
The foam type of filter is good for water and other liquids whereas the cartridge one is more of a general use material.
You can also pick up extra filters for your shop vac.
The HEPA filter is very effective and we can see it in action in the Festool 583492 CT 26 E and Makita VC4710.
---
9. Warranty
The standard warranty for a shop vac is about 3 years. Make sure you check the warranty before your purchase decision.
Remember, the longer the warranty, the better it is. For any damage, you can always go to the manufacturer.
Vacmaster vac comes with a 5-year warranty, which is more than most other products on this list.
---
10. Blowers
If you were to buy a shop vac a few years ago, blowers were not even a thing.
Nowadays, if you want to clean areas that are difficult to reach, blowers become an essential feature. Make sure you look for this feature if you are especially looking for cleaning places that are difficult to reach.
---
FAQs: Frequently Asked Questions
1. What Is a Shop Vac? Do You Need One?
A shop vac is a special kind of vacuum most often used in construction and woodworking. These consist of a high-powered motor and suction unit which sucks up dirt, debris, and chunks of material from building sites and woodworking shops.
For home usage, you might not need a shop vac unless your house is very messy and there are often large amounts of big debris around. Although, you can use a shop vac to clean your porch or driveway.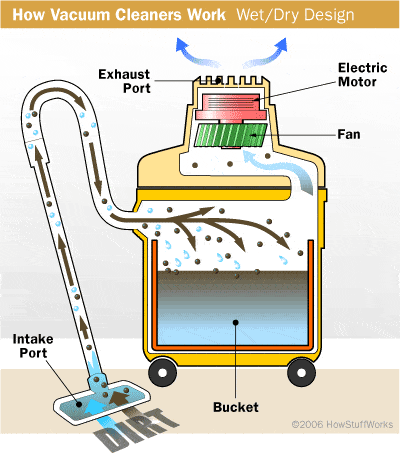 ---
2. Why Are Shop Vacs so Loud?
Shop vacs work on suction. The suction comes from the motor inside the vac which spins one or more fans to create a low-pressure space inside a canister.
Anything that restricts, or blocks, the airflow will cause it to work harder and make more noise. So, most of the time, it is the motor that is the creator of the noise.
Another cause for louder vacuum noise is a dirty filter. The motor has to work harder to move the air through to create the suction. The more it works, the louder it is.
If the fan inside the vac is broken, it may also cause problems with noise. Moreover, it will also reduce suction.
---
4. How to Make a Shop-Vac Quieter?
Here's how you can make your existing shop vac quieter:
Get a longer hose attachment
Use a muffler
Clean the air filter regularly
Use a variable fan
Build a shop-vac sound enclosure
Put your vacuum outside of the working area
---
5. What Is the Difference Between a Shop Vac and a Regular Vacuum?
An important difference is that shop vacs are used heavy-duty cleaning jobs with a lot of dust and debris. Normal vacuums are only meant for dust, dirt, and other little particles.
Shop vacs are more powerful and can suck up big chunks of dirt, including sharp objects like nails and glass.
Shop vacs may be a little loud as compared to regular vacs.
---
6. Are Shop Vacs More Powerful?
Due to their intended use, shop vacs are quite a bit bigger and bulkier than your average home vacuum. They need to be big to handle shop cleanup.
Shop vacs have a much more powerful motor than normal vacuums. This is totally necessary so that it can suck up big and heavy objects.
---
7. Can You Use a Shop Vac Without a Filter?
Generally, a shop vac cleaner without its filter can only be used for pulling out fluids. If you try to use it without a filter for dry vacuum cleaning, the machine will have a shortened lifespan.
Also, it is recommended that you use the filter-less machine in open spaces.
---
Can I use a Shop Vac for Dust Collection?
Shop Vac vs Dust Collector: Is a Dust Collector Better Than a Shop Vac?
The Bottom Line
Shop vacs are handy to clean up masses of dust everywhere. They are more powerful than regular vacs. Now that we have discovered the best silent shop vacs, you can decide which one you want according you your needs.
If you are looking for an extremely premium product, I would recommend Festool 583492 CT 26 E HEPA Dust Extractor.
Although, if you are looking for a more affordable option, you could go for the classic Makita VC4710 12-Gallon Wet/Dry Vacuum.
---