As an Amazon Associate, I may earn from qualifying purchases at no extra cost to you. These are the same products I'd recommend to friends and family.
Picture this:
It's the first frosty morning of the year. Smells like apple and cinnamon; it feels like leaves crunching underfoot.
You realize using a rake to clear the leaves can be back-breaking work.
So you pull out your leaf blower with a terrifyingly loud noise, only to quickly find out you can never get along with your neighbors or the laws/ordinances of your local city.
We hear you. So here's what we did:
We meta-reviewed several published research papers, consulted with two landscapers, and built on our experience with outdoor equipment to find you the absolute best quiet leaf blowers.
Ready to use a leaf blower and still get along with your neighbors and local laws?
Let's dive in!
Psst… Short on Time? Here's a Quick Summary
To see how we picked and chose, skip to our research section below.
Here's why you should trust us.
Best Quiet Electric Battery-Powered Leaf Blower: EGO Power+ LB6504
What's Great
Insane power; moves a lot of air
Solid battery life
Great usability and ergonomics
Not So Good
Slightly expensive than the competition
If you have a small-to-medium-size yard with grass clippings, trees that drop leaves, pine cones, acorns, and wet leaves, the EGO Power+ LLB6504 could be a great choice.
It comes with a whopping 650 CFM and over MPH to clear even the most stubborn areas like difficult-to-reach bushes. As a quick refresher, a higher CFM value translates to being able to clear a larger space in a shorter time. A higher MPH value translates to pushing away the leaves/debris faster. Ego's CFM/MPH is on the higher end of all the products considered on this list, only to be beaten by Worx WG521 (corded).
While it can reach 650 CFM in turbo mode, we believe you won't need to use this mode often. When you're maneuvering through difficult areas or long periods, you'll need to use much less power than this. It could clear the leaves without removing mulch from the beds. Thankfully, the variable speed dial lets you fine-tune the airflow. Unlike some models where you have to keep force to adjust speeds constantly, we like that there's a lock on the variable speed dial to just snap it right into place.
The noise levels are relatively quiet at 68 dBA on low speed and 79 dBA on high speed.
It comes with a 56V, 5Ah Lithium-ion battery. It takes around an hour to fully charge and lasts for around 40 minutes at the highest and 90 minutes at low speeds. It's not surprising that battery runtimes drop to 16-20 minutes on the Turbo Mode. While this is great for electric corded blowers, you may want to get a spare battery or a battery backpack.
It's a bit bulky at 12.9 pounds. If you're going to be using it for more than 20 minutes, we recommend getting this EGO Power+ strap that neatly clips onto the bracket pre-installed on the EGO.
Additionally, it comes with a few additional features that we don't see many people talking about. It comes with a brushless motor which potentially translates to a longer life. The IPX4 rating makes it water-resistant (this does not equal waterproof!)
Overall, we believe the EGO Power+ LB6504 rivals gas blowers—as powerful and relatively quieter—is the model most people should get.
---
Alternatives to EGO Power+ LB6504 Cordless
RYOBI RY40470VNM: This is hands-down the quietest leaf blower on our list by a wide margin, running at around 49dB. It didn't make it to our "recommended for most people" spot because its battery life clocks at about 20 minutes and takes 2.5 hours to charge—substantially lower than the EGO. If the battery life works for your usage, we think the Ryobi is a good blower with a respectable 550 CFM. 
Ego Power+ LB7654:  Ego's next model comes in at a massive 750 CFM. Since most homeowners don't need this kind of extra power, we put the 650 CFM model as the one most people should get. The 750 CFM is a tad-bit pricier than 650 CFM and comes with all the goodness of 650 CFM, as mentioned in the above review, and more powerful airflow. 
Kobalt KHB 400B-06 Brushless Kobalt's offering comes with a 500 CFM/125 MPH for a powerful performance that rivals gas-powered models. Battery life runs about 25 minutes on high—not too shabby. We like the fast charging feature where it can recharge quickly in less than 30 minutes. It's fairly quiet at low speed—you can do without earplugs. It's the highest-priced model on our list but well worth the price if you're looking for an alternative to the EGO.
---
Best Quiet Electric Corded Leaf Blower: Toro PowerJet F700
What's Great
Extremely powerful airflow
Great ergonomics for usability
Inexpensive
Clocking in at a whopping 725 CFM/140MPH, the PowerJet takes the crown as one of the most powerful corded electric blowers on our list. You might even need to use two hands for better controls if you have the power knob turned to the highest setting. It easily clears leaves, pines, etc., and pushes them at least 2 feet farther away than most competitors on this list.
One of the reasons we recommend this for most people over the slightly more powerful Worx WG521 is its better usability and ergonomics. The handle and the grip feel more ergonomic and lessen wrist strain.
While the Toro is relatively quieter than other corded models, it's by no means "silent"—clocking at around 69 dB at 50 feet away. The Wirecutter notes, "The noise of an electric motor is very different from the irritating high-pitched whine of a two-stroke (gas) engine."
Since it's a corded electric model, you won't find any batteries in this—making it extremely inexpensive.
However, in reality, since you will need to buy an outdoor extension cord, this can drive up the cost. It should still be cheaper than most battery-powered models, though. Toro recommends at least a 16-gauge cord for 25 feet, a 16-gauge cord for 50 feet, and the heavier 14-gauge cord for 100 feet. From our experience, we recommend you get a durable weatherproof cord that protects against sunlight and moisture. This should give you full maneuverability around 100 feet.
---
Alternatives to Toro PowerJet F700
Worx WG521 If you need slightly more power than the Toro, the Worx would blow you away with an incredible 800 CFM. The only reason Toro took the crown over Worx is because of its better usability and ergonomics.  
Toro 51621 UltraPlus If you need a blower with vacuuming functionality, it's a no-brainer to get this one. It comes with an extra vacuum tube attachment and a debris collection bag with a shoulder strap. (350 CFM on blow mode and 405 CFM on vac mode) The noise levels are comparable to Toro (68 dB at 50 feet)
---
Best Quiet Small/Lightest Electric Leaf Blower: Dewalt DCBL722P1
What's Great
Handy and lightweight
Variable speed control with lock
Dewalt ecosystem is a plus
Are you looking for a small/lightweight electric leaf blower to clean your yard without blowing out your eardrums? This Dewalt's offering weighing at just 5.43lbs, might be what you need.
The brushless motor produces an airflow of 450 CFM and speeds up to 125 MPH. Note that a concentrator nozzle (included in the package) is required to reach the top speed.
This is one of the quietest electric leaf blowers on our list, only second to Ryobi. The noise rating stands at around 66dB.
Like our top recommended pick, EGO, it features a variable speed trigger with a switch to snap the lock into place for fine-tuning airflow. This is helpful if you have a delicate garden—this could help clear the leaves without removing mulch from the beds.
The 5 AH battery lasts 20 minutes or so at the highest speed. If you're looking to clean a yard of more than 1/8-acre, you can get a spare battery. But to be honest, we would recommend getting a different model that can stand for longer battery life.
---
Alternatives to Dewalt DCBL722P1
RYOBI ONE+:  It weighs roughly the same as Dewalt and clocks in at a slightly lower 280 CFM/100 MPH—enough power to blow leaves, dust, and pine needles off of hard surfaces. It does not work well on grass or mulch beds, though. I can clear my 60 ft driveway and 2 small porches about 3 different times with one charge at medium speed. 
---
Buying Guide: How We Test and Select
Noise Level Comparison of Leaf Blowers (Decibels, dB)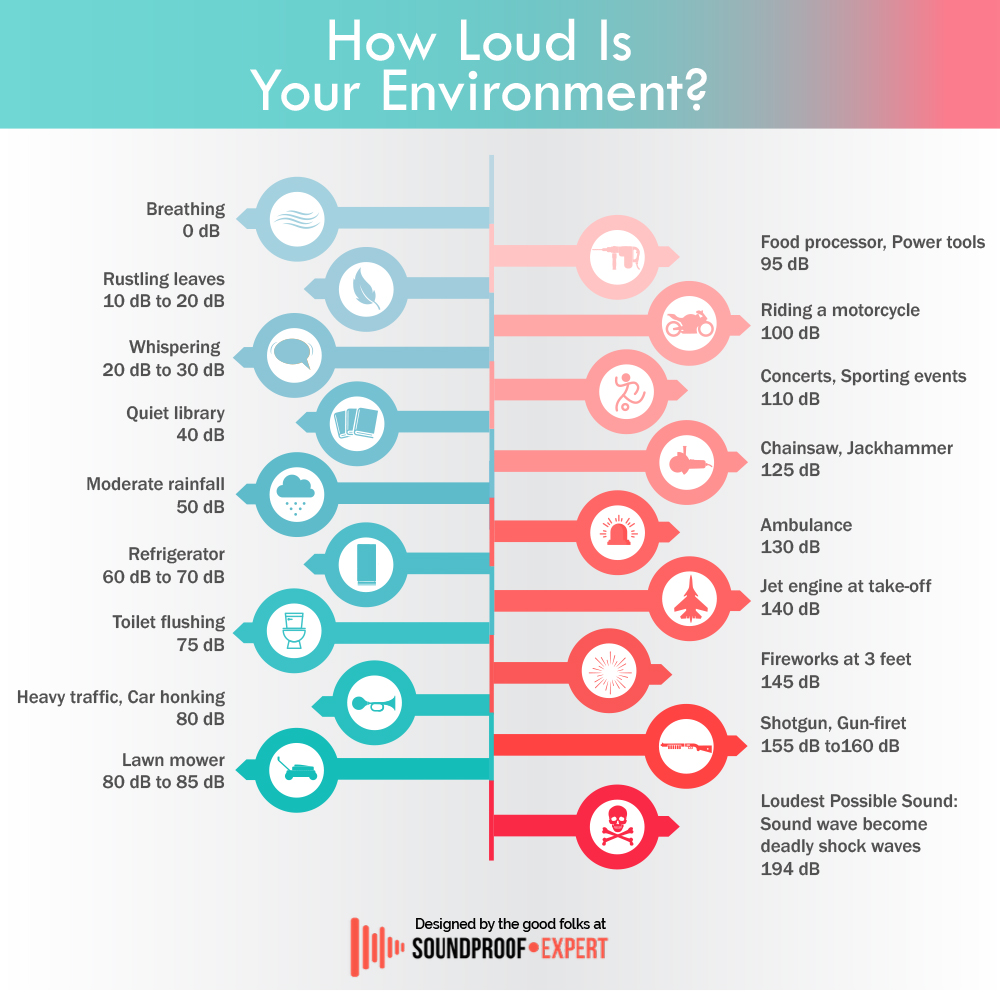 The average blower emits noise at 70-75 dB from 50 feet and can reach 90-100 dB at the operator's ear.
Just to put it in perspective:
Occupational Safety and Health Administration (OSHA) requires hearing protection for noise over 85 dB. Also, according to the World Health Organization (WHO), "there is an increasing predictable risk" of hearing damage from noise above 75 dBA.
Noise pollution and hearing impairments by leaf blowers are serious problems, so much so that about 400 cities in the U.S. currently either ban or regulate their use. For instance, some smaller cities in California have banned gas-powered blowers. In Seattle, WA, you cannot use any lead blower louder than 65 decibels and only from 8 AM to 6 PM.
If you're planning on buying one, make sure you're familiar with your local city laws or ordinances. It's best to check with your local city council.
A research paper published in the National Library of Medicine notes that one can experience permanent hearing damage or other issues such as tinnitus after listening to just 2 hours of noise coming from the blowers (65 to 80 decibels at 50 feet away)
Let's take a quick dive inside into how noise is measured.
Noise is measured in decibels (dB). Decibels don't work on a linear scale but rather on a logarithmic scale.
"Logarithmic…umm?"
Find yourself rushing to brush up on your maths skills? You don't need to.
The logarithmic scale here simply means we will perceive every increase of 10 dB as a doubling of sound. A leaf blower that operates at 80 dB will sound twice as loud as the one with 70 dB.
But on most manufacturer websites and product boxes, you will see something like dBA.
So what's the fuss about dBA?
Decibels (dB) measure the loudness of a signal. However, our ears hear different frequencies at different volumes, so the dB level is not accurate for perceiving the sound. Thus, dbA (A-weighted) more accurately reflects how loud it is for us instead of how loud it is in general.
In perspective, most human speech is around 60 dBA, while louder speech is around 65 dBA.
Since more cities are expressing interest in regulating the noise levels, many manufacturers have started providing leaf blower noise levels on their brochures, websites, and product boxes.
According to the American Green Zone Alliance, here are the average noise rating of common kinds of leaf blowers:
| | |
| --- | --- |
| Type of Blower | Average Noise (dBA) |
| Electric blowers | 65 dBA |
| 4-stroke backpack gas blower | 70 to 80 dBA |
| 2-stroke backpack gas blower | 90+ dBA |
As you can see above, electric blowers produce roughly the same noise as loud human speech. If your city has regulations around blower noise, it's best to stick with an electric leaf blower.
But there's a problem with how manufacturers measure blower noise:
The noise ratings are usually measured from 50 feet away. But if you live in a densely populated city like Cambridge, MA, you'd know leaf blowers are often less than 50 feet away from where people live or work.
Fortunately, in the U.S., American National Standards Institute (ANSI) and Outdoor Power Equipment Institute (OPEI) have a noise testing standard for outdoor power equipment such as leaf blowers and vacuums called B.175.2.
| | |
| --- | --- |
| ANSI/OPEI/UL Certification | Noise Rating |
| Category I | 65 dBA or less |
| Category II | 66 to 70 dBA |
| Category III | 71+ dBA |
Echo was one of the first leaf gas blowers to have a Category I rating (highest grade), and they continue to adhere to it for many of their gas models.
We'll always mention when a product is ANSI.B175.2 certified, so look out for it.
---
What's the Power Type: Battery, Electric Corded, or Gas?
Expert Tip: "When it comes to low noise, it's tough to beat lithium-ion cordless." —Dan Pherson, product manager, Stihl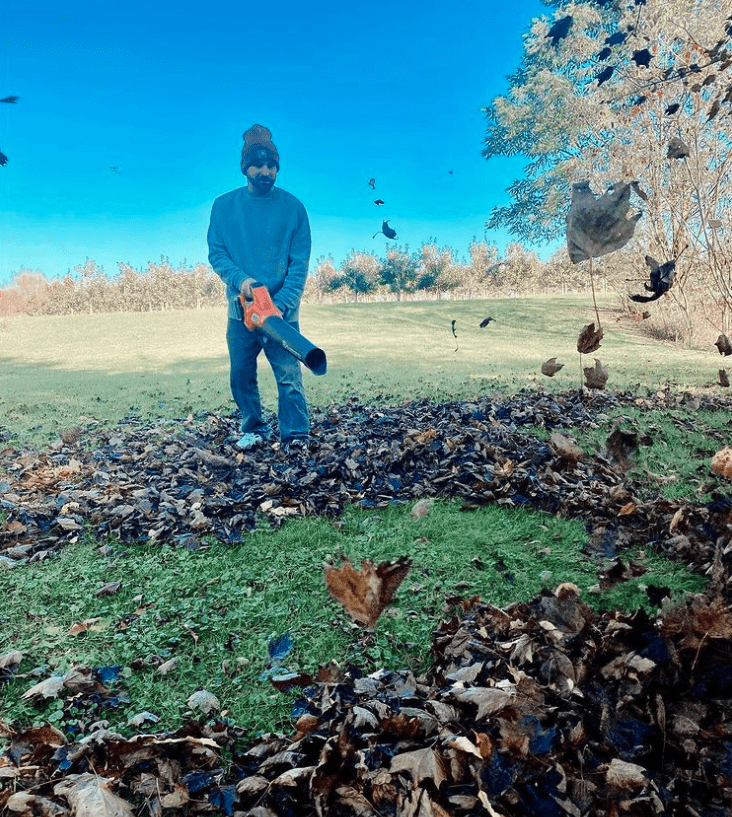 Corded Blowers
Electric corded leaf blowers need to be attached to a power outlet. They're typically 8 pounds or less and are designed for one-handed use.
Thanks to technological advancements, its power is now comparable to a handheld gas blower. (We don't recommend handheld gas blower anymore—more on that later!)
They're cheaper than battery-powered blowers since they don't house any expensive batteries or a gas engine. They're also lightweight (typically less than 8 pounds) for the same reason.
If you're looking to do an easy-to-maneuver blower task like cleaning the gutter, an electric corded blower makes perfect sense.
It's also pretty low-maintenance. Unlike gasoline-powered models, they don't require constant engine oil or gas refueling. Since they operate with less vibration, they also tend to be quieter than gas-powered models.
But it isn't all fairy tales.
The power cord limits your mobility, especially around trees and other obstacles.
While they don't need to be recharged, we recommend getting an extra outdoor extension cord. You'll want to be extremely careful with it, especially around your flower beds.
Most cords top out at 100 feet even with an outdoor extension cord. Although that offers plenty of room for mobility for most people, it's still worth considering. Consider buying one if you'll always have a power outlet within 100 feet of the work area.
If you're still stuck on whether you should get a corded or a cordless (battery-powered) leaf blower, we'd like to highlight some features that you only get with a corded leaf blower. If any of these features matter to you, that seals the deal.
Do You Need a Leaf Blower With Vacuum Capability?
Thanks to the vacuum bag, a leaf blower with a vacuum capability can spare you several tips to your waste pile or compost bin. It can also help you suck up leaves around flower beds and bushes.
You'll have to settle with a corded electric leaf blower if that sounds relevant to you.
Here's why:
The batteries in cordless leaf blowers cannot provide enough power to the vacuum.
Some corded models also offer multiple attachments to enhance the vacuuming experience. It's always good to look out for such features before buying.
Do You Need to Shred the Leaves for Mulch/Compost?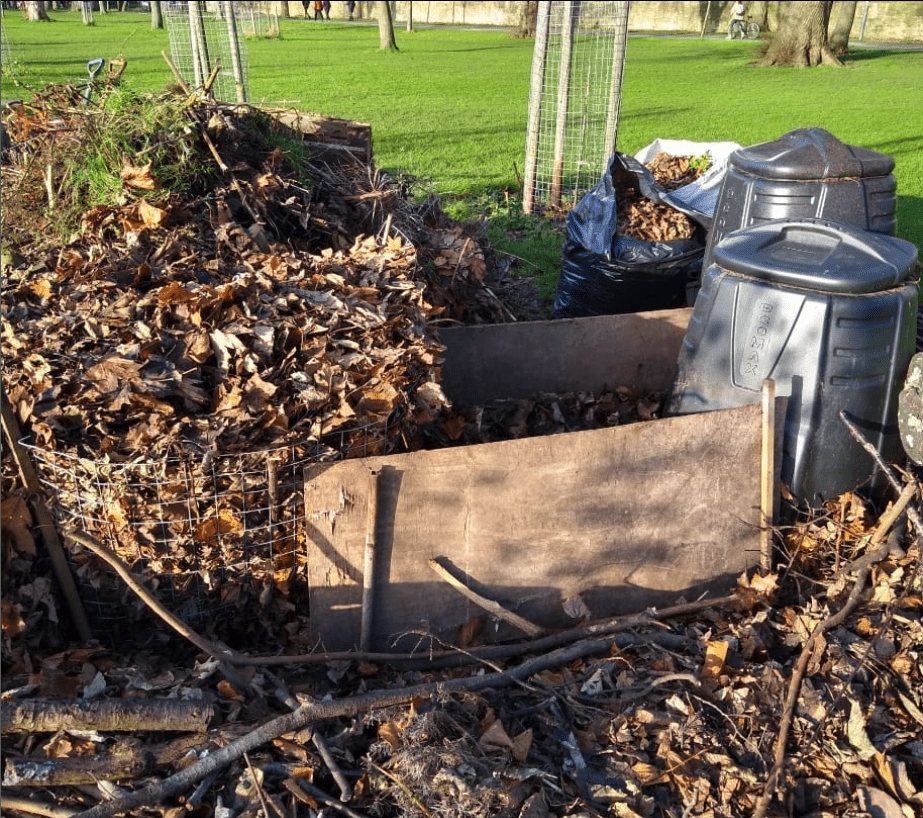 Alongside Vaccum functionality, corded models can also have a shredding feature. This helps reduce the space it takes in the vacuum bag and allows you to use the shredded leaves as mulch or compost later.
This is a more environmentally-friendly way, but it also helps protect delicate plants/grass from winter frosts.
If you are using your corded blower frequently, try looking for a model with a metal impeller over plastic for added durability. This is the component that helps shred leaves.
How Long Do You Need to Operate the Leaf Blower?
An underrated feature of corded blowers is the steady power supply that lets you continue working without changing out, charging a battery, or stopping.
I can already see you rolling your eyes, "duh! That's obvious!" but hear me out:
If you've ever had to clean a large yard or remove snow from your car or sidewalks, you know what exactly I'm talking about.
For large or semi-professional jobs, it's not feasible to swap out batteries (exorbitantly priced!) or make frequent stops.
If you ever find yourself in such situations, we strongly suggest looking into a corded leaf blower.
Expert Tip: Most models work with 14- or 12-gauge power cords. For safety and efficiency reasons, it's advisable to use one long power cord (never longer than 100 feet) instead of two shorter cords connected. Look for a corded blower with a cord lock system for even greater convenience. This feature will help keep the cord out of your way while you work, thereby keeping you safe.
Cordless Blowers
If you have never owned a blower before or find gas blowers overwhelming, a cordless electric blower might be a handy option. No more overwhelming refueling and maintenance—simply click the battery in and press the trigger. The batteries add a bit of weight, though.
First-time users could find it useful to have a blower that works with the other tools' batteries that they might already own.
Also called battery-powered leaf blowers, they offer freedom from the cord—a great pick if you constantly worry about someone tripping over the cord or damaging the fragile flower bed.
The ones available in the market today can easily go head-to-head with mid-tiers gas models when it comes to a powerful airflow.
Our only gripe?
They have a pretty limited runtime per charge—topping at about half an hour. If you're using them at higher speeds, they can run out even quickly—in as little as 10 minutes. (No, seriously!) While this is not a problem for small jobs, it can be pretty annoying for larger ones. It can be helpful to have a spare battery, so you always have a fully-charged battery available. Most cordless blowers are handheld but consider exploring a backpack design that packs a powerful battery.
Today, most cordless blowers run on lithium-ion (Li-ion) batteries with voltages between 18V to 120V. They're up to 50% lighter than Ni-Cad batteries and greatly retain the battery capacity even as the battery's charge wears down.
When exploring a cordless leaf blower, always look for:
Estimated run time: Sometimes, manufacturers specify the runtime at various power levels.
How long does it takes to charge: You don't want to be waiting forever in between a longer job, do you? Some models also sport a fast-charging functionality—always a nice to have.
Thankfully, we have done the heavy lifting and scrutinized the numbers for every product on this list to help you make a buying decision quickly.
To sum it up, cordless blowers come with a lot of great functionality as corded ones—low maintenance, quiet operation, etc., and throw in additional features like untethered mobility.
Gas Blowers
The gas blower blows out (pun intended!) cordless ones in two key areas: you can take them anywhere and never run out of charge. Most have a manual pull-start.
They're suitable for large areas—at least a quarter acre.
Some guides online mention "quiet gas leaf blowers," but let me confess something:
There's no such thing as a silent gas blower.
Don't get me wrong—gas models have come a long way and aren't as noisy as they used to be—but still, the inherent design/motor makes it impossible to make it noiseless.  
And since we're on the hunt for silent models, we don't cover any models specifically here.
The three types of gas leaf blowers are:
Handheld Leaf Gas Blower
They're powerful (150-200 MPH) and bulky. They're much louder than electric models since they're gas-powered.
We don't recommend gas handheld blowers anymore.
Here's why:
They're pretty heavy, with most ranging from 10 to 15 pounds, heavier than both corded and cordless models. Maneuvering them for an extended time can be challenging.
So what's the alternative?
We detail it in the next section.
Backpack Leaf Gas Blower
Backpack gas blowers typically pack more than handheld ones. The ones available right now weigh close to 17 to 20 pounds.
Now you might be wondering:
They appear even heavier than handheld ones, so what's the point, you ask?
The truth is that they're much easier to maneuver since the weight is distributed across the shoulders and the back, rather than just your arms.
Unlike corded electric models, they don't have a vacuum or shred functionality.
And did I mention that they're quite a bit louder than the electric ones?
Wheeled/Walk-Behind Leaf Gas Blowers
Wheeled leaf gas blowers, also called walk-behind, are used for large and professional jobs.
As you'd imagine—they are bulky (takes 8 sq. ft of space) and weigh100+ pounds.
They're extremely noisy and expensive.
We won't be covering any of them for this research piece—since this is not something most homeowners are looking for.
If you want to opt for a gas blower, be familiar with its maintenance. Here are a few maintenance tasks that you might need to do every month:
Clean the carburetor and fan blades.
Inspect the spark plug for defects.
Inspect the fuel filter, line, cables, and connections.
Gas-powered blowers can have two types of engines:
2-stroke engine: It requires a mix of gas and oil in the fuel tank. It produces twice as much power as 4-stroke, making it ideal for handheld gas blowers. It lacks a dedicated lubrication system which means the parts wear a lot faster.
4-stroke engine: Like a vehicle engine, they're more fuel-efficient than a 2-cycle engine, and you don't need to mix gas and oil.
---
What is Leaf Blower CFM?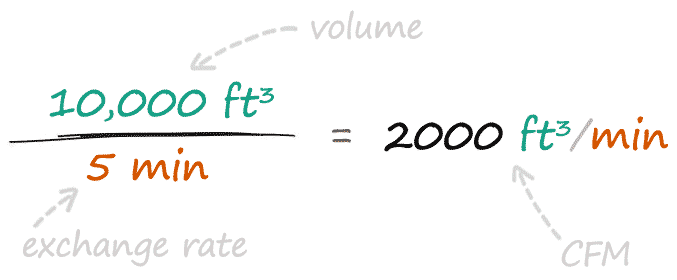 CFM in leaf blowers stands for cubic feet per minute. It's the amount (volume) of air that can pass through a blower's nozzle in one minute.
Since CFM measures air volume, it's a great measure for gauging the amount of area you can blow/cleat in a time.
A higher CFM value translates to being able to clear a larger area in a shorter time.
Now, naturally, your next question is:
What is a Good CFM for a Leaf Blower?
Well, it depends.
As a general guideline:
A good range for cordless electric blowers is 350-500 CFM at 120-168 MPH.
A good range for corded electric blowers is 450-600 CFM at 190+ MPH.
---
What is Leaf Blower MPH?
MPH is leaf blowers stand for miles per hour. It's the speed at which air can pass through the nozzle.
Since MPH measures the speed of airflow, it's a great measure for gauging how forcefully the materials can be pushed away.
A higher MPH value translates to being able to push away the materials fasters.
We liked the analogy that Leaf Blowers Direct made, so we're just going to borrow from them:
"imagine water flowing through a large pipe versus a small drinking straw. The water coming through the bigger pipe will flow out in a thicker, heavier stream, and it won't shoot as far. But, the water moving through the straw will flow out in a thin, more forceful stream which means it can go farther.
They continue:
"With a high leaf blower CFM, a user can clear a large pile of leaves but not blow the leaves as far. With a high MPH leaf blower, a user can push a pile of leaves far away, but the pile will be smaller"
How Accurate are the Manufacturer-Provided CFM and MPH?
If you have ever used any kind of leafblower before, you must have noticed that:
While the manufacturer claims 250 MPH, you're unlikely to see leaves being blown away from you at such a high speed.
Here's why:
The manufacturers measure these values at the tip of the nozzle. Obviously, the leaves you're cleaning would be a few feet away from this tip.
While not incredibly precise, manufacturer-provided CFM and MPH are still meaningful numbers—especially when combined.
Also, if you're going for a handheld blower, try to choose a lightweight one. This is especially important if you have occasional back problems.
---
Features
Variable Speed Motor
Also known as an adjustable speed motor, this feature lets you precisely control the airflow. From our experience, toning down the airflow can be handy when using the blower around flower beds, etc.
Vacuum: Mulching, Shredding, and bagging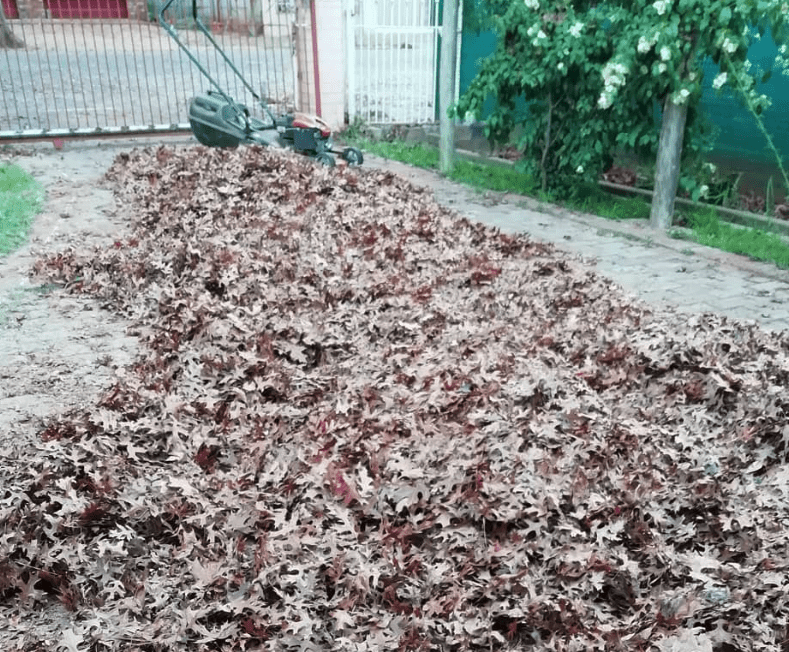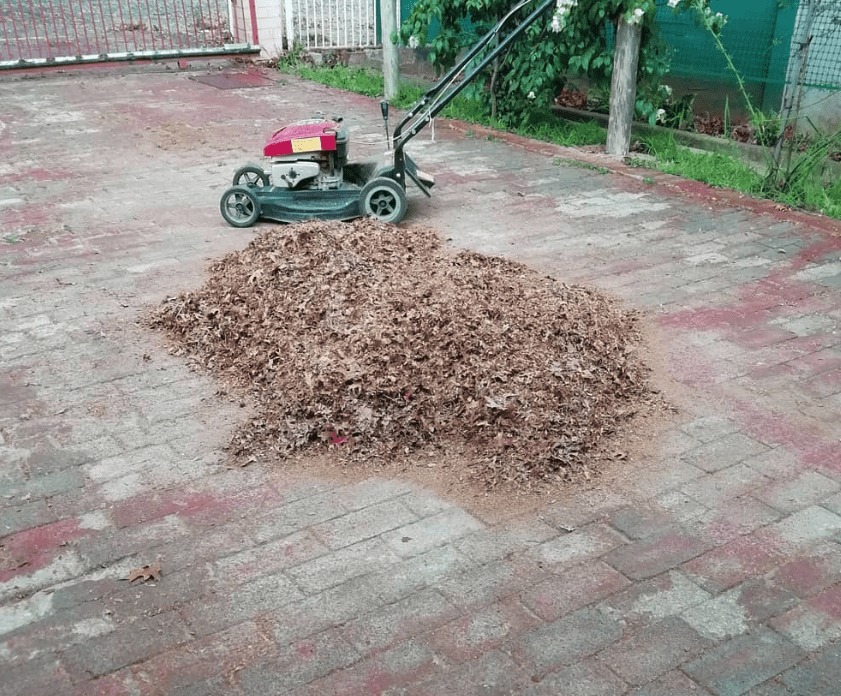 Picture: Before and after shredding leaves @yolocomposttumbler
If you're looking for a leaf blower with vacuum functionality, ensure you opt for a corded one. This is because the batteries in the cordless cannot provide enough power to enable vacuuming. Some corded models also offer multiple attachments to enhance the vacuuming experience.
Alongside Vaccum functionality, some corded models also have a shredding feature. This helps reduce the space it takes in the vacuum bag and allows you to use the shredded leaves as mulch or compost later.
This is a more environmentally-friendly way, but it also helps protect delicate plants/grass from winter frosts.
If you are using your corded blower frequently, try looking for a model with a metal impeller over plastic for added durability. This is the component that helps shred leaves.
Reducting rate is the amount of leaf bags mulched into one bag. Although the labels indicate a reduction rate of 10:1 or 16:1, it is often less in reality.
---
Why Are Leaf Blowers So Loud? Why Can't They Make it Quieter?
Leaf blowers are usually loud because of the engine's vibrations, spinning blades, and the air rushing out at maximum velocity. The airflow from the nozzle cannot be reduced without reducing the pressure, which is responsible for blowing leaves.
Are Electric Leaf Blowers Quieter?
Yes, electric leaf blowers are quieter than gas blowers by 10 to 25 dBA on average.
How Many Decibels is a Leaf Blower?
The average blower is 70-75 decibels (dB) from 50 feet and can reach 90-100 dB at the operator's ear.
Just to put it in perspective:
Occupational Safety and Health Administration (OSHA) requires hearing protection for noise over 85 dB. Also, according to the World Health Organization (WHO), "there is an increasing predictable risk" of hearing damage from noise above 75 dBA.
Can a Leaf Blower Damage Hearing?
Yes, leaf blowers can damage your hearing. An average blower is 70-75 decibels at 50 feet. World Health Organization (WHO) says there's an increasingly predictable risk of hearing damage above 75 dB.
Is Elon Musk Making a Quiet Electric Leaf Blower at Tesla?
In April 2019, Elon Musk tweeted that Tesla plans to develop a quiet electric leaf blower by re-purposing Model 3 HVAC parts. Musk also added that it would recharge quickly and have a long-lasting battery. Unfortunately, there have been no updates as of late 2022.
---