As an Amazon Associate, I may earn from qualifying purchases at no extra cost to you. These are the same products I'd recommend to friends and family.
Does it seem like no matter what ceiling fan you get, the motor rattles and hums even on a low speed, despite being advertised as a whisper-quiet ceiling fan?
We feel you. After trying nearly half a dozen ceiling fans from big box stores for our living room, we still could never sip our tipsy Texas tea peacefully!
After building on our personal experiences, going back and forth with several electricians, and scouring deep corners of the web—we now bring you the best quiet ceiling fan for every room type.
Let's go!
Psst… Short on Time? Here's a Quick Summary
To see how we picked and chose, skip to our research section below.
Here's why you should trust us.
---
1. Quietest Ceiling Fan For Bedroom: Westinghouse Comet 52-inch With Light (Value Pick)
What's Great
Virtually silent at high speeds
powerful airflow for a 400sq. ft room
reversible for summer winter
reliable support
Not So Good
Unintuitive installation process
Non-replaceable LED
Westinghouse Comet is the ceiling fan that most people should get for their bedrooms or rooms sized up to 400 sq. ft (20 x 20 feet). It packs a punch—powerful airflow capacity, silent operation, and is inexpensively priced.
The airflow measures at 5199 CFM (at top speed), which is on the higher end of our range of recommended CFM for room sizes up to 400 sq. ft.
I've used a few ceiling fans from cheap big-box store brands before and noticed a common theme with almost all of them:
They all make a distinct high-pitched hum noise after a while.
But not the Westinghouse Comet. It is virtually silent with little to no wobble on mid to low speeds and makes very little noise on high speeds. I suspect the 5-blade design helps in reducing the noise.
The Comet ceiling fan is a combo mount ceiling fan. You can use it with or without a down rod. If used without the included down rod, you can also flush mount it and hang it down 11 inches from the ceiling to the bottom of the light.
It supports a universal remote but doesn't come with one. An important thing to note with universal remotes is that if you put the remote unit in two fans nearby, they can also control each other.
It can be used with a remote or wall control; however, you must use one or the other and cannot connect both a wired wall and wireless remote control to the same fan. If you use a wired wall control, we recommend you purchase and install a separate fan and light controls (two separate switches wired separately). This is because most wired wall controls are rated for use with incandescent light sources only and do not work well with integrated LED lights.
It comes with a 16W integrated dimmable LED. This LED is built into the fan light kit, and it is not removable or replaceable. The average rated hours of the light kit for this fan is 25,000 hours. To put it in perspective, it could last ~23 years if you use it for 3 hours per day. I think it's a bummer that you cannot change out or remove this integrated LED light kit.
Also, It isn't the most straightforward fan to install. Getting the blade screws and washers attached and attaching the motor housing takes quite some work. We'd recommend calling an electrician or a handyman to get it installed.
We believe it's a solid pick for most people despite these shortcomings. Highly recommend.
---
Alternatives to Westinghouse Comet
While we think the Westinghouse Comet's upsides outweigh the downsides easily, we realize that some downsides may be a deal-breaker for some of you. So we try to find the closest possible alternatives in such cases.
Minka-Aire F553L-WHF 52″: Featuring a DC motor, it's slightly quieter (no hum noise!) With a powerful airflow of 5029 CFM, the Minka-Aire is an excellent alternative to Westinghouse if you're willing to shell out more. The integrated lights are 26W, which is 10W higher than Westinghouse Comet. You can check out this one if you like a minimal white look that doesn't come with the Westinghouse.
Hunter 53090 52″: Featuring a good airflow of 4402 CFM, it's a great pick for large room sizes (up to 400 sq. ft) like the master bedroom and the living room. It includes a reversible motor for whisper-quiet operations and a pull chain, and two bulbs. Unlike Westinghouse, this one's reasonably pretty easy to install.
---
2. Quietest Ceiling Fan For Large Rooms: Big Ass Fans Haiku L (Premium Pick)
What's Great
Virtually silent at high speeds
Extremely powerful airflow
Highly energy efficient
Smart home features
Not So Good
Lights don't change color or temperature
The Haiku L is our premium pick if you're looking to splurge on the absolute best quiet indoor ceiling fan. Coming with an extremely powerful airflow of 5,604 CFM, this blows away (pun intended!) every product on our list. It moves a lot of air, even on the lower setting.
The fan is built with high-quality materials and has a glossy finish, except for the blades, which are made of plastic. The L series fan is the least expensive of Haiku's line-up. If you'd prefer aluminum or bamboo, the Luxe or H series has some serious options.
The noise levels are pretty decent—thanks to the brushless DC motor.
Brushless what?
Brushless motors are a type of motor that has an overall higher speed and torque and produce less noise than traditional brushed motors. They're more energy-efficient and have little or no power loss (more on that later!)
We were impressed with the balance of the fan; we couldn't see any vibration or wobbling at all. Ensure to install the fan blades (or "airfoils" as they call them) in the correct positions because the fan comes balanced from the factory.
It comes with a wireless remote and a wall holder. Since it is an IR remote, you have to point it at the fan for it to work. Maybe I'm nitpicking here—but I'd have preferred a WiFi remote, primarily since the fan supports smart home tech. Yes, it supports Amazon Alexa and Google Assistant for voice controls. The integration felt a bit buggy at times, but this is nothing that a software update can't fix.
I liked the wall controller because of its sensors, including the thermostat, humidity, and motion sensors. Haiku calls this feature SenseME. While the wall controller adds an extra cost and installation time, we'd certainly recommend it.
Update: Haiku has stopped selling the wall controller for Series L.
The light is bright enough (988 lumens), and Haiku guarantees 50,000 hours of use. For context, this would last for 23 years if you use them for 3 hours every day.
Surprisingly, It exceeds Energy Star requirements. To find airflow efficiency, if you're comparing it with other fans, you'll want to note the CFM per watt or cubic feet per minute.
667 CFM/watt on low
519 CFM/watt on medium
306 CFM/watt on high
---
Alternatives to Haiku L
Casablanca Panama: Casablanca is Hunter's premium high-end line-up, and boy, Panama doesn't disappoint. It has a slightly higher airflow of 6675 CFM than the Haiku L. The new quiet DC motor uses only 1/3 of the power that the older models used on high and also has an energy star certification.
---
3. Quietest Ceiling Fan For Outdoors: Hunter Cassius (Budget Pick)
What's Great
Reversible DC motor
Easy installation
Damp rating for outdoors
Not So Good
Average airflow
Not compatible with light kit
Hunter's affordable option, the Hunter Cassius, is a decent pick for both indoors and outdoors—thanks to its damp rating. This makes it a good choice for covered patios, porches, bedrooms, etc.
It comes with a reversible DC motor—which means you can set it to counter-clockwise in the summers and vice versa for efficient temperature control. The airflow is respectable—but less when compared to other products on this list.
The installation is fairly straightforward and is height-adjustable, thanks to the included 5″ and 3″ rods. I like the fact that the blades are reversible, grey and black. You can use the side that complements your room's color scheme.
It comes with a pull-chain control but doesn't feature a remote.
Some websites mention that it can be installed on a pergola. While technically it can be, we don't recommend it.
Here's why.
While it's rated for damp conditions, it can only survive indirect moisture; not a full-blown water attack.
One downside is that it isn't compatible with a light kit.
---
Alternatives to Hunter Cassius
Hunter 59420 Coral Bay Indoor/Outdoor: If you fancy an outdoor/indoor fan from the hunter, but want one with a light and remote control, consider getting this one. Goes perfectly with coastal bedroom furniture and a rustic farmhouse.
---
4. Quietest Ceiling Fan For Small Rooms/Bathroom: Westinghouse Lighting 7221500 42″
What's Great
Great airflow
Reasonably priced
Easy to install
The Westinghouse Lighting 7221500 42″ is an alloy ceiling fan that is ideal for small rooms up to 100 sq. ft (10 x10 feet)
It features a 2897 CFM airflow, which is recommended for this kind of room size on the higher end of our average.
It is reasonably priced, relatively quiet (no humming sound!), and great for small bathrooms and kitchens.
It comes with two 8-watt LED bulbs. In our experience, these light bulbs are a bit dim to be used in the bedroom or office. Also, the LEDs are not dimmable.
Surprisingly, unlike the Westinghouse's first model we reviewed, this one is pretty easy to install.
This is a down-rod-only ceiling fan, which cannot be flush-mounted.
---
5. Quietest Low-Profile Ceiling Fan: Sofucor Low Profile
What's Great
Beautiful wood finish
Powerful airflow
Bright LEDs
Not So Good
No temperature selection option
Screws for the bolt are short
Are you looking for a moderately-priced quiet ceiling fan installed via flush mount? Sofucor's low-profile option might just be what you're looking for.
Unlike other faux-wood finishes, the fan is made from actual wood and looks beautiful.
The DC motor features an airflow of 5021 CFM, which rivals those of Westinghouse Comet and the much pricier Haiku L. It also helps Sofucor achieve a noise rating lower than 35dB.
There's enough room for the remote receiver in the base—we could even put a couple of receivers up there. Thankfully, there's no need for the receiver to be positioned right along with the wire nuts, which all don't exactly fit well like other fans.
The LED light, which is very bright, has a simple plug-in connection, and magnets hold it to the mount.
The remote controls are unintuitive, but you get used to them fairly quickly. We like the fine-tune control over the fan speed with its 6-speed fan speed controls. Most fans only have 3.
---
6. Quietest DC Motor Ceiling Fan: Reiga 52″
What's Great
Massive airflow
Silent operation
No wobbling
Not So Good
Remote batteries not included
Are you looking for a DC motor ceiling fan that's not from Hunter or Westinghouse? Well, then Reiga might be a great fit for you.
We're impressed with its massive airflow of 5614 CFM at a moderate price. This is great for medium-sized rooms up to 250 sq. ft. such as dining room, kitchen, etc. It moves a ton of air, even on the lowest setting.
It features three kinds of color temperatures: warm, cool, and full white. This is a welcome change for someone stuck with non-changeable colors on a ceiling fan. The lights are very bright, which would be a pro, but since it doesn't have a dimming function, we're unsure. Thankfully, Reiga says they're working on adding one in the next model.
This is a silent motor. We didn't need to use the fan balancing pads as it ran smoothly with no wobble on the highest speed (number 6). Don't push the top cover hard against the ceiling as the support tube needs to be free to move slightly; otherwise, you might hear some noise.
The reversible DC motor ensures you can use it all year around—counter-clockwise in summers and clockwise in winters for the most efficient temperature.
The remote-controlled is included, and we found it to be a bit more intuitive than Sofucor. However, the remote controller does not come with a battery and is a nonstandard size (A23-12V)
---
Alternative to Reiga 52″
Smaair 52": Looking for a DC motor quiet ceiling fan but with more fan speed options, dimmable lights, and smart control functionality? The Smaair 52" might be interesting to you.
---
Buying Guide: How We Tested and Selected
What Makes a Ceiling Fan Quiet?
First things first:
Since a ceiling fan comes with motors and blades—there are no such things as entirely noiseless fans. Anyone who tells you otherwise doesn't know what they are talking about or has misaligned incentives.
There are some factors we can look out for to narrow down to a relatively low-noise fan.
Motor Type: Are AC or DC Fans Quieter?
In most cases, DC ceiling fans are quieter than AC motor fans as they generally have a slimmer and more compact motor.
I hear you already:
"I have nightmares of my electrical engineering class, so can you please explain like I'm five?"
Sure can!
Without diving too much into technical details:
Here's why DC motor ceiling fans are better than AC:
Uses less energy—up to 70% less than AC.
Extremely quiet due to the more compact motor
Features reverse functionality meaning the blades can rotate both clockwise and anti-clockwise. This helps to maintain optimum temperature all year around.
But wait, don't abandon the AC motor just yet!
Here's why AC motor ceiling fans are better than DC:
More affordable than DC motor ceiling fans
More control options: wall control, pull-cord, or remote
You'll often see people mentioning that AC motors use more energy than DC, but in our experience, the difference is negligible. For example, if a DC fan saves you 18W per hour of use, and you use it for 10 hrs every day for an entire year, you're going to save as much as you'd otherwise spend on a Starbucks Latte. (I'm a caffeine dependant life-form, you can tell!)
---
What Are the Different Mounting Options For a Ceiling Fan?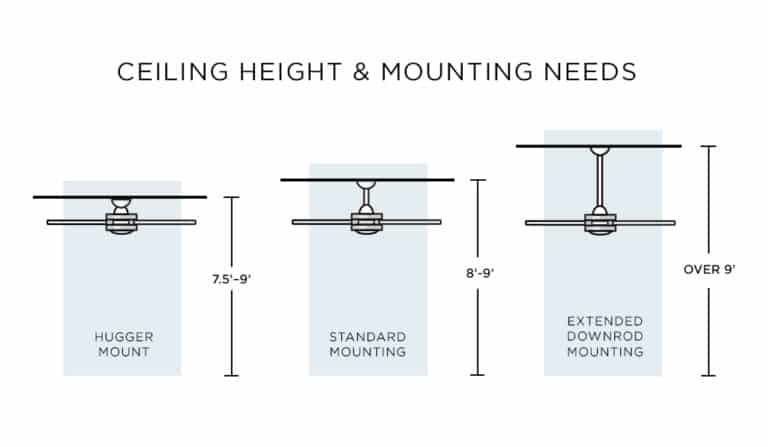 According to Energy Star, here are four different mounting options for a ceiling fan:
Standard Ceiling Fan Mount
Standard ceiling fan mounts are helpful in most rooms with a standard ceiling height—at least 7 feet above the floor and 18 inches away from walls. A downrod usually measures 3 to 5 inches.
Extended Mount
Extended ceiling mounts are helpful when you need to hand the fan at a correct height from a tall ceiling—at least 8 to 9 feet from the floor. The downrod can range between 6 to 120 inches.
Flush Mount/Ceiling Hugger/Low-profile
A flush mount is useful for low-ceiling heights, as it holds the fan directly against the ceiling. It typically requires at least 12 to 18 inches of clearance between the ceiling and the top of the fan blades.
Sloped Mount
Sloped mounts are great if you need to mount a fan on vaulted or angled ceilings. This is often used in tandem with an extended downrod to achieve appropriate height.
You'll hear people mentioning that anything on a downroad makes more noise. In my research and understanding, the best fans have short downrods.
In my old apartment, I had a flush-mount ceiling fan from a top-rated manufacturer (not calling out names!). It seemed like it transferred the vibrations to my ceiling, thus amplifying noise. A short rod could potentially help isolate those vibrations.
Pro-Tip: No matter the kind of fan—it becomes unbalanced over time due to the rotational energy. This leads to the wobbling sound. You must re-balace the fan routinely using a balance kit like this.
---
Where Do You Want to Install the Ceiling Fan?
The first three questions you should ask yourself are:
Where do I want to install the ceiling fan? (bedroom, basement, garage, etc.)
The size of the room (sq. ft.)
How low should my ceiling fan hang?
Establishing these three questions helps you secure the fan's performance, style, comfort, and longevity.
Picture this:
You (mistakenly!) got a small ceiling fan for your open floor plan. It needs to work twice as hard to cool, leading to a malfunctioning motor.
Far from ideal, right?
This section will help you pick a great ceiling fan for every type of room.
Here we go.
Ceiling Fan Size for Laundry Room
Your washer and dryer can give off quite a bit of heat, making the laundry room feel warmer. Often, laundry rooms are dimly-lit due to the lack of natural lighting. A ceiling fan with light can help light up your laundry room.
| | |
| --- | --- |
| Size of Your Laundry Room (Sq. Ft) | Recommended Ceiling Fan Size (Diameter) |
| Small (10×10 feet) | 32-48 inches; No more than 36 inches is optimal |
| Large (20×20 feet)` | 50-54 inches |
Ceiling Fan Size for Bedroom
| | | |
| --- | --- | --- |
| Size of Your Bedroom (Sq. Ft) | Recommended Ceiling Fan Size (Diameter) | Recommended CFM Rating |
| Small (Under 144 sq. ft) | Under 42 inches | 1000-3000 |
| Medium (144-225 sq.ft) | 44-50 inches | 1600-4500 |
| Master (225-400 sq.ft) | 50-62 inches | 2300-6500 |
| Great Rooms (400+ sq.ft) | Over 62 inches | 5500-13,500 |
Ceiling Fan Size for Outdoors
Whether you're looking for a ceiling fan for your patio or your patio, an outdoor fan can help you relax and avoid pesky flies and mosquitoes.
| | | |
| --- | --- | --- |
| Size (sq. Ft) | Recommended Ceiling Fan Size (Diameter) | Recommended CFM Rating |
| Small (Under 144 sq. ft) | Under 42 inches | 1500-3000 |
| Large gazeboes (225-400sq.ft) | 50-62 inches | 3000-6500 |
Here are some general guidelines for ceiling fan size guide for any kind of room, straight from Lumens:
| | | |
| --- | --- | --- |
| Fan Size | Room Size | Room Type |
| 29″ or less | less than 50 sq. ft. | Hallway, Laundry Room, Walk-In Closet |
| 36″ | up to 75 sq. ft. | Breakfast Nook, Large Bathroom |
| 42″ | up to 100 sq. ft. | Bedroom, Office, Kitchen |
| 52″ | up to 225 sq. ft. | Master Bedroom, Dining Room, Patio Area |
| 56″ | up to 400 sq. ft. | Large Living Room, Great Room |
---
How Low Should My Ceiling Hang?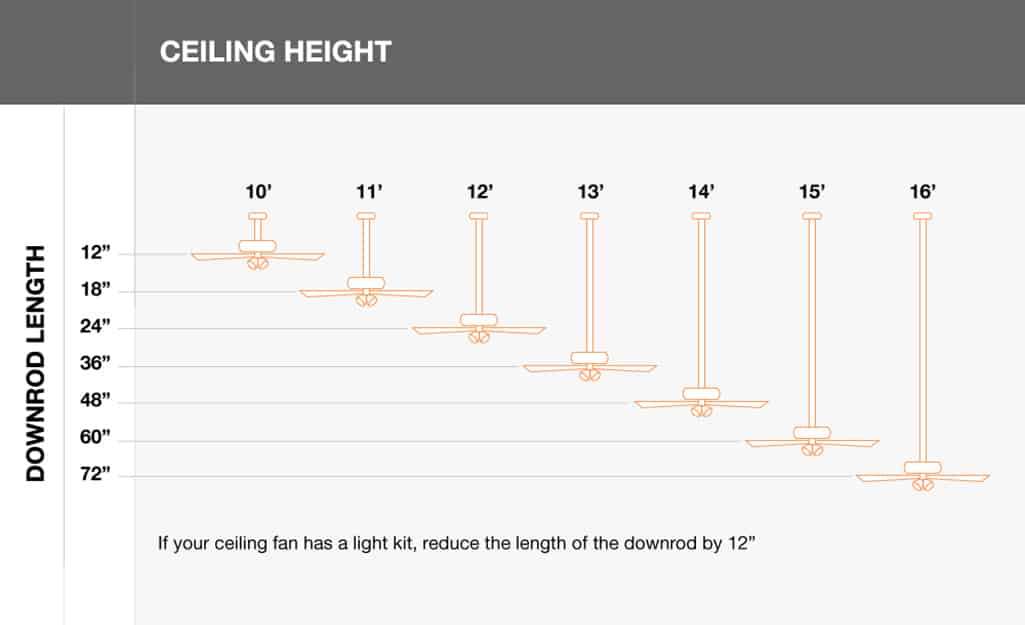 Hanging your ceiling fan ensures two things:
Feel the airflow from a proper distance, typically a 7 feet distance from the fan blades to the floor.
Doesn't hit anyone's head accidentally.
If your ceiling is between 8 and 9 feet, consider getting a low-profile (also known as a hugger or flush mount) ceiling fan. Hanging it on ceilings higher than 9 feet would reduce efficiency in circulating air.
If your ceiling is over 9 feet, consider installing a standard downrod ceiling fan.
Here are Delmar's suggestions for calculating the length of a downrod:
"The most common method used to find the right downrod length is to take the ceiling height, subtract the height of the ceiling fan (most fans are between 12 and 18 inches in height depending on the fan), and then subtract the desired hanging height (usually eight feet). For example, if your ceiling is 12 feet high and your ceiling fan is 12 inches, you will need a 24-inch downrod to mount the ceiling fan between eight and nine feet above the floor. You can also refer to the downrod length chart below for additional guidance in selecting the right measurement."
| Ceiling Height | Pole Length |
| --- | --- |
| 8 Feet | No Downrod |
| 9 Feet | 6 Inches |
| 10 Feet | 12 Inches |
| 11 Feet | 18 Inches |
| 12 Feet | 24 Inches |
| 13 Feet | 36 Inches |
| 14 Feet | 48 Inches |
| 15 Feet or greater | 60 Inches |
An important thing to note is that ceiling fan downloads aren't universal, so it's recommended to purchase a downrod from the same manufacturer as your ceiling fan.
---
Should I Buy a Ceiling Fan With Light?
This is pretty much a personal preference.
We recommend that if you're hanging the fan in an area with good natural lighting, you can skip it and probably save a few bucks.
If the space could use a boost from well-lit conditions, consider going for a ceiling fan with light. If you have your laundry room in the middle of your home like me, you know what I'm talking about here.
If you choose a ceiling fan with lights, you'd typically have a few lighting outputs to choose from:
LED bulb: Boast an average lifespan of 50,000 hours and is the most energy-efficient. It is usually easy to switch out for replacement or change it to a suitable temperature. (I'm a fan of warm yellow-ish whites at 3000-4000 Kelvin!) Some fans come with an integrated light kit, which is usually replaceable.
Fluorescent light: Typically has less lifespan than LED bulbs at around 10,000 hours.
Halogen light: Least energy efficient and have an average lifespan of around 1500 hours.
---
Ceiling Fan: Styles, Finishes, and Blades
With so many ceiling fans available—you can virtually get one that perfectly complements your home decor. Try to take a cue from the existing finishes in your home. I like to complement my doorknobs and cabinet with my fan pattern and color.
A few weeks ago, we spent some time organizing our Pinterest board to collect the best ceiling fan styles of this year. It's not ready yet, but I'd love to share a glimpse.
Here are some popular finishes for the base and fan blades:
Modern: A modern-style ceiling fan with clean lines and metallic finishes is ideal for this home style. Fans with nickel, chrome, or matte polish should feel right at home: a big personality and bright colors.
Traditional: Classic dark wood blades with oil-rubbed bronze or brushed nickel finishes. Tropical-inspired complements cottage-style houses perfectly.
Rustic ceiling fans pair well with country kind-of interiors. Complement it with lodge-style furniture and soft, muted colors for a relaxing look.
The ceiling blade fans are also made of various materials like:
Solid wood: Most solid wood blades are made of balsa—and are perfect for interiors. It's usually a bit thicker and more expensive than standard blades.
Plastic: Many fans feature ABS plastic since it's inexpensive to manufacture. They can work both—indoors and outdoors, but I'd recommend solid wood if you can stretch your budget a little.
Metal: A metal plate is great for rooms where the fan is hung at least 10 feet or above the floor. It works great in damp/wet applications and is a perfect choice for the outdoors.
---
How Much Air Can it Move? CFM and Airflow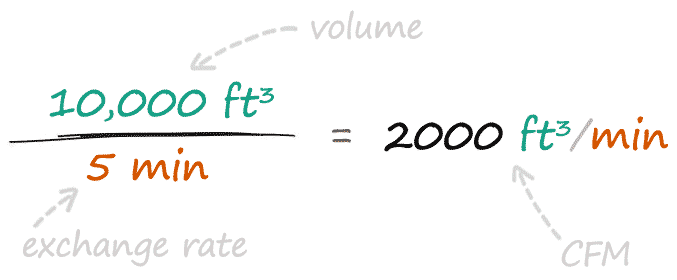 CFM shows you the amount of air that your ceiling fan can move in a minute when running at maximum speed. It's calculated as Cubit Feet of Airflow Per Minute, hence the acronym CFM.
Since the primary purpose of a ceiling fan is to help cool a room, CFM is a critical make-or-break decision when making a buying decision.
"Okay, just tell me how much CFM do I need?" I hear you ask.
Well, it depends on the size of your toom. Use the table below to find the recommended CFM for your room.
| | | |
| --- | --- | --- |
| Size of Your Bedroom (Sq. Ft) | Recommended Ceiling Fan Size (Diameter) | Recommended CFM Rating |
| Small (Under 144 sq. ft) | Under 42 inches | 1000-3000 |
| Medium (144-225 sq.ft) | 44-50 inches | 1600-4500 |
| Master (225-400 sq.ft) | 50-62 inches | 2300-6500 |
| Great Rooms (400+ sq.ft) | Over 62 inches | 5500-13,500 |
Now, as a next step, you might be naturally wondering:
How do I find out the CFM of a ceiling fan if the manufacturer does not specify it?
The great news is that since 2009, there's a federal mandate by the Environmental Protection Agency (EPA) that requires manufacturers to provide an "Energy Information" label on the product boxes, websites, and catalogs.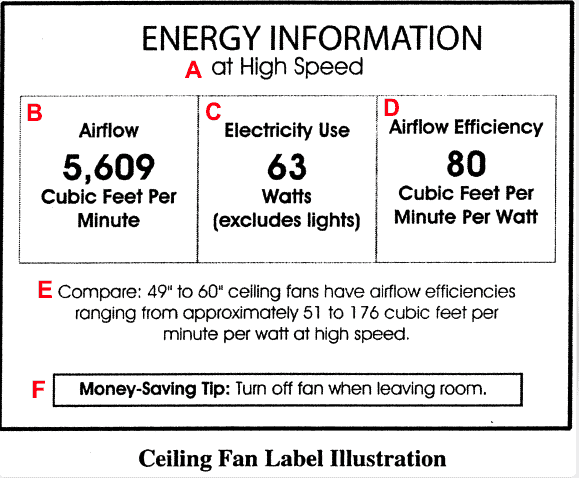 Fortunately, we have done the heavy lifting for you and pulled this information for all the products on our list. It should be visible clearly beside the product.
While it's a great first step for consumers, it can be misleading or confusing if you're unsure how to interpret the numbers. Hansen has a good guide explaining CFM airflow ratings with practical examples.
Pro-tip: CFM measures how much air is moving while velocity measures how fast it moves.
---
What Is The Best Number of Blades On a Ceiling Fan?
Contrary to some people's belief, the number of blades isn't an excellent airflow indicator (CFM is much more important!)
It used to be that a five-blade would translate to more efficiency than a three or four-blade, but advancements in technology have rendered the number of blades mostly an aesthetical choice.
Delmar puts it perfectly together, "The reason is that residential ceiling fan design, low-drag blade shapes, and pitch and balance technology have advanced so far that they can make a ceiling fan with two blades perform as well as a ceiling fan with five. They can even have a ceiling fan with three or fewer blades be as quiet as one with eight or more blades."
However, some 3-blade fans can be noisier than ceiling fans with more blades. As a general guideline, the more blades a fan has, the quieter it will be.
---
Can I Use a Ceiling Fan Outdoors?
Picture this:
It's a beautiful spring day. You're sitting on your porch swing, sipping ice tea.
You are enjoying the cool breeze—thanks to the ceiling fan you bought since it's matched your porch decor.
The only problem?
Blades can warp or melt due to heat and moisture problems. You'll find rust throughout in no time.
The fix?
Always get an outdoor ceiling fan.
According to Underwriters Laboratories (UL), a US-based NGO, Ceiling fans come with three ratings:
UL Dry Rating: You'll typically find dry-rated ceiling fans indoors—bedroom, living room, etc. They should not be used outdoors or in places with high moisture.
UL Damp Rating: They're great for areas that have indirect exposure to moisture—kitchen, bathroom, covered patios. However, they're not meant to come in direct contact with water. Many homeowners prefer damp-rated ceiling dan indoors too because they're available in sturdier designs—like steel and wood with extra protection against moisture.
UL Wet Rating: Often made from ABS plastic, wet-rated fans can withstand the harshest of moisture, water, snow, and rain. The motor is encased in weatherproof and waterproof protection. You can install it in uncovered porches, gazeboes, pergolas, or outdoor bars. They don't come in as many styles and finishes as damp-rated ones; however, ABS plastic can be made to look like real wood—if that's your thing.
You can use an outdoor-rated fan indoors, but not the other way around.
---
Ceiling Fan Features and Accessories
Energy Star Rated
Energy Star® is a government-backed agency that partners with the U.S. Environmental Protection Agency (EPA) that provides credible and unbiased information to consumers worldwide.
Manufacturers must pass a rigorous test to earn the energy star rating for their products.
Energy Star claims that the ceiling fans that have earned the Energy Star certifications are:
Up to 60% more energy-efficient than conventional fans
Use improved motors and blade designs
If your fan doesn't include lighting and you decide to add it later, it might be helpful to purchase an Energy Star certified light kit to get the advantages of Energy Star lighting.
| | |
| --- | --- |
| Standard Bulb (Watts) | Energy Star Bulb brightness (Minimum Lumens) |
| 40 | 450 |
| 60 | 800 |
| 75 | 1100 |
| 100 | 1600 |
| 150 | 2600 |
Pull Chain
A pull chain allows you to adjust fan speed and lighting. This easy-to-reach control is ideal for areas with low ceilings or in rooms that aren't used often, such as guest rooms or low-profile fans.
I'd classify it mainly as an aesthetical choice rather than a utility.
Remote Control
Most ceiling fans, especially those installed on high ceilings, will include a remote. It's a great add-on if you're looking to adjust the settings on your fan without leaving the couch!
Wall Control
Wall Controls is basically like having a remote fixed to the wall instead of a switch. This is great for multi-purpose rooms and if you have kids at your home.
Smart Ceiling Fans
Buying a smart ceiling fan may sound like a lavish splurge, but it can add a host of new useful tricks.
I regarded most smart home devices as "gimmicky" with no real use if you're anything like me. That has started to change lately.
Here are some things that a smart ceiling fan can do:
Truly remote control: Operate your fan via WiFi from literally anywhere. It can also deter burglary attempts by making it seem like the house is occupied.
Program automated schedules: Turn your fan on and off on a consistent schedule, potentially saving energy, albeit marginally. Also, motion sensors can detect human motion and turn it on and off accordingly. When your fan runs on auto-pilot, you have one less thing to worry about.
Save energy and reduce utility bills: According to the U.S. General Services Administration, smart ceiling fans can reduce annual energy costs by 4% – 11%, or $0.07 – $0.22 per square foot annually. The amount you save may vary depending on location. For instance, Phoenix residents saw $0.149 per square foot of savings, while residents in Minneapolis, Minnesota, saw $0.070 per square foot.
---