As an Amazon Associate, I may earn from qualifying purchases at no extra cost to you. These are the same products I'd recommend to friends and family.
Have you ever been awakened in the middle of the night by the noise of a toilet being flushed? Or do you avoid flushing the toilet at night because you're paranoid it'll wake up your sleeping kids?
We get it.
You aren't wildly enthusiastic about announcing your nature's call to everybody in the home.
So we spoke to 3 plumbing contractors at length, dug into several research papers to find the best kind of quiet toilets, and shifted through 15+ models and reviewed them based on:
How efficiently can they clean in a single flush (MaP Standards)
How noise efficient are they (sustained noise, noise acceleration rate)
How much water and bill do they consume (GPF – Gallons Per Flush)
Other features such an elongated seat and comfort height (ADA compliant)
And much more
Let's dive into the best quiet toilets you can buy right now.
Psst… Short on Time? Here's a Quick Summary
To see how we picked and chose, skip to our research section below.
Here's why you should trust us.
Best Value: American Standard Champion 4
What's Great
Strongest flush on this list
Quiet operation
ADA compliant height
Not So Good
Not WaterSense ceritified
The American Standard Champion 4 is the best quiet toilet for most people. This one-piece toilet comes with a top of the line >800 MaP score and a standard 1.6 gpf, so you can be assured it'll flush even the hardest stool with no problems and makes relatively low noise.
The flushing system involves a 4-inch wide flush and an extra-large 2-3/8 inch fully glazed trapway. This is where water enters the bowl when the toilet is flushed. For comparison, most toilets come with a 2-inch flush valve. This large trapway helps the Champion 4 deliver a powerful flush.
It comes in two different heights: regular is 15″ rim to the floor (without a seat), and the right height is 16.5″ rim to the floor (without a seat). The right height is ADA compliant, making it a great choice if you have tall or older adults in the home. Also, it features a slow-closing seat so that it doesn't bam loudly—a great bonus feature when on the lookout for a quiet flushing toilet.
The elongated seat offers several benefits over rounded ones; it's great for adults, especially men, as the sloped angle prevents spill-back.
We like the hygiene features on the Champion 4. First, since this is a one-piece toilet, it's easier to clean since dirt doesn't get stuck between parts. Second, it comes coated with American Standard's patented EverClean additive, which helps prevent mould growth and odor-causing bacteria.
One downside is that it uses 1.6 gallons of water per flush. While it's a massive improvement from the old 3-gallon and 7-gallon flush toilets, it still doesn't meet the United States Environmental Protection Agency's (EPA) WaterSense program standards. To be WaterSense certified, a toilet must use 1.28 gallons per flush (GPF) or less.
Since the California Energy Commission (CEC) requires any toilet sold in California must not use more than 1.28 gpf, it cannot be sold in California or Texas. Thankfully, you can get two comparable models if you live in either of the states. We discuss the alternatives below.
Alternative to American Standard Champion 4
American Standard Champion 4 Max
The main difference between Champion 4 and Champion 4 Max is the amount of water they consume. The Max uses only 1.28 gallons per flush (GPF) and is, therefore, EPA WaterSense certified. Hence, unlike the Champion 4, it can be used in Texas and California.
The American Standard Cadet 3 also features a lower water consumption at 1.28 GPF than Champion 4's 1.6 GPF. The flush valve is 3-inch, 1-inch smaller than the Champion 4. However, it still delivers a powerful flush. The Cadet 3 might be a great choice if the Champion 4 Max is unavailable or you need an elongated but compact bowl for smaller bathrooms.
Best Budget: Swiss Madison St. Tropez
What's Great
Great on budget
Dual flush feature
Modern and sleek
Not So Good
Requires professional installation
Swiss Madison St. Tropez is a budget-friendly alternative for a sleek-looking, powerful and quiet flush toilet.
It has a dual-flush feature that clocks in at 1.1 gallons per flush for liquid waste and 1.6 gallons per flush for solid waste.
Just like the Champion 4, the soft close elongated seat is a welcome addition, so someone doesn't slam it loudly in the middle of the night.
The bowl height for this toilet is 15.5″, rendering the seat height approximately 16.5″. I like the sleek base and dual button flushers which remind me of European toilets that offer an ecological flush option with less water.
It can be somewhat challenging to install as the access holes are small, and aligning the bolts isn't straightforward. However, calling a contractor or a certified technician should do the job.
Rough-in is exact 12″, but the trap size is not 2.75″ as on the company's website; it is 2.25″ measured at the bottom. Most toilets out there are 2″ though, so this is still good. It's not as powerful as the Champion 4 or Cadet 3 but still comes with a respectable
The small flush can cause a small spray of water to go on the floor in front of the toilet. To prevent this, you have to flush with the lid closed. Swiss Madison claims that the trapway is fully skirted, making it extremely easy to clean. While we agree that the crevices in the lid are still hard to clean for the most part.
Overall, a solid model from Swiss Madison that's also not heavy on the wallet.
Runner-up: KOHLER Kelston K-3754
What's Great
Enthusiastic flush
ADA compliant
Forever lasting
Not So Good
Top lid doesn't fit snugly
The Kohler Kelston K-3754 is another great two piece toilet from Kohler. Its elegant, clean and can be mixed with the contemporary or rustic bathrooms.
It has a pretty strong flushing efficiency. If you just flip the release lever, the flush will use less than a gallon of water. Hold it down just a bit longer, and you get the full 1.6-gallon flush. This toilet does a great flush with little water, even with a large feces load.
The height is comfort height at 17.5 inches—which is marketing speak for ADA-compliant. The elongated bowl makes it a great choice for tall or elderly people.
Please note that this model doesn't come with a seat, so you'll have to buy it separately.
The toilet is made for a 12-inch rough-in. The back edge of the tank sits close to the wall so that you wouldn't want any less than 12 inches of clearance from the wall to the tank.
The only major downside is that the tank moves back and forth easily, and the top lid doesn't fit snugly in the unit. Kohler's official support recommended using foam levelling pads made by cutting pieces of weatherstripping. They can be placed between the tank lid to prevent it from moving.
It'd have been great for Kohler to look into this issue directly instead of having their customers do this DIY trickery.
Despite this, we still think the Kohler Kelston is worth getting—thanks to its powerful flush, quiet operation and comfortable height.
Alternative to Kohler Kelston K-3754
Are you looking for a one-piece alternative to the Kohler Kelston? Or do you live in California or Texas, where it is required by the law only to use flush toilets with 1.28 gallons or less? The Kohler Santa Rosa is a perfect alternative. It comes with the same comfort height and elongated bowl design, but with the goodness of 1.28 GPF and one-piece.
Toto Drake II
What's Great
WaterSense Certified
Powerful Tornado Flush
Comfort Height
The Toto Drake II is one of the best flushing toilets, along with the Champion 4. To be fair, we wouldn't say that this is an extremely quiet model—let's just go with "reasonably quiet."
The Original Drake had slight problems with "skid marks" as they have minimal "washdown" in the back end closest to the wall. This Drake II attempts to improve the skid mark problem with the swirling motion of the water. And boy, it does work great. We especially liked that they have upgraded the Drake II to use 1.28 GPF (Toto's G-Max flushing system)—making it EPA WaterSense certified. Put simply, it can be used in California and Texas, too.
It comes with what Toto calls a Tornado/Double Cyclone Flushing System.
Tornado what, you ask?
Unlike most toilets with rim holes, the Drake II comes with powerful nozzles, which, combined with a wide 3″ flush valve, ensures an enthusiastic flush.
Remember how American Standard's products come with an EverClean coating? Toto also has its own Toto CeFiONtect glaze/Sana gloss, which helps prevent bacteria and foul odor. The Sana gloss is super smooth (like a freshly waxed car), and while stuff can still stick, if it doesn't wash off during the flush, it makes it easier to brush off.
It comes with an ADA-compliant toilet seat height of 17.25 inches.
Note that it doesn't come with a seat, so it needs to be purchased separately. We're not sure how we feel about this trend of manufacturers selling seats separately, but that is what it is now.
One last thing—It doesn't come with wing nuts to attach the tank to the bowl. We suggest you use them rather than the regular nuts that come in the box. Buy some brass or stainless 5/16″— they're a lot easier to install and tighten.
Alternative to Toto Drake II
Looking for a one-piece alternative that has all the goodness of Toto? The Toto UltraMax is the best premium alternative to the Toto Drake II. While it's a bit pricey, it can last for over a decade—making it an excellent long-term one-time investment.
Buying Guide
Types of Flush System
Gravity-Fed
The standard gravity flush is the oldest and most common flushing system in U.S. residential homes. It utilises the force of gravity (weight of the water in the tank) and doesn't require any mechanical or electrical assistance.
What does that mean for you?
Well, first:
Gravity flush is the quietest flushing system. Period.
Do you panic every time you need to flush because of the noise it creates?
You should get a toilet with a gravity flush system. Although there have been improvements in pressure-assisted and vacuum-assisted flushing systems, they don't come nearly as close to gravity-fed systems when it comes to being less noisy. This is because it uses relatively low-water pressure, and there are no mechanical parts that could cause noise.
Hence, all the toilets featured on this list are based on the gravity-based flush system.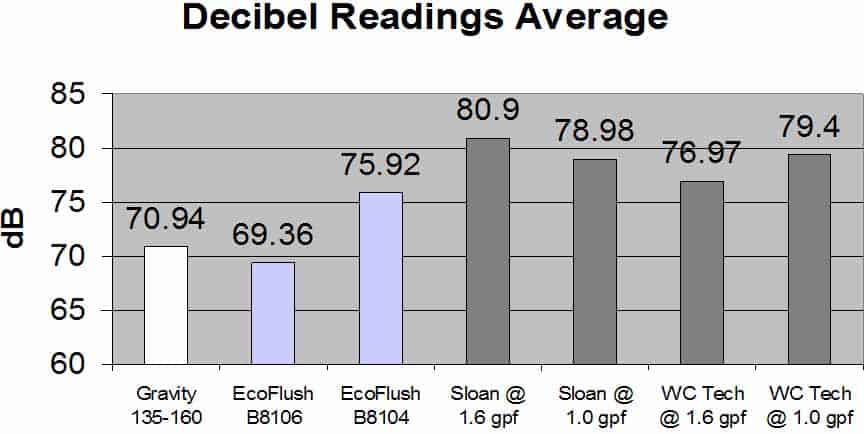 Also, most repairs should be relatively easy and inexpensive as there are relatively fewer moving parts.
Here are some more pros of gravity toilets:
Considerably cheaper than pressure toilets
Easy to find replacement parts since they're widely available
Easy to repair and maintain since there aren't many moving mechanical parts
Some new homes come with what I call "builder grade" toilets. A builder may only be making 5% on the total sale of the house, so some of the product is what I call starter grade or, in construction terms, Competitive. Competition means that subcontractors are competing to get the job. That makes for a pretty inexpensive product to stay competitive with other contractors. Often, in the "aftermarket", we just haul those new toilets out and "recycle" them. They make good roadways when crushed.
—Terry Love, owner of Love Plumbing & Remodel
Pressure-Assisted
Have you ever used a busy public restroom?
If so, you've most likely used a pressure-assisted toilet.
Here's why:
It doesn't clog easily, can withstand constant usage, and typically offers a more powerful flush than gravity toilets—making it a perfect flush system type for commercial use.
While gravity tanks rely solely on the water and the earth's gravity to empty the toilet bowl, a pressure-assisted toilet uses a secondary tank to create additional air pressure to exert more force.
We typically recommend getting pressure-assisted toilets, especially if you have an older home with old sewage lines that clog frequently.
We tried looking for evidence if there have been any substantial noise improvements in pressure-assisted toilets and came across this research paper by Bruce Martin, the inventor of Flushmate.
Martin suggests that consumers shouldn't have to make a trade-off between performance and quietness and described the following charts:
The following chart shows the noise emissions over the first 23 seconds of each unit's flush cycle.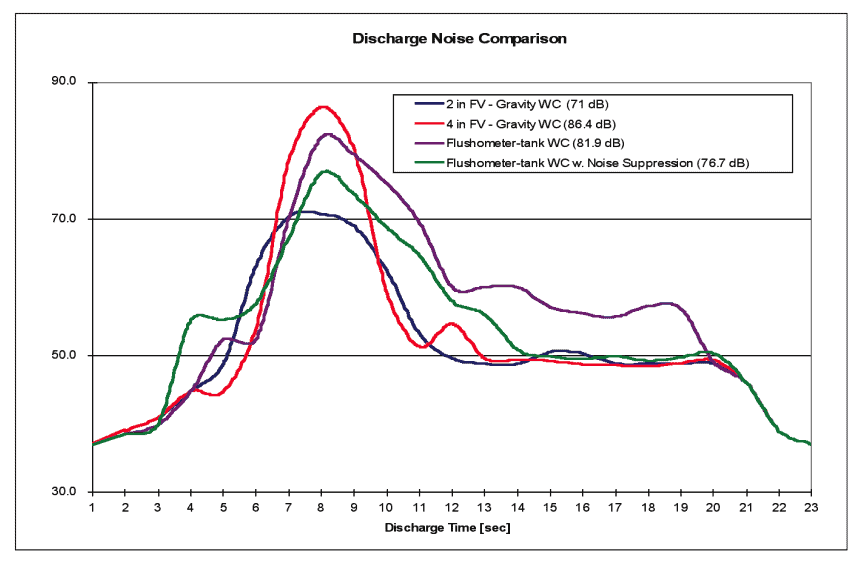 To properly evaluate a toilet's flush noise, he believes that one must consider more than just peak dB.
Sustained noise: A sustained noise at level "a" is obviously more annoying than a quick burst at the same dB. The higher the peak dB and/or the longer it continues, the more annoying it becomes. Thus, any rating method should include a sustained noise discomfort factor.
Night-time flushing: For nighttime use considerations, toilets should be rated for their through-wall flush-noise transmission.
Noise acceleration rate: Another flush-noise aspect that needs evaluation is how quickly the flush emission level climbs from ambient to peak dB—the slower the rate of increase, the less hearing stress.


However, how the manufacturers put these factors together is yet to be determined. Since there's no standard way to measure the water closet discharge noise, and because most gravity-fed toilets are quieter for most residential homes, we didn't cover any pressure-assisted toilets for this research.
If you're looking to look further than noise, here are some pros of pressure-assist toilets:
Rarely Clogs: You won't need to flush twice, even if you have old plumbing piping
Save Water and Utility Bill: Most pressure-assist toilets use around 1.2 gallons compared to gravity flow (1.3 to 1.6 gallons) which can help you save up to 4000 gallons annually.
Doesn't Condense: These toilets are usually not impacted by humid weather because the inherent design reduces the amount of sweat. (If you have ever visited San Francisco, you know what we're talking about!)
Low maintenance: Since most of the water is located in the bowl, it reduces the labor and chemical cleaners required to keep the toilet clean.
Before you jump ship, here are some cons of pressure-assisted toilets:
Noisy: They generate more noise since they eject water with full force.
Replacement Parts are Not Widely Available: Many hardware stores do not keep replacements part on the shelf. You might need to place a special order.
Higher Cost: They cost substantially more than gravity flush toilets
Single-Flush Vs Dual-Flush
SIngle-flush toilets have one flush mechanism, meaning that it flushes all type of waste with the same amount of water. Dual-flush toilets have two flush mechanisms. The one for liquid waste uses less water (~0.8 gallons), and the one for solid waste uses standard 1.6 gallons.
I heard his concern that many of the new toilets were coming with inexpensive flappers that deteriorate and go bad quickly. He felt that if the manufacturers had spent just a little more on the flapper, replacements would have been needed less often. Leaking flappers are a source of wasted water in a home. He also pointed out that some of the new 1.6 GPF toilets use flappers with floats attached to the pull chains. When homeowners replace these with non-float flappers, the toilet becomes a water waster.
—Al Dietemann, Senior technical analyst at Seattle Public Utilities
In 1992, Congress passed legislation requiring that all toilets sold in the United States meet a new water conservation standard of 1.6 gallons per flush (GPF). The United States Environmental Protection Agency (EPA) notes that a switch to such high-efficiency toilets reduces toilet water use by over 50% and indoor water use by 16%. This translates into a savings of 15,000 to 20,000 gallons per year for a family of four. This is why most models use an industry-standard 1.6 gallons per flush (GPF) or less today. This makes them eco-friendly and can help save money on your water bill.
EPA's WaterSense certification makes it easy to find fixtures that use at least 20 percent less water than the 1.6 gallons currently mandated.
Our recommendation is most people should opt for a dual-flush toilet if you're looking for a toilet for your home.
It might make more sense for a single-flush system in a commercial setting since you don't want your guests pressing the liquid waste button when they should have pressed the "solid waste" button. Also, if you have elderly or disabled people at home, it might be a bit challenging for them to operate the dual-flush since it requires a considerable force to push down.
When you're researching the various types of flushing systems—you might also come across certain other types. Note that most of them aren't a standard "flushing system type" per se but a proprietary solution by major manufacturers.
Double Cyclone/Tornado Flush
Toto (a significant toilet manufacturer) refers to its toilet system as "Tornado Flush". Instead of the traditional rim holes, the Tornado Flush releases water into the bowl using two large nozzles on either side to create a cyclonic rinsing action. It uses the industry-standard 1.28 gallons per flush (GPF) for solid and liquid waste.
Double Vortex Flush System
American Standard refers to its toilet system as "Double-Vortex". The water enters the bowl via the nozzles at the top, creating a rising cyclonic action. Newer models like the American Standard Champion 4 has a 4-inch flush valve, leading to a more powerful flush.
While each of them has its advantages, we don't put a lot of merit on marketing speak. We continue to evaluate toilet models based on the fundamentals—how efficiently ca =n it clean the bowl (gpf) in a noise-efficient way (dB)
How Efficiently Can a Toilet Flush Solid Waste? High Maximum Performance (MaP) Score
Maximum Performance (MaP) is a voluntary testing program released in 2003 representing the grams of solid waste that a particular toilet can remove entirely in a single flush.
Despite being voluntary, over 160 manufacturers participate in the MaP program today.

We recommend only getting toilets with a MaP score of 600 or better for efficient solid waste removal. A rating of 350 to 600 grams for a standard 1.6-gallon flush is decent. The minimum acceptable is >350, although we don't recommend getting one.
We have sourced the MaP score for all the toilet models on this list directly from MaP's official website.
Some big box stores sell toilets with a rating of 1,250. It's critical to note that this is a proprietary score by the manufacturer, not a MaP score. We have carefully verified that the efficiency scores of toilets on this list are based on the MaP rating, so you don't have to fret over it.
— Apple Plumbing, a full-service plumbing company, based in Westminster, MD.
Bowl Design: Round Vs Elongated Toilet Seats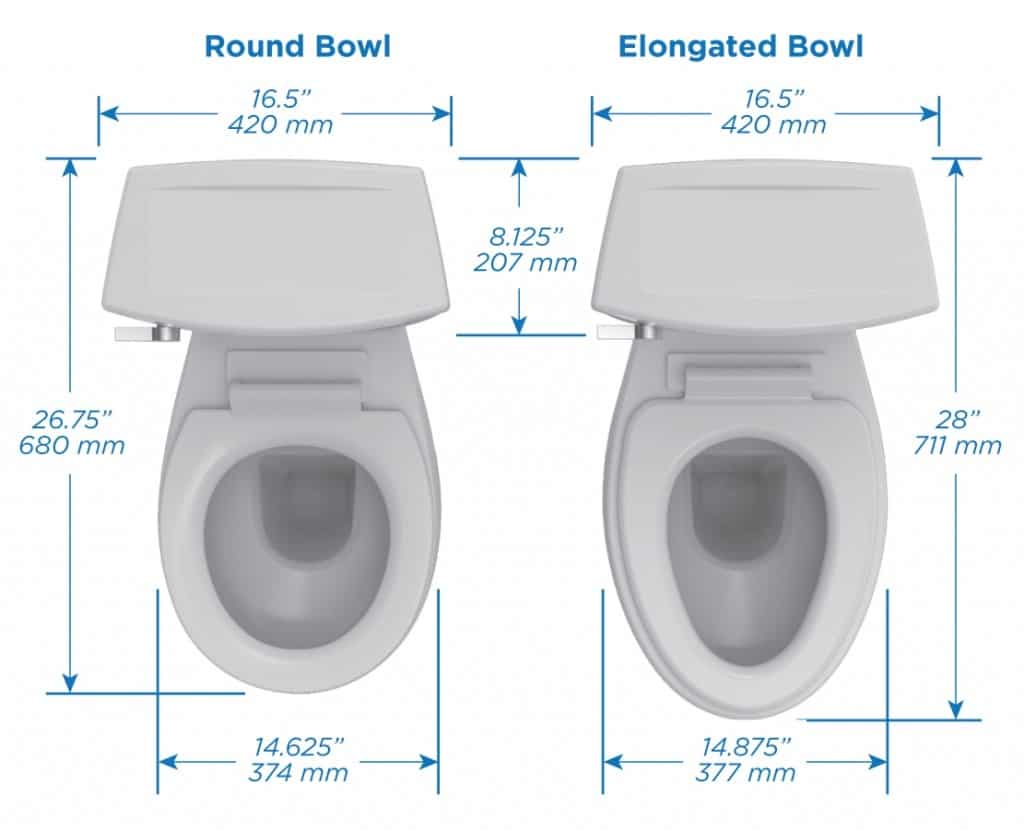 A round vs elongated toilet seat refers to the measurement from the seat bolt holes to the tip of the bowl. A round bowl typically measures 16—17¾, whereas an elongated bowl measures 18—19½. Note that these dimensions can change from manufacturer to manufacturer, but here are two useful tips for identifying the kind of bowl design:
There's almost always a 2″ difference between the design types. If you cannot identify whether it is round or elongated, ask for this difference in measurement between the same manufacturer.
The elongated bowl is egg-shaped/oval.
In the early days of indoor toilets, there used to be a significant cost difference between them, but it hasn't been the case for a while now.
Here are the advantages of elongated toilet seats:
Comfortable for most adults, especially men: The sloped angle inside the bowl prevents splash-back.
Can be more hygenic: The larger surface area of the bowl can create less mess.
From anecdotal experience, people with small children don't opt for elongated toilet seats as kid's waste tends to drop down the front slope—leading to more cleaning. However, as a counter thought, children do grow and "potty seats" can help them while they're young. Buying a toilet is a considerable long-term investment, and it might make sense to choose based on the long term needs.
Here are the advantages of round toilet seats:
It is a great option for smaller bathrooms as they take up less space or where door clearance is tighter.
It is easier to use for children since their waste doesn't drop down directly onto the front slope.
To sum up, there's not a considerable cost difference in both the design shapes. The above tips should help you narrow down the one you should get.
How High Should the Toilet Seat be? Standard vs. Comfort-Height Bowls (ADA Height)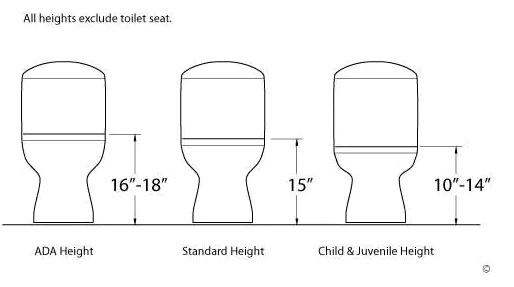 Standard toilets come with a seat height of 14 to 15 inches. Comfort height toilets (ADA compliant toilets) come with a sea height of17 to 19 inches.
Toilet height is measured from the floor to the top of the seat/rim (including the seat). This can be confusing since some manufacturers do not include a seat.
Note that different manufacturers market comfort height as "elevated," "chair height," "tall height," "ADA compliant." The Americans with Disabilities Act of 1990 (ADA) requires that toilets have a 17″—19″ floor to top of the rim height.
Here are the pros of a standard/conventional toilet height:
More comfortable if you've growing family with kids
Great if you have frequent constipation episodes
Here are the pros of a comfort/ADA compliant toilet height:
More comfortable for tall, elder, disabled, or people with less mobility
It can be helpful when you put your house on the market
Type of Design: One-Piece Vs Two-piece Toilet
A two-piece toilet comes with a separate tank and bowl, while a once-piece toilet is fused without any joints.
Consumer Reports say that about 80% of toilets sold in the U.S. are two-piece toilet models. Most homeowners are familiar with them as they have been around for longer.
So which one should you get?
As always, it depends.
Here are the pros of one-piece toilets:
More durable and long-lasting due to unified parts
Easier to clean. You don't have to remove the tank to clean under it.
Potentially more hygenic since dirt cannot hide in joining parts
However, one-piece toilets can be a bit challenging and expensive to install. Also, you cannot replace the tank or bowl separately in most cases, and needing a full replacement can be pricey.
Here are the pros of two-piece toilets:
Easy availability of replacement parts since they have been around for a long time
Lower maintenance cost since the tank and the bowl can be replaced separately
Less bulky and easier to install
Note that the type of design does not significantly impact performance. Both the design types can be equally efficient.
We used to prefer one-piece toilets because of their sleek looks and the wall-mounted option, but over time stuck back with two-piece ones.
Here's why:
We have both in our house. If my two-piece leaks, I take a short drive to the hardware store. $5-10 in aftermarket parts and 20 minutes is all it takes to fix most things. If my one-piece leaks, I need to find the owner's manual, look up the replacement part number, and order parts from the manufacturer. It's surprising how difficult it can be to find aftermarket parts.
Don't forget to check the rough-in dimensions, though!
---