As an Amazon Associate, I may earn from qualifying purchases at no extra cost to you. These are the same products I'd recommend to friends and family.
Are you tired of your fan making irritating sounds?
Are you disturbed in your daily routine because of how loud your fan is?
I was constantly irritated by the noise of my fan. I couldn't focus on any chores, it constantly gave me a headache, and moreover, it made my little girl really restless.
After about a dozen hours of research, I finally settled for a quiet tower fan for my bedroom.
Ready to find the best one for you?
Let's dive right into it!
Product Name
Best Overall
Dyson Cool AM07
Best Budget
Honeywell Quiet Set
Seville Classics UltraSlimline 40"
Best Overall
Best Budget
Product Name
Seville Classics UltraSlimline 40"
Note: If you're looking for a particular kind of fan, you might want to check out my recommendations on the quietest fan for sleeping. I cover various types of fans including oscillating fans, table fans, and then some.
1. Dyson Cool AM07 Air Multiplier Tower Fan
If you are looking for a bladeless, high-velocity cooling solution, Dyson's offering is hard to beat.
This model uses its patented Air Multiplier technology to create a powerful stream of uninterrupted airflow without fast-spinning blades making it safe for children, pets, and during cleaning.
It weighs only 9 pounds and has a 2-year warranty. The fan has 90 degrees of oscillation.
Another feature that I really liked is that the remote control has around 10 airflow settings—which lets you precisely set the airflow rate. It's also whisper-quiet and extremely powerful, moving 1200 cubic feet of air per minute. The remote has a magnet in it so it clicks into place so you should never lose it.
Having a sound output of only 60 decibels, this fan is not only extremely quiet but also very easy to maintain. You can place it in the corner as a cooling tower fan for the living room and let it do its thing and never have to move it at all.
One minor annoyance is that the controls are at the base—which might make it a little tricky to reach and access.
To be fair, I'm just nitpicking here though.
Pros:
Very Quiet
Aesthetic design
Uninterrupted airflow
Portable
Cons:
Controls are on the base
Expensive
2. Honeywell Quiet Set Whole Room Tower Fan
If you are looking for a bladeless cooling solution on a budget, this model from Honeywell might be worth looking into.
Even when running at full blast, this fan is still impressively quieter than many other models I came across. When using it on sleep mode, there's hardly any sound whatsoever. My neighbor, who bought this last month, said that the fan only added 5 decibels of sound at the " Relax Setting" she used, and she was really impressed that the fan added only 10 dB even on the highest setting.
It provides powerful cooling to the entire room with its powerful oscillation. It has 5 levels of sound and power settings that let you choose what's best for your environment.
It has an auto shut-off timer. You will find 5 customizable speeds that range from 'sleep' to 'power cool' settings and control panel lights that automatically dim after 15 seconds, making it perfect for nighttime use.
It weighs only 8 pounds and is very easy to set up—no extra tools required. It also comes with a limited one year warranty.
Even though it comes with a remote, it does not come with batteries. You might have to change batteries of the remote time-to-time. Another small point to note is that the control panel is a little bright so it could strain your eye. This isn't likely to be a huge issue, obviously.
Pros:
Very quiet
Great capacity
Oscillation feature
Automatic shut off timer
Cons:
3. Honeywell HY-254 QuietSet Whole Room Tower Fan
If you are looking for a premium and quiet bladeless tower fan, you might want to have a look at Honeywell HY-254.
This model is quite similar to the Honeywell Quiet Set Whole Room Tower Fan in many aspects.
It has an auto-shutoff timer and oscillation feature for a wider area cooling. It has touch button electronic controls & remote control with on-product housing. It is very quiet in operation.
This model comes with no less than 8 fan speeds, but all of them manage to move the air silently. In fact, this might be one of the most silent bladed air fans currently available on the market- around 55 decibels. The only fan that beats the Honeywell HY-254 QuietSet Whole Room Tower Fan is the Dyson tower fan that has 10 settings.
It also comes with a one year warranty. Although, you will not find auto-temperature control features in this model.
Pros:
Silent
Oscillation feature
Good cord management feature
8-speed options
Adjustable thermostat
Cons:
No auto-temperature control features
4. Ozeri Ultra 42"
If you are looking for a tower fan with easy functionality and a great design, Ozeri Ultra shouldn't disappoint.
This oscillating tower fan offers three whisper-quiet speed settings and three different airflow patterns—designed to foster sleep, relaxation, and comfort. When measured, you will find that the fan produces only around 50 decibels of noise.
It has a 90-degree oscillation for optimal air circulation and a new LED screen with a light dimming night mode.
You will find a 12-hour timer on this model, that can be programmed in 1-hour increments with ease of just pushing a button.
This model is a compact design and it has an easy-to-use control panel which is basically an intelligent screen that displays room temperature, and an enhanced-range remote control that conveniently stores in the fan.
Control-wise, this fan is a treat. On the tower itself, the controls are hidden underneath a plastic lid. When you lift the lid, you get a full color LED display.
Even if you lose the remote, it is not a problem, the company has an app that you can use to operate the fan. Moreover, it comes with a one-year warranty.
One downside is that it might be a bit wobbly at times—especially if not kept on a completely flat surface.
Pros:
Oscillating blades
Noise reduction technology
Compact design
Easy to use control panel
Cons:
5. Lasko T42950 Wind Curve Tower Fan
If you are looking for a stylish, bladeless cooling solution, you might consider having a look at Lasko T42950.
If you live in the heat with no central air, or your window AC unit does a poor job of moving air around your whole house or apartment, this tower fan creates excellent airflow making you feel cooler.
It comes with a built-in carry handle, an optional oscillation, and a handy remote for when you don't feel like getting up to change the settings.
It offers three-speed settings- high, medium, and low. It is 42.5″ tall (even taller than Ozeri's model) but that makes it a very sturdy tower fan.
It has a sound output range of 50-60 decibels—which is pretty quiet and acceptable.
It has a built-in ionizer that disperses millions of negative ions into the air that bond with positively charged ions which includes things like dust, bacteria, pollen, smoke, and other allergens. Once the bond is formed, the particles become heavier and fall to the ground. As the negative ion levels grow in the room, the air feels naturally fresher.
It has a remote control that stores on the back of the fan while you are not using it. It also comes with a nighttime mode.
A very unique feature that this model has is the Blue Plug. The Blue Plug is designed to cut off electric currents to the fan if the fuse inside the plug detects a potentially hazardous electrical fault.- making it a very safe model to use. It also has a one-year manufacturer's warranty.
It isn't without its downsides, though.
For starters, the power cord is a bit short. Also, there are not a whole lot of fan settings to choose from. You might not get a precise setting for your need.
Pros:
Stylish
Blue Plug safety feature
Quiet operation
Fresher airflow
Cons:
Short power cord
Fewer speed settings (when compared to other options)
6. Seville Classics UltraSlimline 40″
This classic model from Seville is a great pick if you're looking to cool a room of small to medium size.
It has 4 ultra-quiet speed settings and an energy-saving "Eco" mode. It has a sound output of around 60 decibels.
Is space an issue for you in your home?
Well, this model is pretty compact and takes less than 1 sq.ft.
You can also pick one of three breeze modes.
This tower fan oscillates 75 degrees (unlike the standard 90 degrees) side-to-side for fast-spreading, powerful air movement. In the high setting, the fan pushes 275 cubic feet of air per minute, which means that you will definitely feel its cooling effect.
It has a control panel and an easy to read LED-lit display. With an inbuilt timer that ranges 30 minutes to 7.5 hours, the control is truly in your hands. You can choose when to turn it on and off. It comes with a one year warranty.
Even though this is an ideal fan for small and medium rooms, this may not be the best option for larger spaces.
Pros:
Good option for a small to medium room
Safe for children and pets
LED-lit control panel
Powerful airflow
Energy-saving mode
Cons:
Not a good option for a larger area or room
Buying Guide: Things to Consider Before Buying
Noise Level
This is, of course, an important factor to consider before making a purchase decision. Old school fans would move a lot of air around the room, but they would do it using a noisy motor.
We need to find a fan that does not disturb the routine of irritates the children or pets.
On this list, products from Dyson and Honeywell are great options for silent tower fans.
Power & Coverage (Air Blowing Capacity)
The fans you choose should fulfill your needs of cooling the area you require. Some fans have an oscillating feature that allows the fan to circulate the air around the room better, increasing its efficiency. Thus, always consider a fan with a wide oscillation range.
Fan Speed and Modes
A fan with more speeds and modes will provide a more versatile function. You can choose the settings according to your needs. Having a fan with multiple settings means that you can choose a different setting for any situation that might come up. The Dyson tower fan has 10 airflow settings.
Stability
If you are planning to put the fan on the desk or the night table, the stability matters a lot. You wouldn't want the fan to topple off. On the other hand, if you just want to stick it in the corner of the room, stability wouldn't matter so much.
Ease of Use
A fan is a simple need. It should be easily operational, not like rocket science. A fan with a complicated usage will only irritate you and will eventually lead you to replace the model. Some factors that should easy usage are:
LCD display
Remote control
Digital control panel
Preprogrammed features
Timer
Purchasing a tower fan that comes with a timer can be a huge advantage. As we have already mentioned above, many tower fan options have a timer feature. You can just set a timer and the fan will automatically shut off whenever you need it to, without you waking up from your sleep to do it.
Aesthetics (Looks)
Look for a fan that complements your existing home decor.
The Lasko T42950 Wind Curve Tower Fan is a stylish option.
Warranty
Knowing that you can always get help from the manufacturer in case the product doesn't work well is quite a relief. The standard warranty for tower fans varies from 2-5 years.
FAQs
What Are the Different Types of Fans?
1. Axial
This is the type that people imagine when you typically mention a regular fan. They have blades that spin around a central axle and draw air in the back and push it out the front.
The axial fans get their cooling power from their blades. The number of blades, their length, angle, and rotation speed influence the fan's speed and effectiveness.
Inspired by the design of windmills, most table fans, ceiling fans, and even computer cooling fans are axial fans.
Advantages of axial fans:
Inexpensive
Can be replaced easily
Disadvantages of axial fans:
Speed of fan determines the amount of air blowing
2. Bladeless
Unlike the name, bladeless fans actually do have blades, you just don't see them. Instead of placing blades on the top, where you can see them, these blades are placed on the bases.
Advantages of bladeless fans:
More silent than fans using external blades
Low power requirement
Cooler air
Disadvantages of bladeless fans:
Expensive
Difficult to repair
3. Centrifugal
Instead of blades, these fans have impellers. Impellers draw in air and spin and push air out at a perpendicular angle. This increases the cooling capacity and volume of air.
Advantages of centrifugal fans:
More efficient
Cool air
Consistent volume
Disadvantages of centrifugal fans:
Better for the wallet to replace than to repair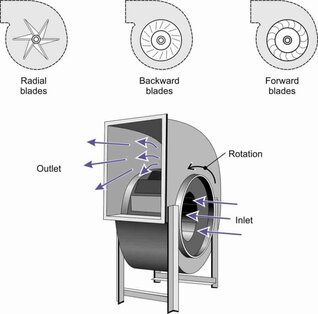 Are Bladeless Fans Quiet?
Yes, bladeless fans are relatively quiet. The design with which they are made—the hidden blades make the fan more silent than the ones with external blades.
Are Tower Fans Good?
For apartment dwellers or those looking to cool smaller rooms, tower fans are a great option. Their slender design allows them to fit in tight corners, while still providing ample airflow.
How Do Tower Fans Work?
A tower fan is built to pull air and push it out in a wider span. The tower fan's impeller blades in the cylinder housing move the air through the column and out of the vents. It runs the length of the slim tower that is designed with vents that block or permit the air to make its escape to cool down your space.
Here's more information about how tower fans work.
Which Is Better, an Air Cooler or a Tower Fan?
When it comes to comparing an air Cooler to a tower fan, the latter has many advantages. Tower fans are quieter, energy-efficient, and keep the air fresh and cool.
Is It Better to Use a Tower Fan or a Standard Floor Fan to Cool a Room?
If you want to cool a smaller room, tower fans are a great option. If you are looking to cool a bigger room, you should consider using a pedestal, standard fans.
Can you Leave a Tower Fan on Overnight?
It does work overnight or for long hours. But in general, fans tend to be a little hard on your health. They may cause tense muscles and dry skin.
How to Place a Tower Fan for Best Results?
Tower fans oscillate at least 90 degrees and some even rotate up to a full 180 degrees. This rotation is the basis of your airflow, so be sure to get it pointed in the right direction.
Depending on your room size, setting a fan in a corner may be a good option as more of the room can be covered evenly. But if you have certain areas that you want to be sure to cool, such as a desk area or bed, you will need to position the angle of the fan coverage to that certain location.
How Do I Clean My Tower Fan?
Things you will need:
A cleaning brush and a cloth, a can of compressed air or an air compressor, head screwdriver, a small bowl, protective mask, and eyewear. Here's how to clean your tower fan:
Unplug the fan. You may have to unscrew it.
Using the manual, open the fan. Follow the instructions in the manual. Wear protective eyewear and mask.
Clean the dust with a cleaning brush and cloth.
You can use the can of compressed air to clean the dust off the fan. If you are using a can of compressed air, shake it for 30 seconds and then proceed with blowing off the dust.
After you are done with panel dust, turn the fan at 180 degrees and use a cleaning brush to clean the remaining dirt from the tower fan.
After this, you can screw the panel back and you can use your fan again.
You should clean your tower fan once in 2-3 months for maximum efficiency.
The Bottom Line
After you know what factors you need to consider, buying a noiseless tower fan model shouldn't be a great issue. You have to keep in mind the type of area coverage you want, the noise output, the power, etc.
Dyson Cool AM07 Air Multiplier Tower Fan is the best option for most people. It's expensive, but ticks all the boxes when it comes to airflow, efficiency, noise rating—and everything in between.
Honeywell Quiet Set Whole Room Tower Fan is a good pick if you're on a budget. Despite its affordable price tag, it comes with a decent airflow capacity and silent operation.
Honeywell HY-254 also packs a punch with its adjustable thermostat feature and affordable price tag.