As an Amazon Associate, I may earn from qualifying purchases at no extra cost to you. These are the same products I'd recommend to friends and family.
As a parent, you can probably relate to this:
Babies and public places—especially the airport—don't mix well.
Even if you're indoors, the loud noises from firecrackers or music can put pressure on your little one's ears.
Turns out that noise is a huge stress maker for infants.
My little girl wouldn't stop crying when I used to take her in public places. That's when I decided to find the best noise-canceling headphones for her.
I'll help you navigate the features you should look for so you can settle with the perfect one perfect based on your needs.
Let's dive right in, shall we?
Table could not be displayed.
Note: If the loud and weird noise from your laptop fan bothers your baby, you might also want to have a look at why could your laptop fan be so noisy and follow these easy tips to fix laptop fan sound.
1. Baby Banz Earmuffs Infant Hearing Protection
If you are looking for earmuffs for toddlers up to 2 years old, Baby Banz Earmuffs might be worth a look.
Weighing only 6.7 ounces, they are lightweight and compact so you can easily fit them into your purse or handbag.
It comes with an industry-leading Noise Reduction Rating (NRR) of 31 decibels. It has a super soft padding that also gives babies immense comfort. The headband is cushioned as well and is designed to fit snugly over your baby's ear.
They have a wide range of colors to choose from.
Mothers who brought this product have been very extremely happy. Although, some mommies have mentioned that it might be too big for babies younger than 3 months.
Pros:
No interference when sleeping
Noise Reduction Rating of 31 dB
Extremely comfortable
Variety of colors
Cons:
Might be large for babies younger than 3 months
2. LilGadgets Untangled PRO
If your child is above 4 years of age and you fancy a headphone with built-in the Bluetooth feature, LilGadgets Untangled Pro might interest you.
It is a little on the higher-end in terms of budget, but with good reason—it comes with wireless functionality.
Your child will appreciate the SoftTouch breathable mesh of the Lil Gadgets headphones, which makes wearing them for extended periods of time extremely comfortable, and the 12-hour battery life, which makes doing so possible.
It uses some nifty engineering to ensure that the earpads do not fall off. You can choose the colors of your choice—black, blue, green, pink, purple, or white.
The package includes a 3.5 mm cable. This lets you use the headphones the old fashioned way once you outlast the battery.
Moreover, a portion of each purchase goes towards bullying prevention and awareness in schools through partner organizations.
While it does have Bluetooth connectivity, one thing worth noting is that the volume of the audio cable is a tad bit higher than the Bluetooth option.
Pros:
Great design
Comfortable
Long battery life
Wireless
Cons:
3. AmazonBasics Kids Ear Protection Safety Noise Earmuffs
No products found.
If you are looking for a more budget-friendly option, AmazonBasics earmuffs might do the trick.
With an NRR of 20dB, they are ideal for sporting events, concerts, fireworks, airplane rides, theme parks, etc. It has a wide range of colors to choose from.
Made of durable ABS and PU, along with a cushioning, noise-dampening sponge material, these are extremely compact and comfortable. The fit that the headphone provides is also pretty secure.
It comes along with a one year warranty. Many mothers have given feedback that the product, even though very comfortable, kids take a little time to adjust to them.
Pros:
Inexpensive
Noise Reduction Rating of 20 dB
Great isolation
Cons:
Slightly challenging to adjust
4. Snug Kids Earmuffs
Snug Kids Earmuffs might be a good choice for kids on the autism spectrum for blocking out crowds noises and other triggers.
The 25 NRR rating is great for blocking out noise.
Its low profile clam design keeps the muffs safe and secure on little ears and offers a stylish look. It has a huge variety when it comes to colors. Its strong high-quality parts make it sturdy and robust.
The padded ear cushions offer superior comfort and a snug fit, making the headphones extremely comfortable. They are foldable, easy to store, and lightweight. It also means you can fold them up into the smallest size possible, making it easy to pack and take with anywhere.
It comes with a 5-year warranty.
The best thing about these headphones is that they can be used by both children and adults.
In all fairness, the plastic connector isn't the sturdiest—so I recommend handling it with care.
Pros:
Can be used by both children and adults
Perfect for kids on an autism spectrum
Great comfort
Foldable and portable
Cons:
5. 3M Safety97070 Peltor Sport Earmuffs
If you are looking for a noise-reducing and comfortable pair of headphones, this is another great option.
With a Noise Reduction Rating (NRR) of 22 decibels, this pair of headphones is ideal for kids and smaller adults. This could also be a good option for hunting, shooting, or other sporting events.
It comes in three colors such as blue, black, and pink—so you can choose one based on your liking.
It is comfortable and easily adjustable. It has a foldable and useful headset—its flexible headband works great for lengthened use.
One thing to note is that the described size might run a bit small, so you might want to take a size up if you're considering getting this one.
Pros:
Lightweight
Noise Reduction Rating of 22 dB
Compact
Variety of colors
Foldable and easy to use
Cons:
Described size might run a bit small
What To Consider Before Buying Noise Cancelling Earmuffs? (Buying Guide)
1. Comfort
Your baby should be comfortable wearing headphones. The headphones should be as comfortable as advertised.
You do not want your child to show signs of uneasiness or discomfort.
Check for padded earphones and soft materials for a comfortable fit.
2. Noise Reduction Rating (NRR)
The NRR indicates how much noise is blocked by wearing noise-canceling headphones. The higher the number, the better is its noise blocking ability. It is usually mentioned on the packaging itself.
Here's an example to help you understand it better:
If the sound in your environment is 70 decibels and the NRR on the headphones in 30—then your child will hear the noise of 40 decibels.
Parents usually don't realize the importance of this factor.
Most baby headphones will have a maximum NRR of 30. Because for every 10 dB the intensity of sound doubles, an NRR of 30 is pretty good.
Make sure you choose headphones with NRR 30 or in the late 20s—this will give your baby protection from a lot of noise.
Baby Banz Earmuffs Infant Hearing Protection comes with a 31 decibel of NRR.
3. Safety
Make sure the product you use is completely safe for your baby. It shouldn't have small parts that may trouble the child.
Many parents also use earplugs. However, in my opinion, they might not be a good option.
Also, if the headphone is being sold with the NRR label, it's been thoroughly tested and approved by ANSI (American National Standards Institute).
So, make sure you check these things before you buy one.
4. Design and Colours
Most of the products come in a variety of colors—so you can easily choose one based on your liking.
What are the Benefits of Noise Cancelling Headphones for Kids?
Protect Developing Ears
Of course, the most critical aspect of the noise-canceling earmuffs is to protect the ears.
Although people believe that these headphones protect the "developing ears" of the baby—this is quite a misconception. In fact, the ears are the only body part that is completely developed at birth.
Now you might be wondering:
So what do these noise-canceling headphones actually do?
They protect the full functioning of the ear. Children's ears are too sensitive. They can hear noises at frequencies up to 20,000 Hz—which means that babies are extremely sensitive to high-pitched sounds.
Thus, you need to protect your babies from high pitched sounds to keep their ears from ringing even when there is no such sound played.
Provides Sensory breaks
Loud noises, rather than periodic noises, can damage babies' ears. This is the noise that you hear from a construction site or when a plane takes off.
Because their ears are more sensitive, children need to have sensory breaks more often.
The most unfortunate part is that we are always surrounded by such consistent loudness but we adults become so prone to it that we don't realize its effect at all.
However, these situations can result in bad ones for kids, and thus, you need to make sure that your baby wears earmuffs to cancel the external noise and maintain their ears' sensory functions.
Helps Calm Nervous and Uneasy Feelings
Kids have a short attention span. They get anxious and irritated quickly. Some children feel nervous and uneasy when louder unfamiliar noises are present.
To calm your child down, you can use noise-canceling headphones. This will prevent your baby from crying and other anxious quirks.
Additionally, you can use soothing music for your baby. If the baby earmuffs are connected to your phone, you can play calming tunes for your child.
This way, you can stop worrying about your child even when you take him outdoors.
Reduce Noise Related Stress
Babies have extremely sensitive hearing and can hear noise frequencies up to 20,000 Hz, thus the effect of loud noise is more intensified.
In babies, aural stress can cause behavioral problems and psychosomatic episodes.
You can protect your baby from aural stress by using noise-canceling headphones. The calming effect of wearing noise-canceling headphones can also reduce the stress the child may be feeling.
Wearing earmuffs may also prevent possible chances of a public outburst.
Increase Focus
A peaceful environment is the best when one needs to focus on anything. Controlling the noise levels your baby can play an important role in helping them focus.
This will lead them to be more productive.
If your child has listening problems, this can be very beneficial. In fact, your child's learning ability will increase with the use of these headphones.
Frequently Asked Questions (FAQs)
Do Babies Need Noise Cancelling Headphones?
Babies have ears that are more sensitive than us adults. Exposure to loud noise can lead for babies to have mental or even physical diseases. It might even cause noise-induced hearing loss.
Noise-canceling headphones are like big earmuffs that protect the ears of your baby and keep them comfortable and safe.
What is too Loud for a Baby?
Babies can face noise-induced hearing loss only after a few minutes of being exposed to loud noise. Any noise above 85 dBA poses a risk to a baby's health and calls for baby headphones.
In fact, what may be normal noise for us, might be too loud for little babies.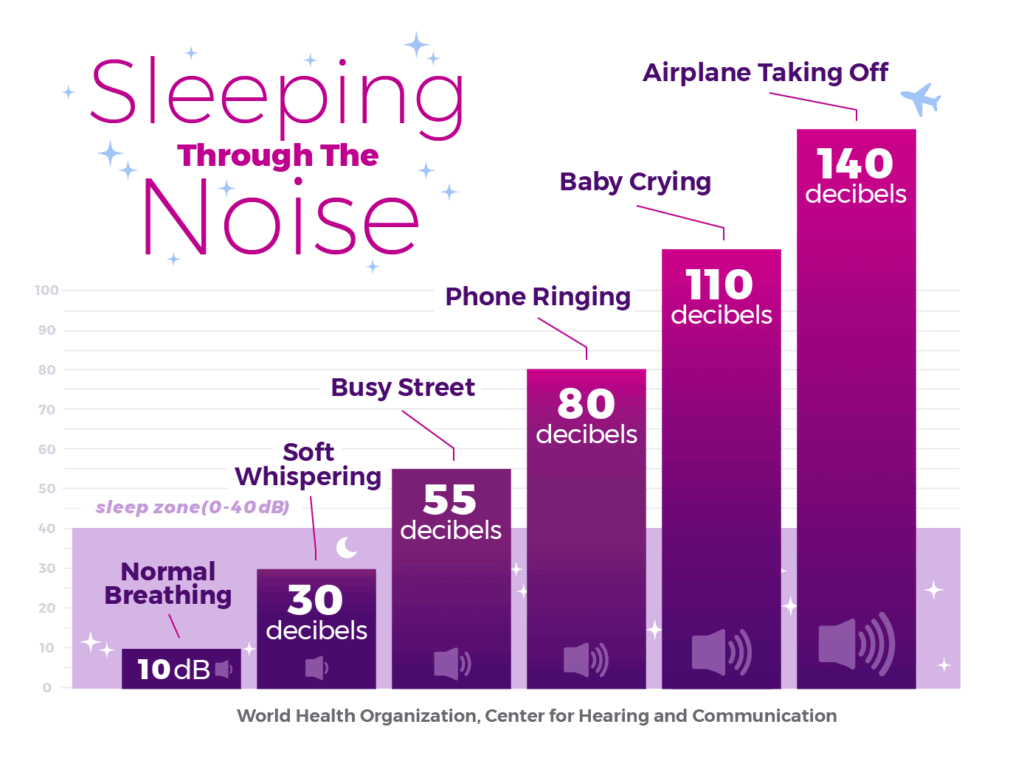 When should babies wear headphones?
Make sure your baby is wearing noise-canceling headphones when you are outdoors with the baby where there is a lot of loud noise. This may include places like:
Weddings, concerts, parades
Sports events and games
Public subways, airplanes and other transportation
Firework displays
Restaurants with music and bands
Funfairs
You can always check the noise level of the environment if you are unsure about when to use the headphones. You can do this by using the app- Decibel X which is free, and highly-rated and available on iOS and Android devices.
The Bottom Line
Overall, I believe that the Baby Banz earmuffs are the best noise-canceling earphones for toddlers up to 2 years old. It comes with an industry-leading Noise Reduction Rating (NRR) of 31 decibels. It has a super soft padding that also gives babies immense comfort.
AmazonBasic Kids Earmuffs is a great budget-friendly option and comes with an NRR of 20 dB. Thanks to the soft cushioning, it is extremely compact and comfortable.
LilGadgets Untangled PRO is a great Bluetooth-enabled headphone that's a great pick for kids of 4+ ages.