As an Amazon Associate, I may earn from qualifying purchases at no extra cost to you. These are the same products I'd recommend to friends and family.
Does your space have obscene noise levels, thanks to the single-paned window facing a suburban street?
Ah, the pain!
Or perhaps you're looking to absorb the noise to reduce echo and reverb in your space?
Regardless of your situation—you somehow stumbled on the idea of using a soundproof curtain to bring back your sanity. Only to find out that…
There's so much conflicting information out there about whether they actually help. Thankfully Anthony (our Idaho-based independent soundproofing consultant) chimes in on the issue along with Ruth.
In this research, we cover:
How to find if a soundproof curtain would work for your exact situation, and alternatives if it doesn't.
How to find curtains with the absolute best noise-absorbing/blocking capability
And much more
Let's begin! But first:
I'm Confused… Do Soundproof Curtains Really Work?
Ask yourself, what do you want to achieve…
I want to reduce echo and reverbs in my space and reduce sound escaping my space.
I want to reduce incoming noise from my windows, doors, etc.
If you belong to the first camp, soundproofing curtains are perfect for your situation. Because of their velvet or velour fabric, they're excellent sound absorbers and sound dampeners. Please proceed to the next section or skip directly to our product recommendations.
If you answered two, soundproof curtains could still help you, but you'll have to be realistic about it.
Here's why.
Proper soundproofing requires adding mass. As you might have guessed, there's only so much mass you can add to a curtain.
For example, soundproof curtains are not great at blocking out low or loud frequency sounds, such as the rumble of a large truck, loud bass from a nearby car, or sirens from emergency vehicles.
What they can do, however, is significantly reduce the everyday droning noises of the street. Typical passenger vehicles are reduced to minor background noise, and the sound of people on the sidewalk is also significantly reduced.
Also, if you're renting and are not allowed to make invasive construction for soundproofing, curtains can help you knock off a few decibels inexpensively.
We recommend trying a soundproof curtain as it's an inexpensive, non-invasive way before moving towards more advanced methods.
---
Best Soundproof Curtain for Doors, Walls, and Windows: RYB HOME
What's Great
Reduces 6 to 10dB of noise depending on frequency
100% true blackout
Inexpensive compared to competiton
Not So Good
Doesn't filter out very low or high frequency noise
We believe RYB Home is the curtain most people should get. It's 100% blackout to help block out harsh light/UV rays and reduces 6 to 10 dB of noise depending on the frequency—which is pretty solid for a blackout curtain.
It comes in various widths—from 63″ to 108″. As covered in our how we test section, ensure that you buy size at least twice the size of your window frame width for optimal noise reduction.
It comes in 10+ colors—including my favorite classic beige and grey. The fabric feels premium with a suede-like soft feel, and the stitching is good.
Since most of you are interested in its noise reduction capabilities, let's dive into it.
The felt fabric liner is sandwiched between the two outer layers and is responsible for sound dampening. We found it's decent at blocking mid-range frequencies (1000 to 2000Hz) such as birds chirping and tyre noise. It's sub-par when blocking low-range frequencies (100 to 300 Hz) such as construction and airplane noise. To be fair, this is not a specific criticism aimed at RYB home; it's a fact that you need dense mass to be able to block low-frequency noises like these. It reduced noise by an average of 6 to 10 dB at a continuous 70dB when measured using a sound meter. Not bad for a curtain.
We found it works even better if you use it for sound absorption rather than blocking. For example, it's a great pick if you want to use it as a room divider curtain to reduce the echo between rooms so that you can enjoy movies in one room and sports in the adjacent one.
We also measured its noise capabilities against MoonDream curtains, which cost about 3x more than RYB. Since RYB seemed to offer comparable capabilities at a much lesser cost, we decided to leave out MoonDream for now.
To improve the noise-absorbing or blocking effectiveness, we recommend:
Use strong mini-magnets to lash the side of the curtain to the edge of the window perfectly. Alternatively, you can glue or sew these to the felt.
Since these are relatively heavy, ensure you move the curtain mount out to the studs for extra support. If you're out to buy heavy-duty curtain rods, consider getting a wrap-around or double curtain rod. This will help you close the gap between the curtains and the window frame and shut out the sound better.
Best Budget: NiceTown 100% Blackout Curtains
What's Great
Industry's best blackout curtains
Decent ambient street noise reduction
Helps save up to 25% on summer electricity bills
Not So Good
De-wrinkling can be a pain at times
If you are looking for premium soundproofing curtains that don't burn a hole in your wallet, consider getting the NiceTown 100% blackout curtains.
We're a fan of how NiceTown makes its curtains available in over a couple of dozen colors—so you can narrow it down to the one that best matches your home decor. They are thick, satin-like, and weighted (~5lbs) and give a great Boho chic vibe.
The curtains' width ranges from 42″ to up to 108″ and length from 37″ to 70″. As always, buying a size twice the size of your window is recommended for optimal performance.
Its noise-reducing properties are decent for blocking out ambient street noise, cars passing by and nearby railroad tracks. As expected, it doesn't seem to work great for construction noise due to the lack of mass.
If you have ever lived in Florida, you know it can always be super sunny. Kurt, our friendly construction expert, tried napping with these curtains on during the day and recalls it was pitch black as if it were nighttime. Yes, these are true 100% blackout curtains—even the white curtains surprisingly block almost all light. We have bought quite a few supposedly "blackout" curtains from BBB and Target before, but they never darkened the room entirely, so we found this amusing. The secret sauce is the black window-facing liner.
EXPERT TIP
If you get a white curtain, consider getting a double-sided velcro to connect the ends of the drapes to the walls to enjoy an even more pitch-black room.
If you live in places with three-digit temperatures, you'll realize the amount of heat this block is astounding. We've had many people tell us that the thermostat barely changes, and they saved 15 to 25% on their summer electricity bills.
Our only gripe is that they can be a pain to de-wrinkle. Perhaps we're just nitpicking here since you can put them in the dryer with a damp cloth for 15 to 20 minutes. They arrive folded, so you'll need to iron them out the first time.
Overall, NiceTown offers true 100% blackout/energy efficient curtains with decent noise absorption.
Alternatives to NiceTown 100% Blackout
If the NiceTown 100% Blackout isn't available right now or you'd like to explore more roughly comparable options, consider these curtains:
NiceTown's patio blind curtains are woven with triple layers, which are good at blocking light and noise at specific mid frequencies. It provides excellent thermal insulation to keep your room warm or cold as required, helping you maintain the room temperature and saving money on bills.
This inexpensively priced curtain is such a hidden gem. Few people know about it; our guess is the lack of Amazon reviews. But don't be fooled—this home theater curtain packs in a punch when it comes to reducing echo and distortions. It is nearly twice as heavy as the popular Eclipse's Suede curtains, testament to its sound capabilities.
Best Sound Blocking Sheet With Grommets: Audimute isolé
What's Great
Unparalled noise reduction ~12dB
Includes grommets for easy installation
The Isolé isn't a curtain per se, but it comes with grommets, so you can easily install it on windows or doors. If you're willing to look past its bland design, this is hands-down the best soundproofing "blanket" you can buy.
It measures 82″ x 34.5″ and weighs approximately 20 lbs. Audimute claims it comes with a 3.2mm peacemaker to help block out the noise. Of course, we aren't the one to fall for a manufacturer's marketing speak, so we dug to find out what it is and how well it can block sound. It turns out that Peacemaker is made of 80% recycled rubber.
During anecdotal tests, it seems like the Isole blocks an additional ~12dB of noise. This might not sound like much, but remember that the decibel noise scale is logarithmic, not linear. In simple terms, for every 10dB of noise reduced, the perceived noise is cut by 50%. This means it successfully blocked more than half of the sound. Pretty impressive.
The packaging also includes the hardware to hang the sheets from the metal grommets. While we like grommets for easy installation, it might make sense to install them using heavy-duty industrial-sized hooks in some cases. Ensure that you use a stud finder to locate the studs and screw them directly into it.
We like that it comes in four colors: white, black, bone, and steel; aesthetics are essential if you're putting it up in the living room.
If you're using it to soundproof your door, we recommend you pair it with Audimute's soundproofing acoustic door seal kit. This helps ensure that all the gaps around the door are blocked.
Since the pacemaker is made of rubber, it might emit a strange odor. Not everyone experiences it, but you may find it unpleasant if you're extremely sensitive to smell. It's hardly a deal-breaker, as room fresheners can mitigate this issue.
Also, since this heavy sheet is not machine washable, we recommend you vacuum or lightly brush it to prevent dust buildup.
Best for Studio or Home Theatre: cololeaf Velvet Christmas Curtain
What's Great
Extra wide option
Dozens of color options
If you're looking for a curtain for your home theatre, movie room or studio, consider the Cololead Velvet.
It blows NiceTown away when it comes to colors availability—offering over three dozen different shades and colors. It's available in both lined and non-lined versions.
It is available in versions as wide as 250″, making it perfect as a room divider curtain.
It's important to note that these are not 100% blackout curtains, but they darken the room and block out sound by 85 to 95%.
The clips it comes with are plastic, but if you use enough of them, they can hold the weight easily.
Overall, these curtains look classy and are a great upgrade pick for your studio or home theatre.
Best for Outdoors: H.VERSAILTEX Home Decor Curtain Panel
What's Great
Faux linen feels great
Thermal insulation
Reduces energy bills
Not So Good
Doesn't block 100% of light
If the looks and feel of the fabric are of significant importance to you, then you should consider getting H.VERSAILTEX Home Decor Curtain Panels.
This curtain has a single panel in one pack. You can choose between multiple dimensions ranging from 52″ to 100″ in width and 63″ to 108″ in length. There aren't many options to choose from, but most windows and doors should be covered.
The manufacturer provides multiple colors to choose from. If you need a blackout curtain, make sure you go for a darker shade, as a light color will be inefficient at blocking light. Darker shades can help block up to 80% of the incoming light.
This curtain comes with copper grommets and is easy to install. The material used in this product is faux linen, which provides a soft feel to it. It has a textured design and stands out when you put it up.
It also has the thermal insulation property to help you reduce your air conditioner bill. The curtain is known to reduce a decent amount of sound; given its thickness and weight, i.e., 2.5″ and 2.6 pounds, respectively, it does a reasonable job.
Of the downsides, there is only one; it would have been better if it could block 100% of light. If you're looking for a 100% light block, we recommend sticking with NiceTown.
Overall, the design and texture make it a good choice for an interior decor enthusiast.
Best for Office: Deconovo Blackout Curtains
What's Great
Great for office
Thermal insulation
Blocks 100% light
Not So Good
Stitching a bit off at edges
If you want to soundproof your living room or office with a full blackout single panel curtain, then you should buy Deconovo Blackout Curtains.
This curtain has a single panel that comes in three variants of sizes, i.e., 80×84, 100×84 and 100×95 inches. The curtain is exceptionally thick and blocks 100% of the incoming light.
The thickness also helps in soundproofing your room. This curtain is best suited for the living room because no matter how you have decorated your room, Deconovo offers 25 different shades of color to help you narrow it down to the one you like.
It provides decent insulation from heat and cold in extreme temperatures. The curtain absorbs heat during the day and keeps the room warm at night.
It uses high-quality polyester fabric. It's washable, which is a great bonus. In addition, you can iron them on medium heat to get rid of wrinkles after washing. When buying these curtain colors, we highly recommend purchasing darker colors, as they will block more incoming light.
You can also use this curtain as a room divider if you need to.
There aren't any drawbacks to this curtain, but it would be difficult for a single person to install or uninstall them because of its heavy weight. So, if you plan to install these curtains, ensure you have help.
Overall, due to its sleek design and variety in color, Deconovo Blackout Curtain is a good choice for your living room or office.
---
Buying Guide: How We Test and Select
Size: What's the Best Length and Width for a Noise Reducing Curtain?
When choosing the perfect size, buying this kind of curtain is entirely different from buying your typical decorative home curtains. Usually, you'd purchase a curtain that matches the size of your windows, but when it comes to soundproofing curtains, you'll want to buy ones that are at least a few inches taller and wider than your window.
How much wider exactly?
We recommend getting a curtain that is 2 to 3 times the width of the window. Also, allow curtains to extend 10 to 20 inches on either side of the window. Getting an extra wide curtain ensures greater sound absorption and less noise leaking through the other side.
And what length should you get to maximize noise absorption?
We recommend getting a floor-to-ceiling length curtain. It helps prevent any sound leaks between the floor and the curtain or ceiling and the curtain.
We understand that floor-to-ceiling length curtain isn't for everybody, though. While it works for me personally, Ruth, our editor-in-chief, says that her kids won't stop using it as a climbing rope. She herself isn't a massive fan of them either because of the dust they collect around the bottom.
Are you someone like Ruth?
No worries. You can still get a curtain that is 10 to 20 inches larger in length than your window opening.
---
What's the Best Weight and Density for a Noise Reducing Curtain?
Weight is hands-down the most important factor you should look for while buying a curtain. Generally, the higher the weight, the more outside noise it can absorb.
But that's not it.
The more heavyweight the curtain, the lower frequencies it can absorb.
Um, not sure what that means? Let us explain in a way even your grandma can understand!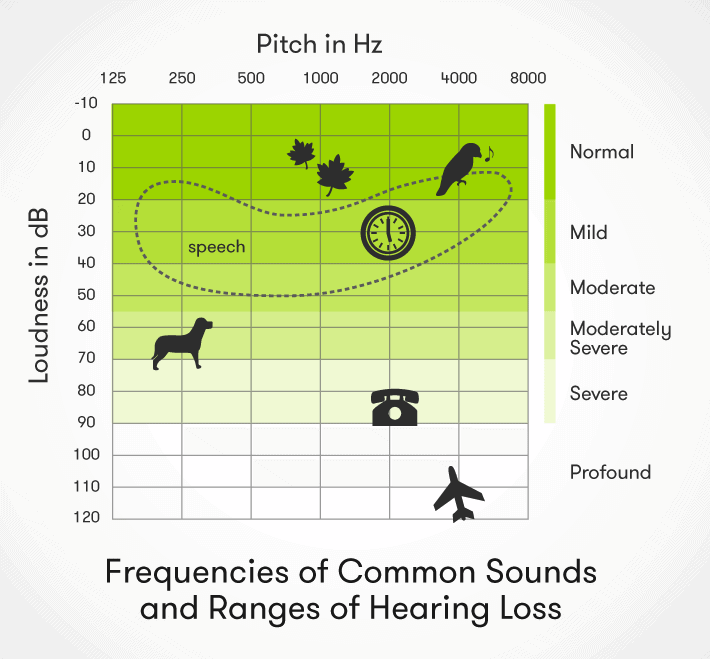 Most curtains are less than 1″ thick and can absorb frequencies down to 800Hz or something. Here are some real-life examples of sounds below 800Hz, that curtains cannot block efficiently:
Heavy industrial or commercial machinery
low-frequency motorbike noise
EXPERT TIP
4″ acoustic panels should help absorb the low-mids and bass traps for mid+bass absorption if you're looking to absorb or block relatively lower frequencies.
It's possible to dampen the noise two to three times simply by doubling the weight of the curtain. Unfortunately, most blackout curtains won't be that heavy, practically speaking.
For example, RYB Home—our heavy-duty top pick comes in at 9.9 lbs compared to the Audimute Isolé, which weighs approximately 20 lbs. Don't forget that Audimute's offering is more of a sound-blocking sheet with grommets than an actual curtain. Most of its weight (and sound blocking) can be attributed to the Peacemaker inside it, which is made of 80% rubber material. Obviously, most blackout curtains aren't going to be that heavy or thick, making them more of a good sound absorber than a blocker.
A Quick Note on STC and NRC
The Sound Transmission Class (STC) rating is a single number rating of how good a material is at blocking airborne noise such as human speech or dogs barking.
A Noise Reduction Coefficient (NRC) is a single-number rating of how much sound material can absorb. It ranges from 0 to 1, with higher being better.
The only product on our list with an NRC rating is the Isolé, which comes in at 0.75 NRC. It means that 75% of the sound will be absorbed, and the rest, 25%, will be reflected.
Most other products on our list do not have an STC, NRC, or SAA rating because they aren't soundproofing products in the truest sense. These lab-test ratings are reserved more for actual soundproofing construction materials like fiberglass and drywall.
---
What's the Best Type of Curtain Rod for a Soundproof Curtain?
Since soundproof curtains can be heavy, ensure that you have a heavy-duty curtain rod to support them. The last thing you want is for it to bend or break.
While there are several different types of curtain rods, we are concerned only with the ones that help improve noise-blocking efficiency.
Wrap Around Curtain Rods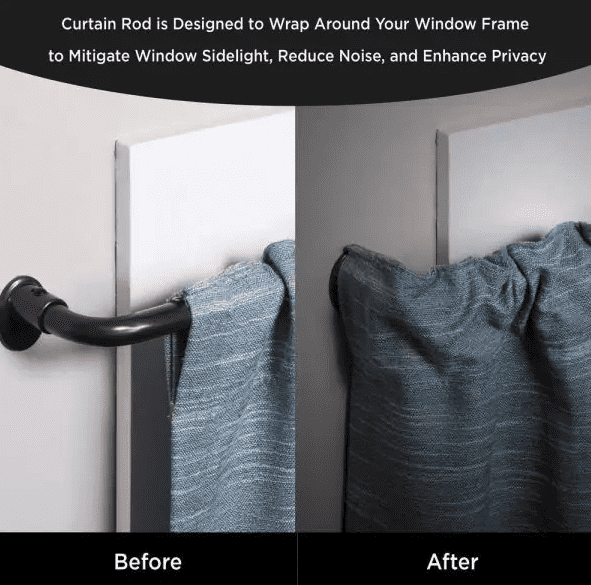 You ever noticed how there's a small gap between the wall and the edges of the curtain? Well, wrap-around curtain rods are curved at ends, thus closing this gap. This leads to more area being covered, potentially better sound dampening. We absolutely love this wrap-around curtain rod from Mode. This gorgeous cast-iron rod is easy to assemble and sturdy.
Ceiling Mount Curtain Rods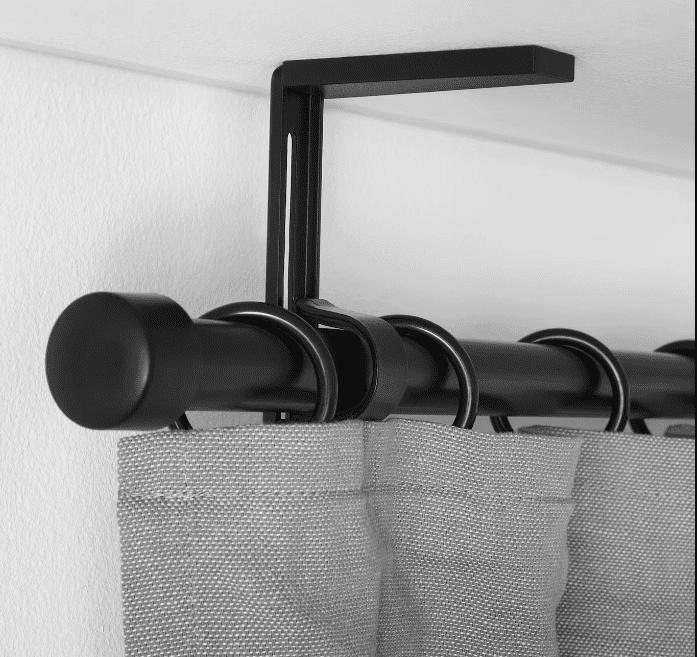 You can mount these rods on the ceiling over your window or the door. Since it attaches to the roof, it closes the horizontal gap between the outer side of the curtain and the window frame, leading to better sound absorption. If you don't have one, this ceiling mount rod from Room/Dividers is sleek and heavy-duty.
Double Curtain Rods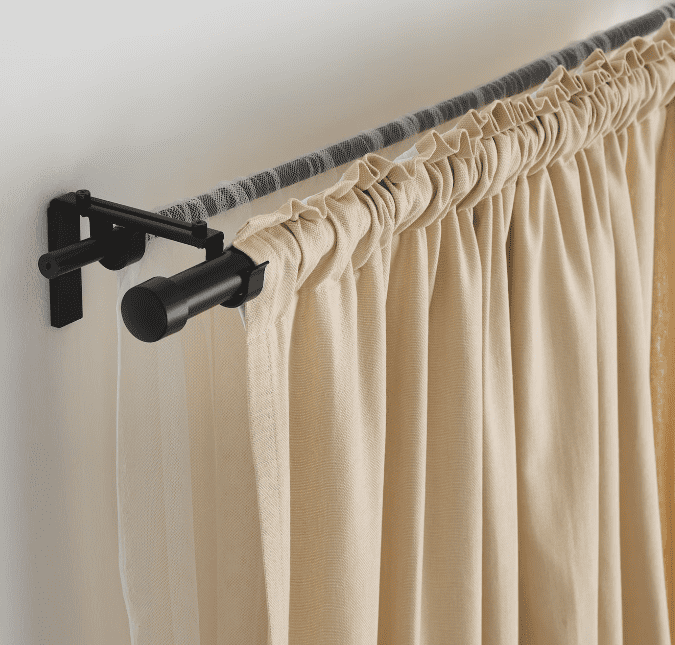 A double curtain rods lets you layer more than one curtain for enhanced light blocking and sound dampening. Typically, you'd use it to layer a sheer curtain on a regular curtain to block out light, but you can use them in different ways to improve noise efficiency:
Premium solution: Layer a soundproof curtain over a heavier and denser sound blocking sheet such as the Audimute Isolé. This helps improve efficiency while also maintaining the aesthetics of your space.
Budget solution: Layer a soundproof blanket over another moving blanket. Moving blankets are a good inexpensive solution to absorb noise efficiently.
---
What Materials Should a Soundproofing Curtain be Made of?
Curtains can contain three main material types that help in reducing noise:
What Fabric Absorbs Sound? Velvet, Velour, Suede, or Polyester
Did you ever notice how your favorite movie theatre has velvet curtains?
This is because they naturally contain extra fibers that make them non-reflective (read: sound-absorbing). This is why it also feels soft to touch. You can use them in your home too.
In essence, there's a difference between velvet, velour, Suede, etc., but for practical soundproofing performance, it doesn't make much of a difference.
For instance, velour is technically more durable than Suede, but since curtains are inexpensive, our guess is most people switch to new curtains frequently anyway—so it isn't much of a concern.
The important thing is that all of these materials are non-reflective, so that covers all the products in this research.
Extra Thermal Insulation (Non-Toxic)
This fiber is usually added inside the curtain as a filler. There are two upsides to this extra layer:
Enables thermal insulations so that temperature on one side of the window doesn't impact the other. The U.S. Dept. of Energy claims that medium-colored curtains can reduce heat gains by 33%. It helps maintain the room temperature when using an air conditioner or a heater. This can considerably reduce your heating and energy bills.
More efficient noise reductions: These extra thermal insulations also help improve the sound-absorbing ability of the curtains.
Many manufacturers market it with a proprietary name. For example, Eclipse calls its technology "ThermaWeave" Next time you see ThermaLayer, energy-efficient or something like that, be assured that they are all fundamentally the same.
The Third Extra Lining (Non-Toxic)
A curtain liner is an extra fabric attached to the back of a curtain. Most importantly, it helps protect the curtains from direct sunlight and reduces fading. However, it can also have light-blocking blackout and heat retaining properties. Not only does it helps in reducing thermal losses, but it also reduces the noise passing through them.
Ideally, a curtain should be 3-layered for the best sound dampening performance.
---
How Pleated Curtains Help Reduce Noise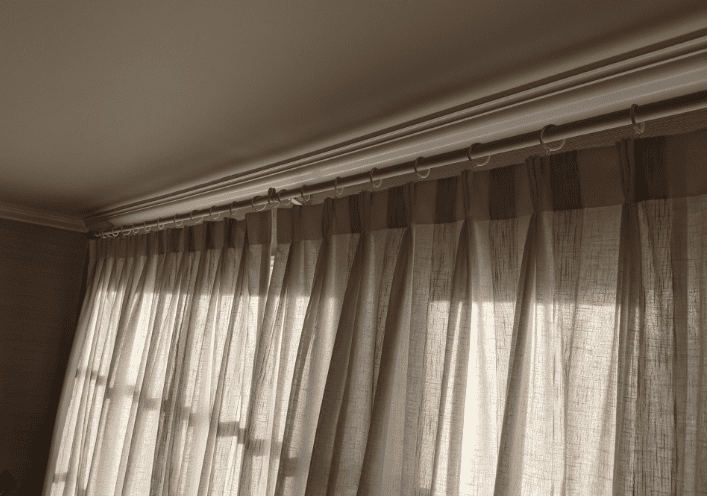 If possible, try to opt for a pleated or wavy curtain. It helps dampen noise in two ways:
The pleat creates wedges which help with sound absorption
It increases the thickness of the curtain. Always remember, the thicker and denser, the better.
Pleated curtains can substantially improve the noise reduction, sometimes by as much as 2x.
Besides noise, if you're also buying a curtain for its light blackout properties, consider getting a pleated one. This is especially important if you're looking to settle for a lighter-colored curtain to match your home decor.
---
Grommets & Machine-Washable: How Easy it is to Use and Maintain?
Sound dampening curtains can be bulkier than normal ones; some people might find it difficult to hang them alone. When buying a curtain, ensure they come with strong steel grommets. This will prevent any tear from continuous sliding of the curtain. Grommets also let you easily switch out curtains whenever you need them.
Some noise-reducing curtains are not washable. They may accumulate dirt over time and lose their elegance. You can clean them using a vacuum cleaner, but that will only help with the dirt. It might be troublesome to clean a stain.
We always look out and list if a curtain is machine washable or hand-washable. You can find these curtains for the same price, so don't bother spending more on them.
Before washing these curtains, remember they are pretty heavy, and not all washing machines can clean them properly. Whenever possible, instead of washing them, it might be a better idea to dry-clean them.
Here's a step-by-step curtain cleaning guide from Consumer Reports.
---
Installation Guide: How to Effectively Install Sound Blocking Curtains
Installing soundproof curtains should be a straightforward process for most people. It might be useful to find help if it's heavy for you.
The first step of the process is installing curtain rods. It would be best if you left some gaps on both sides and the top of the window so that the curtain can fully cover it.
Here's how to install a soundproof curtain:
Measure the curtain rod length. Remember, the rod can be larger than the area between brackets.
Mark the points on the wall; you have to drill holes to fix the brackets.
You can use a level to make sure the Points you marked are aligned.
Place the rod and brackets to check if it fits well; use the level to recheck if it is perfectly horizontal.
Make the holes using a drill.
Fix the brackets at the place using screws.
Pass the curtain through the rod and put it up on the brackets.
Viola! It's done.
What Are The Different Types of Soundproof Curtains?
Blackout/Insulating Soundproof Curtains
Blackout or thermal insulating curtains helps maintain thermal insulation and block out lights to improve sleep quality.
25% of heat is lost through the windows, so installing blackout curtains can considerably reduce your energy bills. It also helps maintain the room temperature when using an air conditioner or a heater.
These extra thermal insulations also help improve the sound-absorbing ability of the curtains.
Audio Sound Absorption or Blocking Sheets
These audio absorption or blocking sheets aren't curtains per se, but they come with grommet support, making them easier to hang on a heavy-duty curtain rod.
They're not aesthetic for your living room as blackout drapes, but if you're willing to compromise looks for the absolute best noise-blocking efficiency, they're a great option.
Note that they are more expensive than insulating drapes, and you may need to order a custom fit for your window or door size. For example, Audimute's offering measures 82″ x 34.5″. If you have a wide window, you might need to either order multiple ones or request a custom fit from them.
Moving or Industrial Blankets
Depending on who you ask, there's a third category: moving or industrial blankets.
Moving blankets protect your furniture, appliances and other items during transport.
We don't necessarily think it deserves a third category altogether, but we still want to cover it for your comprehensive understanding.
It's because they aren't curtains in the truest sense, but unlike sound-blocking sheets, most do not come with grommets. This makes them challenging to install.
The only exception might be if layer moving blankets (with grommets!) behind a blackout curtain on a double curtain rod.
---