As an Amazon Associate, I may earn from qualifying purchases at no extra cost to you. These are the same products I'd recommend to friends and family.
Let's be honest, vacuuming in a house with a baby is a huge trouble.
Also, my husband has been complaining since forever. Whenever I'm vacuuming and he is watching TV or working from home—it becomes a disturbance.
I really wished I had a solution to this issue. When I started looking up online, I found that "quiet vacuum cleaners" are a thing now. Since I had to get a solution to this problem, I chose a vac that was best for my usage.
Let me tell you, I wasn't disappointed.
Quiet vacs are not no-noise as such but there is a significant decrease in disturbance and sound output by them.
Without any further ado, let's have a look at the best options for low noise vacuum cleaners.
Product Name
Best Overall
Kenmore 81214
Best Budget
Shark Rotator Professional





Best Overall



Best Budget
Product Name
Shark Rotator Professional


Note: Looking specifically for a robot vacuum? Here's a full-blown guide to helping you choose the best quiet robot vacuum cleaner.
1. Kenmore 81214 200 Series
If you are looking for a truly silent canister vacuum cleaner, you might like the Kenmore 81214.
This is a rather futuristic-looking bagged canister vacuum cleaner. It has strong suction and is mainly designed to clean all areas and surfaces of your entire home, den, kitchen, car, or garage quickly and efficiently.
It weighs less than 20 pounds which is fairly light for a bagged vacuum cleaner.
The power cord on the vacuum is 24 feet in length and is fully retractable. A retractable power cord is always a popular feature. It provides ease of usage to a great extent. It has 4 varying height options for an extensive reach.
It comes with several tools like Crevice Tool, Dust/Upholstery Brush, and the Bare Floor Tool.
It has a triple HEPA filtration system that kills 99.97% of the germs. It works amazingly while cleaning pet hair too. No more hassle with your dog's hair sticking to the couch!
Although it has great plus points, there are some things which might not live up to the expectations.
Many consumers are disappointed that is no light on the head of the cleaner. The lights are very helpful while cleaning tiny spaces—but this is hardly a dealbreaker.
There are no dirtbag full or clog sensors – it is left to the user's 'feeling' to sense when the dirtbag is for changing or there is a clog in the system. Some users complain also about brush roll reliability, although most of the users are happy with the brush roll even after a longer period of time – this can either be a quality-control issue or just incorrect use.
Pros:
Designed to clean all areas and surfaces of your entire home, den, kitchen, car or garage quickly and efficiently.
Strong suction.
Dual motors.
Special pet hair features.
Retractable cord.
Easy to assemble.
Cons:
No dirtbag full or clog sensors.
Brush roll reliability.
No light on the head of the vacuum cleaner.
2. Shark ION Robot
If you're looking for a quiet robotic cleaner that does its work itself—you might like the Shark ION.
It weighs around 6lbs which is pretty quiet compared to other products on this list.
It is operated via a remote and has a charging time of 3 hours.
It has Dual Spinning Side Brushes which makes the cleaning very simpler. It also has an Easy Empty Dustbin- 0.45 quarts.
It's comfortable on hardwood floors, laminate, tile, and concrete flooring, and it does a good job on area rugs and low-pile carpets. This model is great for pets and pet hair with its Self-cleaning Brushroll which removes short and long hair, dust, dander, and allergens.
One downside is that it is not effective on high pile carpet or throw rugs. Although it is a robotic vac, it cannot be operated with wifi or a smartphone. A remote has to be used.
Pros:
Easy initial set up
Strong battery life with over an hour of runtime
Click and go cleaning allows for the robot to do its job without the need of your presence
Good sensors, won't damage furniture or fall downstairs
Very effective on hard surfaces
Cons:
Not effective on high pile carpet or throw rugs
No WiFi/Smartphone connectivity
No mopping feature
3. Shark X40
If you're looking for a quiet stick vacuum, the Shark X40 might be a great pick.
It weighs around 9lbs which is fairly light.
It works up to 40 minutes in a single charging. It has a removable battery which means that you charge the battery without the vacuum nearby. The fact that this battery is not "built-in" is a great feature. If the battery ever fails, you can replace the battery, not the whole vacuum cleaner. Also, the remaining battery power level LEDs are built-in to the battery itself.
It has an extremely easy emptying of the dust/dirt collection area. Press a button on the side of the unit (while holding over a garbage can) and it falls out easily. Closes easily without any other parts shifting in place. Basically a simple door on a hinge.
It transforms into a hand vacuum for lightweight handheld cleaning in hard-to-reach places, above the floor, and in the car.
It includes an 8" Crevice Tool, Upholstery Tool, a Battery, and a charger. It has one powerhead, two brush rolls.
On the other hand, ION Boost (high) mode is triggered by pressing the ION Boost button; however, it only stays engaged for 1 minute then goes back to normal ION Power (low) mode.
Pros:
Powerful cordless suction.
DuoClean Technology invented for fine dust and large debris on carpets and hard floors.
Removable battery.
Transforms into a hand vacuum.
Cons:
Small attachments.
High ION mode engagement is only for a minute.
4. Shark Rotator Professional
Looking for a silent upright vacuum cleaner? The Shark Rotator Professional might be what you're looking for!
It is lightweight and has an ultra-quiet operation which makes it very convenient.
The high-output motor creates a powerful suction that provides deep cleaning performance on any floor surface including plush deep-pile carpet. Although not advertised as a "Pet Hair Vacuum", it still does an excellent job in that department.
It has a dust cup capacity of 1.3 quarts and a powerful upright vacuum with Lift-Away pod for convenient cleaning of stairs and above-floor areas.
The cord is around 30 feet long. This does not have any cord rewind so you'll have to manually wrap the cord after using it.
With a press of a button, it morphs into a canister thanks to the caddy that has caster wheels underneath. So you have a lot of mobility when you want to clean different parts of your home aside from the carpet.
It comes with 5 – a dusting brush, 12" crevice tool, large turbo brush, multi-angle brush, straight suction nozzle, and the canister caddy.
A few owners have complaints regarding the durability of the product.
Pros:
Reasonably light and easy to carry
The long flexible hose and wand plus the ability to separate the body from the floor nozzle makes this easy to use on stairs
Very good cleaning performance on both carpet and bare floor
Not difficult to move around
Cons:
No switch on the handle
The durability of the plastic parts
If you pull too hard, caddy may topple
5. Tineco A11 Hero
If you're looking for a quiet cordless vacuum cleaner, consider taking a look at the Tineco A11 Hero.
It is sleek, lightweight, and slim. The vacuum is agile and it was easy to navigate around my home to suck up dirt and debris on the floor and stairs. We even used the vacuum on the ceiling for cobwebs, and at around five pounds, it still felt lightweight.
It is a cordless stick vac which is best for carpets and hard floors. It is best for smaller areas and lighter cleaning. It weighs only 5.5- very light. In fact, it is one of the lightest vacuum cleaners we have tested.
The vacuum comes with a 450W motor that delivers 120AW of suction. For a cordless stick, that's quite impressive.
The batteries take around 3 hours to charge, and come with a dual charging base so you can charge both at the same time. The vacuum uses a 4-stage filtration system that ensures efficient trapping of dust and other particles.
If there's one area where the manufacturer was generous, it has to be in the number of accessories and attachments. The vacuum offers one of the widest range of tools. In the box you will find the main unit, main cleaning head, mini motorized brush, crevice nozzle, combination dusting brush, extra pre-filter, additional battery, pre-motor filter cleaning tool, hair cleaning nozzle, charging base, and user's guide.
Many users are fond of the LED lights on the front of the cleaner head.
The storage base that doubles as a charging station are a little bulky. I'd be fine with the bulk if it housed all the included accessories, but it doesn't. The extra filter and mini power brush would have to be stored elsewhere.
Pros:
Impressive suction power
Ease of use that allows different members of the family to use it
Excellent filtration that protects you and your family from allergens
The ability to convert from a stick vacuum to a lightweight handheld which makes the device suitable for a wide range of cleaning tasks
The LEDs on the cleaning heads that allow the vacuum to be used in poorly lit places
Comes with useful tools and attachments that make cleaning easier and more effective
Cons:
Being a battery-powered vacuum, it's not suitable for heavy-duty cleaning that requires immense suction power and long clean times
The main nozzle doesn't clean edges well, and you may need to use the accessories such as the crevice tool
Types of Vacuum Cleaners:
Canister Vacuums
Canister vacuums produce less noise than their upright cousins. Since the motor is housed in a separate unit, there is room for better sound insulation. Most canister vacuums emit between 60-65 decibels.
Canister vacuum cleaners are lighter and easier to carry.
Pros:
Lightweight.
Retractable cords.
Powerful.
More versatile cleaning
Quieter operation
Cons:
You'll have to bend to use it.
You'll have to drag it behind you.
You'll have to juggle two pieces.
They are difficult to store.
Upright Vacuums
When it comes to simple cleaning tools, it doesn't get easier than an upright vacuum. These machines are plug and play. Many come with onboard attachments too.
Pros:
Simple to use.
Easy to store.
Better for large areas.
Easy to empty.
Cons:
Loud.
Heavy.
Can't get into tricky cracks and crevices.
Challenging to vacuum stairs with an upright.
Stick Vacuums
Stick vacuums are great for those who prefer lightweight vacuums that can easily nestle in and out of tight spaces.
Pros:
Many are cordless and use battery power
Lightweight
Bagless
No bending down to clean
Good for cleaning up small messes quickly
Cons:
Less powerful motors
Poor carpet cleaning performance
Noisy despite weak motor
Battery-powered stick vacuums have limited run time
Batteries frequently have a shorter-than-preferred lifetime
Does not have a lot of attachments
Cordless Vacuum Cleaners
These are light, easy to carry, and very convenient to reach in tight spaces.
Pros:
Easier to carry
Lightweight
Great for cleaning small spaces
Easy to store
Cons:
Less power than other vacuum styles
Have a limited run time
Robotic Vacuums
Robot vacuum cleaners are great for those with very busy lives and wish to leave the vacuuming to a smart device that can be programmed to carry out duties that would normally be performed by humans.
Pros:
Hands-free, no manual labor required whatsoever
Many models are easy to program
Great for the busy professional
Remote control on some models
Cons:
Can be left alone in a locked room
Many models are not straightforward to set up
Programming can be unclear and time-consuming
Unreliable may miss crucial spots that need cleaning the most
Buying Guide: Factors to Consider Before Buying
Bagged VS Bagless
While buying a vacuum cleaner, one must always keep in mind the option of a bagged or bagless vacuum cleaner.
Your personal preference might come into play here, but keep in mind that the construction of bagged vacuum cleaners around the area where debris and dirt are collected in the bag tends to be of a lighter-weight, less durable material.
Bagless vacuums are a somewhat new innovation in the world of vacuum cleaners. Along with being lighter-weight and durable, they are also poorly insulated when it comes to sound.
Bagless vacuum cleaners tend to be better built, as well as better insulated in the collection area and that often makes them quieter.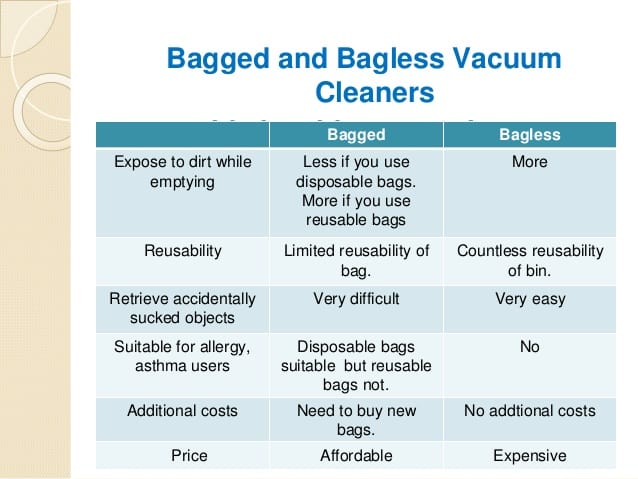 What Part of the House do You Want to Clean?
This is something people usually don't think about. Everyone buys one vacuum cleaner for the entire house. But there might be places in the house which require a specific type of cleaner.
For example, a friend of mine wanted to clean her pet's house. Even the type of flooring, carpets, size of the rooms- all of these are some examples of needing a special vacuum cleaner. For such a need, you can go for Kenmore 81214 200 Series.
But there is an issue of attachments or accessories that I mentioned earlier. A handful of cleaners don't come with equipment to help clean the ceiling or pet litter.
Avoid the standard vacuum cleaner if you are looking to clean the ceilings yourself. Each type of work requires a type of vacuum cleaner that will work best.
If you want to reach into tiny spaces or clean pet hair- use a vacuum with small nozzles.
Another thing you have to consider while buying a vacuum cleaner is the size of the bag. If you are cleaning a place that has a lot of dust- you don't want to empty the bag every 5 minutes.
A good way to avoid this is by surveying your house and the areas you need the vacuum cleaners for.
Compare Noise Level
| | |
| --- | --- |
| Noise level | Sound in decibel |
| Typical vacuum cleaner | 78-80 |
| Quiet vacuum cleaner | Below 72 |
| Moderately Quiet vacuum cleaner | 66-72 |
| Ultra-quiet vacuum cleaner | 55-65 |
Anything above 78 decibels is considered noisy.
Should It Have an Air Filter?
Having an air filter in your vacuum cleaner will help for sure. A good quality air filter will pull all the allergy creating dust particles.
Having a good air filter will also leave a soothing scent behind.
One drawback is- an air filter requires regular cleaning. The filter will have to be cleaned on a regular basis.
Additional Considerations
Suction power adjustments:
Low, high, and turbo suction options can make a difference in noise.
Floor-type selector:
Selecting the proper depth to run your machine over different types of flooring can make a difference in how your vacuum performs as well as its noise level.
Attachments:
Various types of attachments for various tasks can also make your machine run quieter and make it more efficient. Attachments include small nozzles, side brushes, remote-control operations, etc. The Tineco A11 Hero is a vac that has an amazing number of attachments.
FAQs: Frequently Asked Questions About Quiet Vacuum Cleaners
Benefits of a Quiet Vacuum Cleaner
You can now clean without worrying about the people of the house to be disturbed. No one will be disturbed while sleeping, watching TV, or working.
Nowadays, with new technology, vacuums are both—quieter and more efficient.
Just how much quieter can a vacuum cleaner be?
Sound is the easiest way to determine the difference between a regular vac and a noise-less vac.
With most normal home vacs, you are looking at between 74 and 81 decibels of noise output. For the quieter models, the sound output is considerably lower at levels under 72 decibels. And, you can lower the noise level even more just by using the proper brush for the vacuum hose – the reduction can be as much as 50%!
Is bagless vacuum cleaner better?
I would say yes. The advantages of bagless vacuum cleaners outweigh its disadvantages. Bagless vacs are less expensive, eco-friendly, very convenient- you don't have to buy bags all the time and it's easy to know when to empty it.
On the other hand, bagged vacs, although more hygienic, is very tedious. They require changing bags constantly and once the bags are a little full, its performance deteriorates.
What causes a vacuum cleaner to lose suction?
Suction generated by fan motor power a vacuum cleaner as it pulls dirt through a chamber or hose and then deposits the debris into a bag or a cup. Some vacuum cleaners have a rotating brush or a beater bar at the end of a nozzle to help agitate and sweep dirt into the suction chamber.
All of these areas must be free of obstructions and be working properly for a vacuum cleaner to remain 100 percent functional, or you will gradually lose suction. Here are ways to restore this suction.
The Bottom Line
If you're looking for a silent canister, Kenmore 81214 200 Series is my favorite option. It has strong suction and is mainly designed to clean all areas and surfaces of your entire home, den, kitchen, car, or garage quickly and efficiently.
If you're on a budget, the Shark Rotator Professional is a great pick. Its high-output motor creates a powerful suction that provides deep cleaning performance on any floor surface including plush deep-pile carpet.