As an Amazon Associate, I may earn from qualifying purchases at no extra cost to you. These are the same products I'd recommend to friends and family.
Air conditioners are a bliss, especially in the hot summer months.
The only gripe?
Air conditioners can be loud—which might disturb your sleep—defeating their entire purpose.
If you have a central air conditioning system, the noise might be less of an issue since the parts are usually installed outside of your home.
But if you rely on a window air conditioner to cool specific areas of your home more efficiently—the noise might quickly start being a nuisance.
The window air conditioner we had made our room sound like a roaring jet and had quite some issues like water dripping from the front.
That was when I and my husband, Daniel—who works from home, decided to do something about it.
If you are looking for a quiet window air conditioner that also efficiently cools down your room, I promise this research covers everything you need to know to make a wise buying decision.
Let's get started, shall we?
Product Name
Best Budget
HomeLabs Window





Ideal for Room Size up to
Best Budget

Ideal for Room Size up to

Ideal for Room Size up to

Ideal for Room Size up to

Ideal for Room Size up to
Best Overall

Ideal for Room Size up to
Note: While we are on this topic, it's worth mentioning that I also have this in-depth guide on AC noise reduction where I walk you step-by-step and help you soundproof your air-conditioner.
1. HomeLabs Window-Mounted Air Conditioner
Do you have a room size of up to 150 sq.ft and need a perfect window conditioner for that? Well, this product from Homelabs might do the trick.
This quiet model generates only about 52 decibels of noise. If you're looking for an even quieter model, Friedrich Chill Window Air Conditioner might be worth considering.
This heavy-duty air conditioner is an ideal choice for bedrooms, living rooms, dorm rooms, or small apartments. It comes with an air conditioner mounting kit that includes filters, support brackets, leaf guards, window seal foam, and drip-free installation guides.
In order to cool the temperature by optimal amount, it features 7 temperature settings. Besides this, it also features two-way airflow to direct that refreshing, cold air in the required direction.
It is pretty economical since it comes with removable and reusable filters. Cleaning it is also very easy and all it needs is a simple hand wash.
It is rated at 11.1 for its Energy Star Efficiency ratio. A product comes under this category only if it attains a value of 10.0 or more and hence, this product exceeds the expectations.
It's not all fairy tales though.
While I haven't had this particular problem, some users reported that the fan in the unit created a rattling sound. Also, remote control and energy saver mode features are missing. Although, the Energy Star Efficiency ratio of 11.1 should more than makeup for it.
Pros:
Budget-friendly
Quiet operation
Energy efficient
Easy to install
Cons:
No remote-control
No energy saver mode
2. Friedrich Chill Window Air Conditioner
Are you searching for the perfect air conditioner for a room with a size of up to 250 sq.ft? Friedrich Chill Window Air Conditioner might be a great option.
This is ultra-quiet in its operation and produces only 43dB at maximum. This is about 30% quieter compared to hOmeLabs Window-Mounted Air Conditioner.
It uses digital controls and remote to cool your space. It comes with 3 options for speed. The air inside the room is evenly distributed by the swing control function that adjusts airflow in 4 directions.
With the help of the programmable timer, you can program the AC to turn on or off up to 24 hours in advance. It carries an energy-efficiency ratio (EER) of 12.2 which is slightly greater than homeLabs. The money saver feature ensures that once the compressor stops so will the fan, which helps save energy.
The lift-out antimicrobial air filter is washable and protects against bacteria and fungus. The appliance can be easily installed in any vertical sash window or through a wall. It comes with an installation kit.
It also comes with a warranty of 1 year.
It has its fair share of downsides, though.
When the compressor is working at its hardest, it might get a little noisy—though in my experience it still pretty much bearable. Also, with time, the fan might start rubbing against the other parts which might create some noise.
Though it has its flaws, its energy-saving features, coupled with its cooling efficiency, make it a great pick.
Pros:
Energy-saving features
Easy maintenance
Remote-controlled
Cons:
With an excessive load, it can turn out to be slightly noisy
The fan might rub against other parts with time
3. LG Window-Mounted Air Conditioner
Looking to cool down a space of up to 340 sq.ft perfectly? Well, you can't go wrong with LG's offering.
This is one of the quietest on my list and generates only 58 decibels of noise. If you are looking for even quieter models, then you may try hOmeLabs Window-Mounted Air Conditioner.
It is furnished with a rotary compressor for maximum efficiency. It is energy efficient as well and comes with an EER rating of 12.0. The 24-hour on/off timer prevents wastage of energy. The auto-restart automatically turns the unit back on when power is restored after power failures.
It comes with a stylish remote. It features 3 cooling and fan speeds with Auto Cool to keep the room at optimum temperatures. With the 4-way air direction, the cool breeze can be deflected in the desired direction.
The air filter is washable and reusable that saves your money. Installation is also very simple and the device comes with a Windows Installation kit.
The product is backed by a warranty of 1 year.
There are some negative points too.
To be honest, the build quality could use some improvement. There's no heating mode on this which means that it cannot double down as your occasional space heater. Outside wall mounts might be necessary which will add to the cost.
Pros:
Easy installation
Powerful cooling unit
Durable
Remote-controlled
Cons:
Mediocre build quality
No heating mode
4. Frigidaire Compact Air Conditioner
If you are searching for a 10,000 BTU air conditioner that can effectively cool a space of up to 450 sq.ft, Frigidaire Compact might just be what you need.
At maximum, it generates 59 decibels of noise. You may check out Friedrich Chill Window Air Conditioner which is about 45% quieter than this model.
It features 3 different fan speeds for cooling. Compared to the products mentioned earlier, it comes with an 8-way comfort control mechanism to evenly distribute the cool air inside the rooms.
It gives you the perfect ease of regulating the functions at the touch of a button with the Ready-Select Controls. Besides, you can also adjust the settings to get the perfect temperature with the remote from anywhere across the room.
Dehumidification is allowed up to 3 pints per hour.
It comes with an energy efficiency ratio (EER) of 12.0 which is comparatively greater than hOmeLabs Window-Mounted Air Conditioner. It is also capable of auto restarting after power failures and comes with an energy saver mode.
Do you or someone at your home suffer from dust allergies?
If yes, this might be a great pick as it comes with additional features such as the air ionizer which removes pollen and impurities from the air.
It is backed by a warranty of 1 year.
It has a few drawbacks as well.
Firstly, the window bracket is not included which adds to the overall cost. It doesn't support continuous drain for the dehumidifier, which means you will have to do it manually.
Pros:
Low power use start-up feature
remote-controlled
Removes impurities from the air
easy installation
Cons:
Window bracket not included
No continuous drain
5. Koldfront Window Air Conditioner
Wanting to beat the scorching heat for a room of size up to 550 sq.ft? Koldfront Window Air Conditioner might be the one for your rooms.
The noise levels are about 64 decibels. While this is a bit on the higher side compared to most other products on this list—it is still pretty much acceptable. Although, if you still want an even quieter model, then you may check out Frigidaire Compact which is about 15% quieter.
This air conditioner has 12,000 BTUs of cooling power and 11,000 BTUs of electric heating power. The temperature setting and fan speed can be regulated from anywhere across the room with the help of the remote.
The energy saver mode along with the sleep mode helps save energy. A 24-hour timer is also made available. The product comes with a full 2-year warranty.
The dehumidification capacity is approximately 60 pints/day. The set is provided with 4-way air directional louvers to evenly spread the air throughout the space.
The installation hardware and weather seals included in the package.
Coming to the downsides…
Some users mentioned that the lowest temperature setting is not that entirely useful. It's also not Energy Star certified—which might be a bummer for some people.
Pros:
Remote-controlled
Silent-operation
2-year warranty
Both heating and cooling modes
Cons:
Lowest temperature not quite useful
Not energy star certified
The Buying Guide: Factors to Consider Before Purchasing
1. Size of Your Room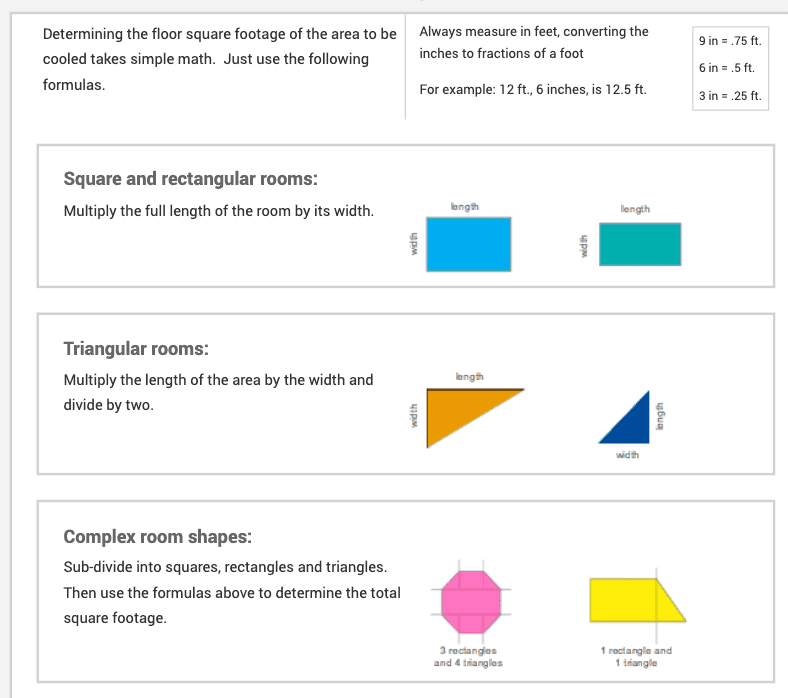 Determining the size of the room accurately is of paramount importance to ensure that you get the optimum cooling levels.
Air conditioners come with a recommended coverage and hence, choosing the right AC will depend largely on the accurate measurement of the dimensions of the room.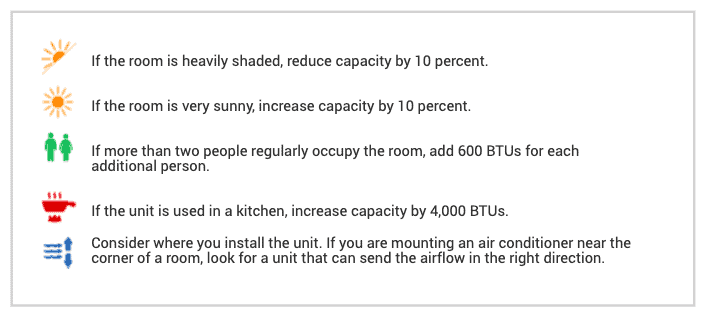 Another important thing to note is that the temperature leaks due to the presence of windows and sun exposure. Obviously, a room with multiple windows will leak more than the one with a lower number of windows.
Also, during sunny days, in order to optimally cool the room, the BTU levels must be incremented by about 10%. Also, people prefer to sleep peacefully and hence, they would like to go for quieter ones.
In the case of living rooms, that is comparatively larger, require larger BTU air conditioners to compensate for the heat produced by other appliances running in the room.
Besides this, the size of the AC should also be noted carefully.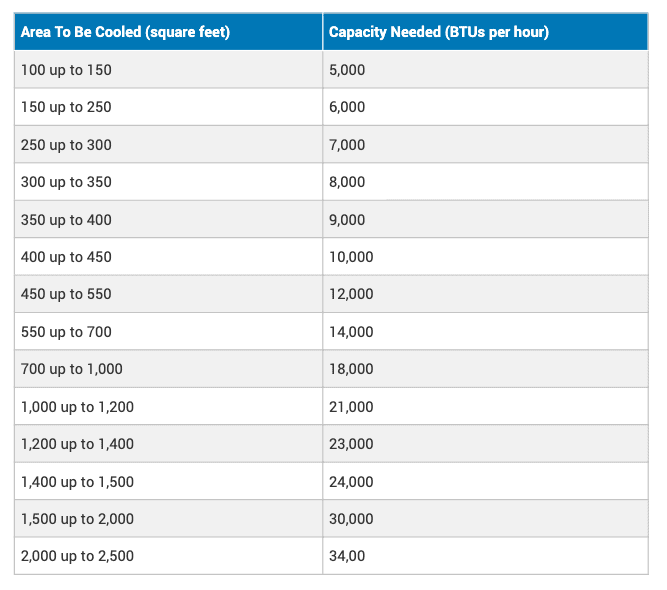 If it is undersized, the AC will run continuously but it will not be much effective. It might also happen that you realize that the AC is on only when you sit quite close to it.
Oversized AC also causes discomfort. Not only will it result in unnecessary expenses but it might also bring down the temperature of the room drastically which may cause shivering. This is especially very annoying at night while you sleep.
If you are looking for an AC for small rooms of about 250 sq. ft., Friedrich Chill Window Air Conditioner should suffice your needs. Else, if you are looking for an AC that will effectively cool much larger spaces of about 550 sq. ft., then you may try Frigidaire Compact Air Conditioner.
2. Noise Level
This is another important criterion when it comes to buying an AC. Air conditioners are basically meant for use in the inner quarters of the house and other workplaces.
The noise of any kind can cause a lot of distraction. Especially during summer months, when the ACs are used almost throughout the day, no one would like to listen to rattling noises all day long.
Therefore, it is important to check the decibel levels of all the products before making a final decision. Fortunately, all the products mentioned in this research have perfectly decent and acceptable noise levels.
Frigidaire Compact Air Conditioner is a noteworthy mention in this regard.
3. Compressor
The compressor is the part that is responsible for pumping and circulating the refrigerant. It's actually where the noise is generated. Therefore, in order to retain the tranquility of our space, it is important to get a compressor that is as quiet as possible.
It is preferred to go for the inverter-driven compressors that operate at the lowest capacity to cool the area without producing much noise.
Rotary compressors are also great, one such product with rotary compressors is LG Window-Mounted Air Conditioner.
4. Installation
The installation of air conditioners in any room can be carried out in two different ways. It can either be done by mounting it on the window or by fixing it in an opening that goes through a wall.
In case you go for window AC, here are some tips to install it:
The first thing you need to do is put on the top and bottom flanges/grooves and the side panels.
Secondly, use the grooves to place the unit in the window frame.
And then finally bring the window sash down on it.
For installing the-wall AC unit, you just need to make a few changes in the above steps.
Firstly, allow 2 extra inches and mark the dimension of the AC
Cut through the drywall
Then cut out the opening
Apply a wooden frame to the interior opening
Then insert the sleeve/cabinet and fix it
Finally, insulate the gaps if any
From my list, the ones that have been preferred by many users due to their easy installation process are LG Window-Mounted Air Conditioner and Frigidaire Compact Air Conditioner.
5. Speed
In the majority of the air conditioners available in the market, there are 3 to 4 fan speeds. The noise produced depends directly on the speed at which the fan is operating.
Thus, the lower the speed, the lower will be the noise emitted and vice versa. It is possible to get the desired cooling at low fan speeds. The trick is that the BTU levels should be slightly high to compensate for the low fan speeds.
One such product having 3 variable fan speeds is Friedrich Chill Window Air Conditioner.
6. Energy Efficiency
The energy efficiency of your window AC will directly impact your electricity bill.
You can get a good idea by checking the energy efficiency ratio (EER). It is basically the ratio of output cooling energy (in BTU) to input electrical energy (in watts) at a given operating point.
To save a considerable amount of energy it is advised to go for a set that got an EER value greater than 8.0. Some of the products on my list having an EER value of 12.0 and above. Friedrich's offerings are great in this regard.
Frequently Asked Questions
1. Why Does My Window AC Make So Much Noise?
Here's why your window AC could be so noisy:
the intrusion of external substances inside the AC
fault in the fan blades
vibrations
grills of the window might be loose
improper lubrication of fan blades
2. Which is the Quietest AC for the Bedroom?
It depends on the size of your bedroom. The table below should help you make an informed decision.
| | |
| --- | --- |
| Size of Your Room | Most Suitable Product |
| 1. up to 150 sq.ft | hOmeLabs Window-Mounted Air Conditioner |
| 2. up to 250 sq.ft | Friedrich Chill Window Air Conditioner |
| 3. up to 340 sq.ft | LG Window-Mounted Air Conditioner |
| 4. up to 450 sq.ft | Frigidaire Compact Air Conditioner |
| 5. up to 550 sq.ft | Frigidaire Compact Air Conditioner |
3. How Many Decibels is a Quiet Air Conditioner?
Generally, the air conditioners that have a noise rating in the range of 50 to 60 decibels are considered quiet.
4. How Can I Make My Window Air Conditioner Quieter?
Here are a few tips to help you quieten your window AC:
check if the AC has been installed properly else make necessary changes
tighten the compressor mounting parts
check if the mounting screws are tightened well
use foam to fill gaps in the window frame if any
clean the blades after specific durations
replace the set with a quieter one
5. What are the Energy Costs of a Window Air Conditioner?
Generally, the energy consumed by ACs of different sizes lies in the range of 500 to 1500 watts. Window AC consumes about 1100 to 1800 Watt/hour.
The Bottom Line
After spending dozens of hours researching, I believe that the Koldfront Window Air Conditioner is a great pick for most people. It is a powerful AC for larger spaces and comes with heating and cooling mode. It is ideal for a room of size up to 550 sq.ft.
The first runner up is LG Window-Mounted Air Conditioner. It is a durable AC that is ideal for medium-sized rooms. It can optimally cool a space of up to 340 sq.ft. Looking for a model that is also easy to install? This may be the one for you.
The second runner up is hOmeLabs Window-Mounted Air Conditioner. If you are on a budget and looking for an AC for a comparatively small-sized room of about 150 sq. ft. then this might be the best option for you. It comes with an installation kit as well.