As an Amazon Associate, I may earn from qualifying purchases at no extra cost to you. These are the same products I'd recommend to friends and family.
Mini fridges often come to the rescue especially in a small dorm, office, or a mancave.
The only problem?
Despite their small size, they are often noisy.
Do you wish to keep your drinks cold while also not being bothered by the humming noise? Or do you wish to study or work in a peaceful environment without getting distracted by the annoying sound of your mini-fridge?
Well, you're in luck.
I had this issue last summer, so I spent over half a dozen hours to find the quietest mini-fridge with efficient cooling that I could buy.
You're about to discover everything I learned.
Ready to get started?
Product Name
Best Overall
hOmeLabs Mini Fridge
COSTWAY Compact Refrigerator






Cubic Feet
3.2; Also comes with Freezer
Compact Cooler and Warmer
Best Overall



Cubic Feet
3.2; Also comes with Freezer
Product Name
COSTWAY Compact Refrigerator



Cubic Feet
Compact Cooler and Warmer
Note: Do you fancy keeping your favorite juice in a mini-fridge? You might also want to have a look at some of the top quiet blenders you can buy that don't burn a hole in your pocket!
1. hOmeLabs Mini Fridge
Looking for a space-saving fridge that is efficient and well-reputed? Well, the hOmeLabs Mini Fridge might be worth a look.
This is one of the quietest mini-fridges on my list. At maximum, it generates only 53 dB. If you want to look for quieter models, then you may check out Midea WHS-65LSS1 which is about 15% quieter.
This is a single-door fridge that will provide you with 3.3 cubic feet of cooled spaced. The thermostat knob allows the user to efficiently regulate the temperature of the different sections inside the fridge.
It is furnished with a whisper-quiet compressor that works with a small convection fan helps to cool quickly and keep consistent air circulation in the interior.
In terms of budget, this is the second most inexpensive product on my list. The price of this product is about 25% less compared to Euhomy Mini Fridge with Freezer.
Three temperature modes – Max, Med, or Min help you maintain the optimum temperature levels. The temperature inside the refrigerating chamber is around 33 to 35°F when it's on Med mode. When the temperature is set to either medium or maximum, the freezing chamber at the top will be cold enough to make ice.
The removable glass shelves can be adjusted to tuck materials which are comparatively taller. Canned beverages can be also be accommodated in the region provided by the reversible door. Drips from the freezer can be caught while defrosting due to the removable drain tray.
The fridge adds to the overall get-up of any room in your home or office with its sleek black exterior.
It is backed by a warranty of 1 year.
Despite being such a competent product, it is not devoid of flaws.
Firstly, in order to avail of the freezer section, you might have to reduce the temperature to a level lower than you want. Also, many users may find the capacity of the freezer a bit less. For larger capacities of about 4L, you may check out Cooluli mini-fridge which approximately 15% greater than hOmeLabs.
Also, when the fridge is first plugged in the sides may tend to heat up and produce some noise. But, as the fridge cools down, the noise reduces considerably.
Nonetheless, if a spacious storage capacity and silent operation are what you are looking for, this is truly a great pick.
Pros:
Spacious
Attractive design
Silent Operation
Great for small spaces
Food can be stored in the door
Cons:
the temperature needs to be decremented severely to use the freezer section
when plugged in for the first time, the sides of the fridge may tend to head and produce some noise
2. Midea WHS-65LSS1
The Midea WHS-65LSS1 might be a great option if you're looking for a quiet mini-fridge with a capacity of 1.6 cubic feet. With its compact design and affordable price tag, I would highly recommend this for college students.
It is one of the quietest on my list producing noise of about 42 decibels only. They feature whisper-quiet compressors that cycle on and off silently to not at all bother the user at any time with noises.
It has a capacity of 1.6 cubic feet which is sufficient for the people who live in small apartments and do not require too much space for storing edibles. It comes with compartments so you can also store drinks, snacks, and food.
It is extremely easy to set the temperature anywhere between 32° and 50° Fahrenheit. The freezer area can be set at a temperature ranging from -11.2° to 5°F.
I also like the inclusion of several innovative features.
For example, the reversible door—which means you can change which way the door swings open. This lets you customize your refrigerator to fit your living space.
The legs of the fridge can also be adjusted as and when needed. Thus, you can adjust the height and legs before installing it. It comes with a warranty of 1 year.
It has a few negative points as well.
Firstly, while it may be a good choice for people who can make do with less space, but for the rest, this might not be the best option. In this regard, you can try hOmeLabs Mini Fridge, which has about 20% larger space. It also lacks the defrosting or ice cube-making system.
Despite its flaws, this silent mini fridge has great cooling efficiency and comes with a hassle-free installation.
Pros:
Compact
Whisper-quiet operation
Reversible door
The height and legs can be adjusted before installation
Cons:
Less spacious
No defrosting or ice cube-making system
3. Euhomy Mini Fridge with Freezer
Looking for an efficient mini-fridge with a capacity of up to 3.2 cubic feet? This model from Euhomy might do the trick.
The decibel level is about 55 dB which makes it one of the quietest products. hOmeLabs is slightly quieter on paper—about 10%—though the difference shouldn't be noticeable in real life.
With a capacity of 3.2 cubic feet, it is very spacious and the freezer is capable of storing a considerable amount of eatables. The storage capacity is almost twice that of Midea's. The door of the fridge is also a convenient place for storing cartons and bottles.
This distinguished dual-door compact refrigerator is energy-star compliant which can help you cut down your costs on electricity bills.
The fridge also provides bright and clear visibility with LED lighting. Changing the temperature is also extremely simple with the electronic temperature control system.
Like the Midea WHS-65LSS1, it also comes with a reversible door. It means you can customize the door to either open on the right or the left. The leveling legs can be adjusted according to your preference.
The refrigerator has a large vegetable crisper and integrated door shelving. It has an extra edge over its competitors due to the availability of 2 full-width glass refrigerator shelves that help make cleaning simpler.
It comes with a 1-year warranty.
Let's get to the things that I didn't quite like about it.
A few consumers mentioned that the fridge at times tends to freeze items if they are left too far in the back for longer durations. Also, it might not be the best option when facing power-failures and may drain other temporary power sources very fast.
Despite having some flaws, its energy-efficiency, and affordable price tag, make it a noteworthy competitor.
Pros:
Energy-star compliant
Large vegetable crisper
Reversible door
Easy to clean
Cons:
Tends to freeze items if they are left too far in the back for too long
Not great during power failures
4. COSTWAY Compact Refrigerator
Searching for a mini-fridge with a capacity of 3.2 cubic feet that is also equipped a small freezer? COSTWAY Compact model might be just what you're looking for.
Its trendy grey look is sure to add to the decor of your personal space.
It has a noise level of about 45 dB. The product ranks fourth on my list in terms of decibel rating.
It provides 2.2 cu. ft. fresh food capacity and freezer capacity of 1 cu. ft. There are two refrigerator exterior doors to access the freezer or the refrigeration compartment. It is compact and hence does not take a lot of space. In order to help you accommodate fruits and vegetables easily, it comes with a crisper drawer.
This is one of the best performing refrigerators that cool quickly and evenly. I like its temperature management which helps keep food and frozen items intact.
The adjustable thermostat helps to set the temperature between 32℉ to 50℉. The fridge is equipped with a cooling compressor for optimum cooling performance.
Comparatively taller items can also be organized pretty easily by removing or adjusting the refrigerator glass shelf. This also helps clean the device more easily. An ice tray is included in it to help you make ice cubes.
It has its fair share of downsides as well.
While it is great for domestic purposes, it is comparatively a bit noisier for being used at workplaces. In this case, I would recommend you check out Cooluli Mini Fridge which is ultra-quiet.
Secondly, it does not come with any warranty which most other products have. Also, the doors are non-reversible. If reversible doors are a must, then you may check out Euhomy Mini Fridge with Freezer.
It has its drawbacks, but its long list of positive points seem to outweigh them all. It is not only appealing to the eyes but is extremely efficient in cooling and preserving the food items for long durations. It is spacious. If you are looking for a mini-fridge that does not require too much maintenance then this is a great choice.
Pros:
High-performing
Comes with a crisper drawer
Spacious
Easy to clean
Cons:
No warranty provided
Non-reversible doors
5. Danby DAR259BL
Are you in need of a 2.5-Cu. Ft. compact refrigerator? Well, Danby might have something exciting in store for you.
It sports a classy black exterior that looks in almost any kind of room. The CanStor beverage dispensing system further improves its efficiency. Users highly recommend this fridge due to a few additional lucrative features like scratch-resistant worktop and smooth-back design for a flush fit against walls.
The noise level is about 44 dB. This is the third quietest product on my list. At maximum, these fridges can generate a very low humming sound.
This compact refrigerator features a capability of two .5 cu. linear unit. These are ideal for small apartments dorms, and offices.
The doors are reversible which gives you more choice to customize your fridge as per your liking. The temperature can be regulated with the help of a mechanical thermostat. It is also furnished with an automatic defrost mechanism.
This compact unit comes with parts and labor warranty of 18 months. It is energy-star certified which ensures you can save money on your electricity bills.
Now, let's have a quick look at the downsides.
Some users may find that the interior lighting is inadequate and that can hamper visibility. It also tends to build up ice along the back after a while. Although I haven't had a problem with this, some consumers found the lower shelves to be quite shallow.
Nonetheless, this energy-star equipped model with reversible doors and automatic defrost mechanism is still a great choice.
Pros:
Compact
Reversible doors
Automatic defrost
Energy-star certified
Cons:
Inadequate lighting
Shallow lower shelves
6. Cooluli Mini Fridge
Looking for a compact cooler and warmer mini-fridge at a very reasonable price? Cooluli Mini Fridge might be worth a look.
It is ultra-quiet with a noise level rating of just 28dB, which is the quietest on my list.
This 4-liter thermo-electric cooler/warmer mini fridge is equipped with the thermoelectric system that enables the user to switch from cooler to warmer in the blink of an eye.
It is energy-efficient and operates with the help of a 3 amp high capacity cooling chip. You can also use 2 amp power banks to run the device.
With its advanced thermoelectric technology, it can serve multiple purposes. You can store anything and everything—right from skincare essentials to your medications in it.
The cooling capacity of this fridge lies in the range of 40ºF-45ºF below ambient temperature and the warming capacity is between 122ºF-144ºF. It can be used both indoors as well as outdoors with the AC and DC power cords included in the package.
It has a very modern look to it and is extremely light and compact which makes it very portable. Besides this, it is also furnished with a carrying handle.
Despite being a great competitor, it is not completely flawless.
Some customers have reported that when the temperature is too cold in the fridge, ice formed at the back. Although, if you ever face this issue, unplugging it for a while should do the trick.
It is very travel-friendly, but I recommend installing a lock to prevent stuff from falling out of the fridge
Another trivial issue is that the space to store cans is a bit confined which might make it quite difficult to pull out a can sometimes.
Overall, if you are looking for a travel-friendly, compact, quiet, and affordable mini-refrigerator, the Cooluli is hard to beat.
Pros:
Compact & light-weight
Travel-friendly
Energy-efficient
Ultra-quiet
budget-friendly
Cons:
Food may spill out if stuffed in excess when carrying the fridge outdoors
Space to store cans is too confined and hence difficult to pull a can out
The Buying Guide: Factors to Consider Before Purchasing
1. Noise Level
It's important to consider the noise level rating (in decibels) before you buy one. After all, nobody likes having their sleep and other daily activities disrupted due to the excruciating noise of a home appliance.
Usually, noise levels up to 50 decibels do not cause much irritation and hence, you can go for products within this range.
Based on the products mentioned in this research, the one with the lowest noise rating is Cooluli Mini Fridge. It generates only 28 decibels of noise.
Some other good options in this regard happen to be Midea WHS-65LSS1 producing about 42 decibels of noise. hOmeLabs Mini Fridge is another great alternative.
2. Size and Capacity
Over-sized or under-sized fridges can cause a lot of trouble and hence gauging your daily requirements is necessary to help you find the one best suited for your need.
Mini fridges are available in a whole range of sizes to meet the needs of different customers. If you are a student or looking for a fridge with less capacity then Midea WHS-65LSS1 is a great choice with 1.6 cubic feet space.
If you're looking for comparatively larger ones then you may find products like Euhomy Mini Fridge with Freezer and COSTWAY Compact Refrigerator very useful. They come with a capacity of 3.2 cubic feet.
The largest mini-fridge on my list is hOmeLabs Mini Fridge with a capacity of 3.3 cubic feet.
3. Types of Fridge
Compressor
This is one of the most widely used fridge types. In these types of fridges, a vaporized liquid is used that moves via tubes and coils.
Fridges of this type usually produce low levels of noise. They can be used in the kitchen. Being extremely silent in their operation, they can be kept in the bedroom and offices without much trouble.
From the mentioned products, the ones that are based on compressors for their activity are hOmeLabs Mini Fridge and Midea WHS-65LSS1.
Absorption
In these types of fridges, the eatables are kept cool with the help of a heat source. They are renowned for their silent operation since they have no motors in them.
The absorptions type fridges are very durable. They are ideal to be used in a remote location.
Thermoelectric
This a great option for the ones who wish to use their fridges for short spans of time. It provides both chilling and warming effect.
This is the quietest of all types of fridges since they have no other place except the fan that can produce noise. It is equipped with a heat pump that is responsible for transferring the heat from one end to another end.
They are usually very light and have a compact design to facilitate transportation. This is also the cheapest of all the other types.
If you opt to go for thermoelectric fridges, then Cooluli Mini Fridge is really worth considering.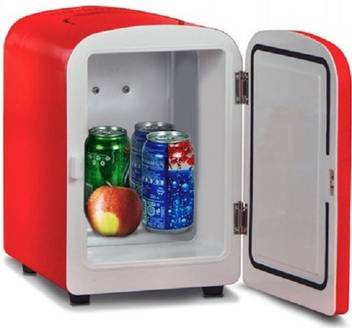 4. Budget
There's a mini-fridge for every budget.
If you want the absolute best that money can buy, you may want to check out the Danby DAR259BL.
If you're looking for something on the budget, Cooluli Mini Fridge might be worth a look.
5. Features and Functionalities
It is highly recommended to go for mini-fridges that make use of the latest technologies.
What are these technologies, you ask?
Well, some products like the Danby DAR259BL come automatic defrost system that defrosts the mini-fridge without needing any manual intervention.
The reversible door is another amazing feature. This is great for both right-handed as well as left-handed people to help them customize their fridge for easy handling. Euhomy Mini Fridge with Freezer comes with a reversible door. Besides this, Euhomy Mini Fridge with Freezer has LED lighting in it to make things clearly visible at any time of the day.
In some mini-fridges like Midea WHS-65LSS1, the height and legs can be adjusted before installation.
6. Appearance and Build Quality
Besides functioning, looks also matter. The mini-fridge must suit the existing decor of the rooms.
If you are looking for traditional stainless steel fridges, you may go for Midea WHS-65LSS1. In case you like silver-colored fridges, Euhomy Mini Fridge with Freezer is a great choice.
In the category of grey-colored fridges, COSTWAY Compact Refrigerator is worth mentioning.
Looking for a trendy black colored fridge? Danby DAR259BL might be the one. Its metal body makes it very durable.
Wanting to add something very elegant and colorful to your room? Well, Cooluli Mini Fridge is a wonderful option. It has got a very bright blue look which is sure to give a boost to the overall decor.
Frequently Asked Questions
1. Are Mini Fridges Loud?
No, mini-fridges are not usually loud.
The humming low-decibel noises you hear are due to the fan at the back of the fridge.
In the case of compressor type fridges, the liquid used is known as a refrigerant, which is vaporized and moved through coils or tubes while a fan blows air through the coils from the refrigerator compartment creating some noise.
Absorptions fridges almost produce no sound at all since they are devoid of motors
2. Do Mini Fridges Use a Lot of Energy?
Mini fridges do not demand too much power for its operation. In fact, most of them are very energy-efficient and can save you a considerable amount of money on your electricity bills.
Mini fridges with a capacity of about 1.7 to 4.4 cubic feet receive Energy Star rating when they consume no more than 239.42 kilowatt-hours per year.
3. How Long a Does Mini-fridge Last?
In general, mini-fridges last for approximately 6 to 14 years. On average, the product is expected to function optimally for a period of 10 years. But with proper maintenance and cleaning, it is possible to extend its life span.
In my opinion, it is good to go for the ones with a warranty of 1 to 2 years to stay on the safe side for at least those many years.
The Bottom Line
Keeping eatables and drinks intact during hot summer months can be very troublesome. But it can be achieved with the amazing varieties of mini-fridges available in the market. Going for quieter ones is preferred to maintain the serenity of your house.
After a thorough evaluation, I believe that the hOmeLabs Mini Fridge with a capacity of 3.3 cubic feet is the best choice for most people. This is a single-door spacious fridge with eye-catchy design to blend with your room decor. Cleaning is very simple and is backed by a 1-year warranty.
The first runner up is Euhomy Mini Fridge with Freezer with a capacity of 3.2 cubic feet. This is an energy-star compliant mini-fridge that helps save money on your electric bills. It comes with a crisper to help you store vegetables in the fridge in an organized manner. It is furnished with a freezer too.
The second runner up is Cooluli Mini Fridge. If you are on a budget and looking for a mini-fridge, then Cooluli Mini Fridge might be what you need. This thermoelectric fridge is compact, lightweight, and travel-friendly. It can cool as well as maintain a slightly higher temperature for different edible items.