As an Amazon Associate, I may earn from qualifying purchases at no extra cost to you. These are the same products I'd recommend to friends and family.
Exhaust fans are a godsend when it comes to removing moisture and eliminating bathroom odors. But they can also turn out to be quite noisy if you don't consider the appropriate one before buying.
The previous bathroom exhaust fan that I had wasn't great at removing allergens. My baby would constantly sneeze in the bathroom and that quite distressed me. Not to mention that it also generated an excruciating noise.
I decided to take the matter into my own hands and went looking for a suitable alternative.
Do you find yourself in a similar boat?
Well, you're in the right place.
Let's get started!
Product Name
Panasonic WhisperFitEZ Fan





Product Name
Panasonic WhisperFitEZ Fan





1. Panasonic WhisperFitEZ Fan
Are you finding the most suitable quiet exhaust fan for bathrooms up to 110 sq.ft? If yes, the Panasonic WhisperFitEZ might be worth looking into.
This Energy Star rated ventilation fan is extremely quiet and produces only 0.3 sones at 80 CFM and 0.8 sones at 110 CFM. These fans have been scientifically proven to be effective in eliminating humidity, mold, mildew, and other air pollutants, thus providing clean and fresh air all the time.
Installing it is extremely simple especially because of the slide and snap-in junction box, 4 in. duct and 3 in. duct adapter.
It is also UL listed for tub/shower enclosure. For added safety, the motor is equipped with a thermal cutoff fuse.
The product is backed by a 3-year limited manufacturer warranty. Also, Panasonic also provides a model that is equipped with light to increase visibility.
It does have a few shortcomings, too.
Firstly, the decorative grill overhang could have been lengthened if you fancy a retrofit installation. The installation procedure might require the help of a professional, which might add to the expenses.
Nevertheless, it is still a highly demanded product because of its effectiveness in removing allergens and giving an odor-free ambiance.
Pros:
Energy Star certified
Whisper-quiet
Eliminates air pollutants
Cons:
The decorative grill overhang is somewhat short
Professional assistance might be needed during installation
2. Broan-NuTone Ceiling Bathroom Exhaust Fan
Looking for a good quality bathroom exhaust fan for a room of up to 75 sq.ft.? Broan-NuTone's offering might be worth looking into.
The motor of this set is designed for continuous operation. At maximum, it emits only 0.3 Sones which makes it one of the quietest models on my list.
This fan requires an area of 2″ x 8″. The installation process is also very simple and can be done without taking any assistance from professionals.
Besides this, it comes with hanger bars that make it further easy to install them on any construction. The 6-inch ducting give an overall boost to its performance.
The fan is HVI Certified. This implies that the product has gone through rigorous testing of airflow (CFM rate) and noise level (sone) and has cleared them successfully.
It is also energy star qualified to meet or exceed federal guidelines for energy efficiency.
There a few drawbacks as well, though.
The 6-inch ducting might require you to change the existing ones. It is not rated for a tub or shower. If that's your use case, you may check out Panasonic WhisperFitEZ Fan. Design isn't the most exciting, but I'm sure most of use could certainly make do with it.
Despite having a few flaws, it is still a noteworthy product. The simplicity of the installation process and energy-efficiency is quite unmatched.
Pros:
Quiet operation
HVI Certified
Energy star qualified
Easy to install
Cons:
The 6-inch ducting might require you to change the existing ones
Not rated for a tub or shower
3. BV Ultra-Quiet Ventilation & Exhaust Fan
Are you on a budget and wish to install a quiet bathroom fan in a small bathroom? If yes, BV Ultra-Quiet might be what you're looking for.
It is one of the quietest models and uses Silent clever technology to cut off noise. At maximum, it produces about 0.8 sones of noise. If you wish to check out even quieter models, you may try Broan-NuTone Ceiling Bathroom Exhaust Fan that is almost 45% quieter.
It is capable of moving a large volume of air without creating any earsplitting sound. The stainless steel element housing body makes it very durable.
The heavy-duty motor is engineered for continuous operation. It is thermally protected which makes it very safe. It is best for ventilating a bathroom with a space of up to 90 sq. ft.
It has its fair share of downsides, though.
It doesn't come with a light so navigating in the dark might be an issue. According to a few customers, the grill is slightly difficult to seal properly to the ceiling.
Though it has a few drawbacks, it's durability and safety features make it a top-notch competitor.
Pros:
Quiet
Easy installation
Durable
Energy efficient
Cons:
Difficult to seal the grill to the ceiling
No lights included
4. Delta BreezSignature Exhaust Bath Fan
If you're on the lookout for a bathroom exhaust fan that also comes with a humidity sensor, the Delta BreezSignature might be worth your attention.
This is one of the quietest on my list and at most generates 0.3 sones. It is about 30% quieter than BV Ultra-Quiet Ventilation & Exhaust Fan.
The humidity sensor helps to determine when and for how long the fan should run, based on the amount of moisture in the room. The speed of the fan can be adjusted between normal mode and full speed via the wall switch.
The galvanized steel construction resists corrosion and adds to its durability.
This is an energy-efficient model and is Energy Star certified. This is extremely safe to use and comes with safety features that quickly stop the fan impeller as soon as they are obstructed.
This DC brushless fan is backed by a 3-year warranty.
There are a few negative points about this product as well. The weight of the fan is slightly on the higher end and hence you must ensure your ceiling is strong enough. This likely isn't going to be an issue for most people, though it is still worth keeping in mind, especially if you have an older construction. Installation isn't as straightforward as most products on this list—but it is still doable.
Nevertheless, its efficiency and durability seem to override these minor flaws.
Pros:
Clears off bathroom moisture very fast
Quiet operation
Lights are provided
Durable
Cons:
Installation might seem a bit tricky
Slightly heavy
5. Hauslane BF200 Electric Bathroom Fan
If you are searching for an exhaust bathroom fan with LED lights to offer better visibility in the dark, the Hauslane BF200 might be worth a look. It is an ideal choice for rooms measuring up to 120 square feet in size.
It operates quietly at 1.2 sones. In case, you wish to look for quieter models, you may try Panasonic WhisperFitEZ Fan.
This exhaust fan provides powerful ventilation that removes smells and odors from rooms to a great extent. It is ideal for use in large bathrooms of large family homes or shared housing.
A double hanger bar system makes it easy to install them. Also, the parts are separable which facilitates easy replacement with the existing fan. It is easy to fit between most ceiling joists due to the standard size housing. It features a 6W LED light panel to provide optimal illumination of the room.
It is one of the safest models and is ETL listed. It is backed by a two-year warranty from the manufacturer. These electric bathroom fans are certified energy-efficient.
It has a few downsides too.
The LED light seems to emit a blueish cold colored light, which you might not like. To be honest, this is just nit-picking though, and isn't likely to be an issue for most people. Besides this, the noise rating is slightly on the higher end for this fan compared to the other products.
Nevertheless, these flaws are quite trivial when compared to the advantages it brings to the table. In terms of getting an exhaust fan for larger bathrooms, this product seems much more competent due to its efficiency over the rest. The installation process is also hassle-free.
Pros:
Easy to install
LED lights provided
Energy-efficient
Removes odor effectively
Cons:
Noise rating slightly higher
the blueish, cold colored light might not be appealing to all
The Buying Guide: Factors to Consider While Purchasing the Product
1. Noise Level (Sone Rating)
The noise level of an exhaust fan is measured in terms of a unit called sone. The sound emitted by the fans is actually a result of the air movement.
The higher the amount of airflow, or the higher the CFM (Cubic Feet Per Minute), the louder is the set. Generally, fans that have a noise rating in the range of 0.5 to 1.2 sones are considered quiet.
Therefore to prevent getting bothered with terrible noise due to moving blades, checking out the noise rating and comparing it with other products is a good idea.
From the listed products, the ones that are ultra-quiet are Panasonic WhisperFitEZ Fan, Broan-NuTone Ceiling Bathroom Exhaust Fan, and Delta BreezSignature Exhaust Bath Fan that only emit 0.3 sones or even less during their operation.
2. Measure the Room Size (Airflow Capacity) (CFM)
This is one of the most important factors you must consider before buying one. The airflow is measured in a unit called CFM (Cubic Feet Per Minute). It is a measurement of the velocity at which air flows into or out of a particular space.
Choosing a low CFM rated fan will result in inadequate removal of the moist and stale air. The method of calculating the correct CFM is depicted in the below video.
Generally, a fan with a CFM rating of 50 should be sufficient for most bathrooms. The airflow rating should be 1 CFM for every 1 square foot.
In case the overall area of the bathroom exceeds 100 square feet then you must add 50 CFMs for every toilet and 50 CFMs for each shower and bath combination.
Panasonic WhisperFitEZ Fan has a high CFM rating of 80 or 110 CFM and is ideal for rooms with a size of up to 110 sq.ft.
3. Energy Efficiency
It is guaranteed that after installing any new appliance in the house, the electric bill rises. But to keep it under acceptable levels you should look for products that are energy efficient.
The same goes for bathroom exhaust fans. To ensure that they do not drain a whole lot of energy, you can go for models that are energy star rated.
The exhaust fans that have this rating tend to minimize energy consumption by as much as 70 percent which is a great deal.
Some energy star certified products are Panasonic WhisperFitEZ Fan and Broan-NuTone Ceiling Bathroom Exhaust Fan.
4. Additional Features
Besides just circulating air inside the rooms, exhaust fans can have numerous other additional features.
Some of them have humidity sensors to maintain an ideal humidity level in the bathroom. They can automatically turn on when high humidity levels are sensed by it. Again when the limits reach normal, they automatically shut off.
Some exhaust fans are equipped with motion sensors that sense movement and automatically turn on the fan and/or light.
Other additional features include the presence of an in-built heater to warm up the room. A timer might also be present to regulate the time for which the fans must operate and then automatically turn off. This feature helps save energy.
One such exhaust fan with humidity sensors is Delta BreezSignature Exhaust Bath Fan.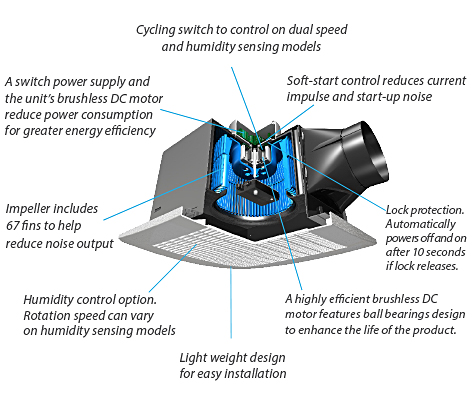 Frequently Asked Questions
1. How Many Sones is a Quiet Bathroom Fan?
Generally, exhaust fans that have a noise rating in the range of 0.3 to 1.2 sones are considered quiet.
2. How Many CFM do I Need for My Bathroom Fan?
The key principle to estimate the accurate CFM value is that you will need at least 1 CFM per square foot of room area. For a space of up to 50 sq.ft., 50 CFM fans are sufficient. In case, you have a space greater than 100 sq. ft. then you would need an additional 50 CFM for bathtub, 100 CFM for a jetted tub, 50 CFM for a shower, and 50 CFM for the toilet.
3. How Can I Make my Exhaust Fan Quieter?
Here are a few tips to make your exhaust fan quieter:
use sound-dampening materials
use foams to cover the lining of the ductworks
use silencers
apply vibration isolation pads under fan installations
install the fan correctly
go for a quieter exhaust fan
4. Does the Bathroom Fan Need to Vent Outside?
Yes, it is necessary to vent the bathroom fan outside. This is so because if the vent to the attic it may cause damage due to accumulation of moisture. This is even more detrimental in the areas that have chilling cold temperatures.
The Bottom Line
Getting a room with ambient air is now easy with these amazing range of bathroom exhaust fans with amazing new features.
After gauging the pros and cons of all the products, I believe that Panasonic WhisperFitEZ Fan is the best since it produces a minimum amount of noise and is energy-efficient. It has 80 or 110 CFM and is a good choice for rooms of up to 110 sq.ft.
The first runner up is Delta BreezSignature Exhaust Bath Fan. It comes with a humidity sensor to automatically turn on and turn off to adjust the moisture level in the room and generate 0.3 sones only.
The second runner up is BV Ultra-Quiet Ventilation & Exhaust Fan. In terms of budget, this is the best of all the products mentioned on my list. Despite having such an affordable price, its built quality is mention-worthy. It has a CFM value of 90 and a coverage area of about 90 sq.ft. It is a quiet and energy-efficient model too.