Did you know that you can save up to 30% on your energy bills just by keeping your HVAC system clean & running effectively?
(Source: U.S. Department of Energy)
But not only that…
A tuned-up HVAC system means less hassle of repairs, a longer equipment life, and safer equipment operation in general. To prevent surprise breakdowns and to keep your HVAC system operating at peak efficiency, it's important to learn the ins-and-outs of its maintenance. 
Therefore, I designed this handy visual and interactive checklist you can follow to keep your system running in top-notch condition. 
Here's a brief overview of what you will find in the below checklist.
Total Tasks on this checklist
Maintenance Checks: By the Numbers
Number of checks to do right-away
Number of checks to do monthly
Number of checks to do annually
Maintenance Checks: By the Cost
Replacement of Air Filters ($15-$60)
Average fees for maintenance service ($70-$100)
Replacing evaporator coils ($230-$400)
Replacement condenser coils ($500-$750)
Note: Click the image to access the full-resolution version.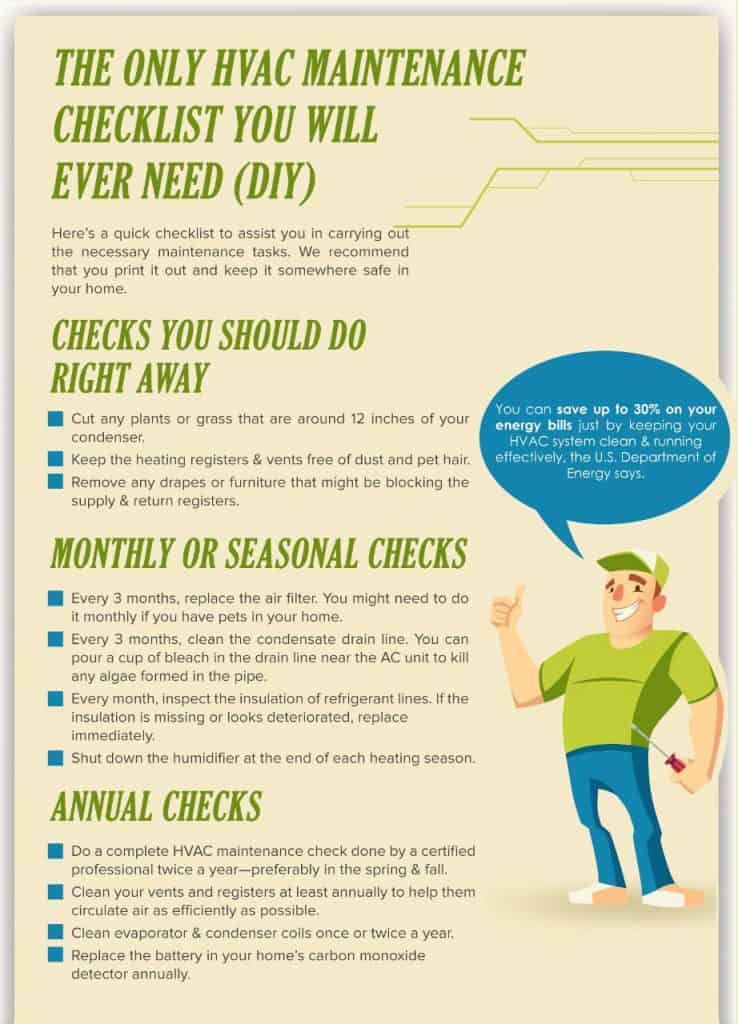 Checks You Should Do Right Away
Cut any plants or grass that are around 12 inches of your condenser.

Keep the heating registers & vents free of dust and pet hair.

Remove any drapes or furniture that might be blocking the supply & return registers.
Monthly or Seasonal Checks
Every 3 months, replace the air filter. You might need to do it monthly if you have pets in your home.

Every 3 months, clean the condensate drain line. You can pour a cup of bleach in the drain line near the AC unit to kill any algae formed in the pipe.

Every month, inspect the insulation of refrigerant lines. If the insulation is missing or looks deteriorated, replace immediately.

Shut down the humidifier at the end of each heating season.  
Annual Checks
Do a complete HVAC maintenance check done by a certified professional twice a year

—

preferably in the spring & fall.

Clean your vents and registers at least annually to help them circulate air as efficiently as possible.

Clean evaporator & condenser coils once or twice a year.

Replace the battery in your home's carbon monoxide detector annually.