As an Amazon Associate, I may earn from qualifying purchases at no extra cost to you. These are the same products I'd recommend to friends and family.
Picture this:
You're on the lookout for an automotive sound-deadening material. You come across Dynamat, which is a high-quality sound deadening material that helps filter out external noise.
You're just about to pull the trigger and buy it but…
You notice something:
It's pricey. A lot.
It makes you wonder if there are any cheaper alternatives to Dynamat that are equally efficient in reducing car noise?
Well, you're in luck.
My husband, Daniel, was also hunting for budget-friendly ways to eliminate car noise, so he went looking for the best Dynamat substitutes.
After several hours of research, he has shared his top Dynamat alternatives here.
Best Budget
1. Noico Sound Deadening Mat
Noico is one of the best cost-effective alternatives to Dynamat.
It can be installed anywhere in the vehicle and on any surface like doors, floors, hoods, and many more.
t is made out of the Vibro-dampening layer of butyl which offers perfect noise insulation. The product is 80 mil in thickness and can cover up to 36 sq.feet.
This automotive self-adhesive insulating material is a full weighted sound deadening material. It's also about 1.5x thicker than its earlier version.
Each pack comes with 9 folded sheets. It's also odor-free—which is always a nice bonus.
High-temperature areas of the vehicle could use better insulation, though.
Pros:
Budget-friendly
Highly efficient
Full weighted
Very little odor
Heat-resistant
Cons:
Hotter parts of the car might produce a rattling sound
2. FatMat Self-Adhesive Rattletrap Sound Deadener
The FatMat comes with an install-kit along with the sound-deadening material. The install-kit includes the instructions, knife, roller, and FatMat Sound Control Decal.
RattleTrap helps to cut off unwanted noises drastically offering you the peaceful ride you desire. It enhances the bass and provides you with a better audio experience.
This super stick adhesive material is very effective even at very high temperatures due to aluminum coating. It has got a thickness of 80 mils.
The product is pliable and can be cut into pieces very easily. It easily conforms and fuses to cover metal and hard surfaces.
You might need to reapply the adhesive to some sheets to ensure they don't fall off though.
Pros:
Installation kit included
Enhances bass
Tolerates high temperatures
It is a super stick self-adhesive
Flexible and can be cut effortlessly
Heat-resistant
Cons:
Might require to reapply adhesive
3. Siless Sound Deadening Mat
Siless is another solid alternative to Dynamat.
This peel and stick sound deadening material is 80 mils in thickness and offers maximum sound deadening effects. They can cover an area of 36 sqft. It can be also used in industrial automobiles besides being used in personal vehicles.
This is a pack of 14 sheets. These can be cut into pieces easily in order to apply them to different parts of the vehicle and dampen the vibrations.
The only thing you might want to note is that you might need to apply a considerable amount of pressure to stick it. Although this is not that difficult—especially if you have help.
Pros:
Cost-effective
Strong and solid
Easy to install
Cons:
Requires considerable pressure to stick it
4. Kilmat Car Sound Deadening Mat
Kilmat is another sound deadening mat that's easy on your wallet.
It offers self-adhesive noise insulation, thanks to its 80 mil thickness. You can verify if its installed properly using the indicator provided.
In the package, you will be provided with 34 sheets which can cover up to 36 feet. It can tolerate the high-temperatures of the different parts of the vehicle efficiently due to the aluminum coating.
The installation process might be slightly trickier—but if you have help—it shouldn't be much of a problem.
Pros:
Cost-effective
Light-wight
Tolerates high temperatures
Strong adhesive
Cons:
Slightly tricky installation process
5. HushMat 10200 Ultra Black Foil Door Kit
HushMat comes with a foil starter kit with a damping pad.
It's proven to reduce the heat of your car by up to 40 percent. It can offer noise insulation in a wide range of temperature conditions ranging from 30F to 400 Fahrenheit which makes it one of the best alternatives to Dynamat.
The installation process is straightforward. It has been designed perfectly to fit the specifications of OEM. It easily wraps around the tighter areas.
It comes in a pack of 30 sheets which can cover most of the parts of the vehicle. You can overlap the mats for increased sound-deadening performance.
My only gripe is that it cannot be used to cover the door.
Pros:
Foil starter kit with a damping pad
Reduces road noise and vibrations
40% reduction in heat
Works in a wide range of temperature conditions
Wraps easily around the tighter areas
Asphalt free
Cons:
Buying Guide: Factors to Consider Before Buying
Before we dive into the buying guide details, I quickly want to depict the various areas where you can apply these materials:
1. Material Type
Some of the automotive sound-deadening materials are made using thick fiber material to absorb all the vibrations from the floor of the vehicle.
Foams are also used to help reduce echoes in the interior of the car by preventing reverberations of sound waves.
Some sound deadening products contain asphalt which is the main cause of the odor in the interior of the cabin. I'd recommend you go for asphalt-free products since they can be harmful to the human body.
Mats containing the viscoelastic polymer layer along with aluminum can effectively baffle low-frequency noises.
Butyl based sound deadening products like Noico are harmless and effective in reducing unnecessary noises.
2. Sound Isolation Type
Automotive sound deadening compounds can either serve as sound-absorbing material or act as sound blockers.
HushMat 10200 Ultra Black Foil Door Kit is an excellent product to attenuate noise due to road vibrations and distortions. There are mats that are very efficient at reducing the low-frequency noises and structural sounds.
3. Thickness & Size
The thicker the material is, the better is its noise-blocking performance. Hence, it's essential to find a mat with a sufficiently thick material.
Proper shape and size of the pieces of mat are also a must so that all the parts of the vehicle can be properly covered to attain the main objective. Some brands like HushMat also sell them in sheets. You can cut the material of FatMat to easily get perfect sized pieces.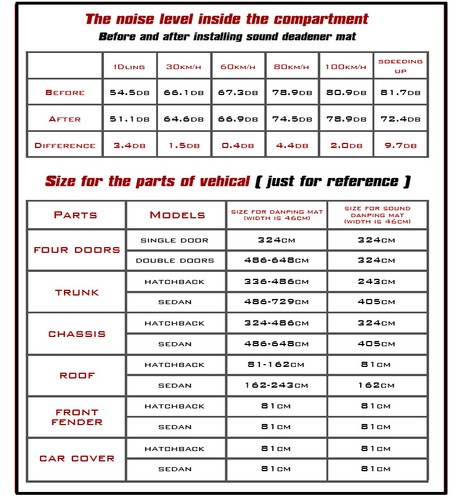 4. Heat resistance
Not all sound-deadening materials can tolerate high temperatures. It is common that the parts of the vehicles get heated up as they run, hence, you need to purchase such a product that will not fail in excessive heat.
Fortunately, all the products that I have mentioned earlier will function perfectly in such high-temperature conditions.
5. Are Rollers Included?
Rollers are needed to properly install the products to deaden the sound. But all brands do not provide you with rollers along with the main product.
The FatMat has an installation kit included in the package that contains rollers.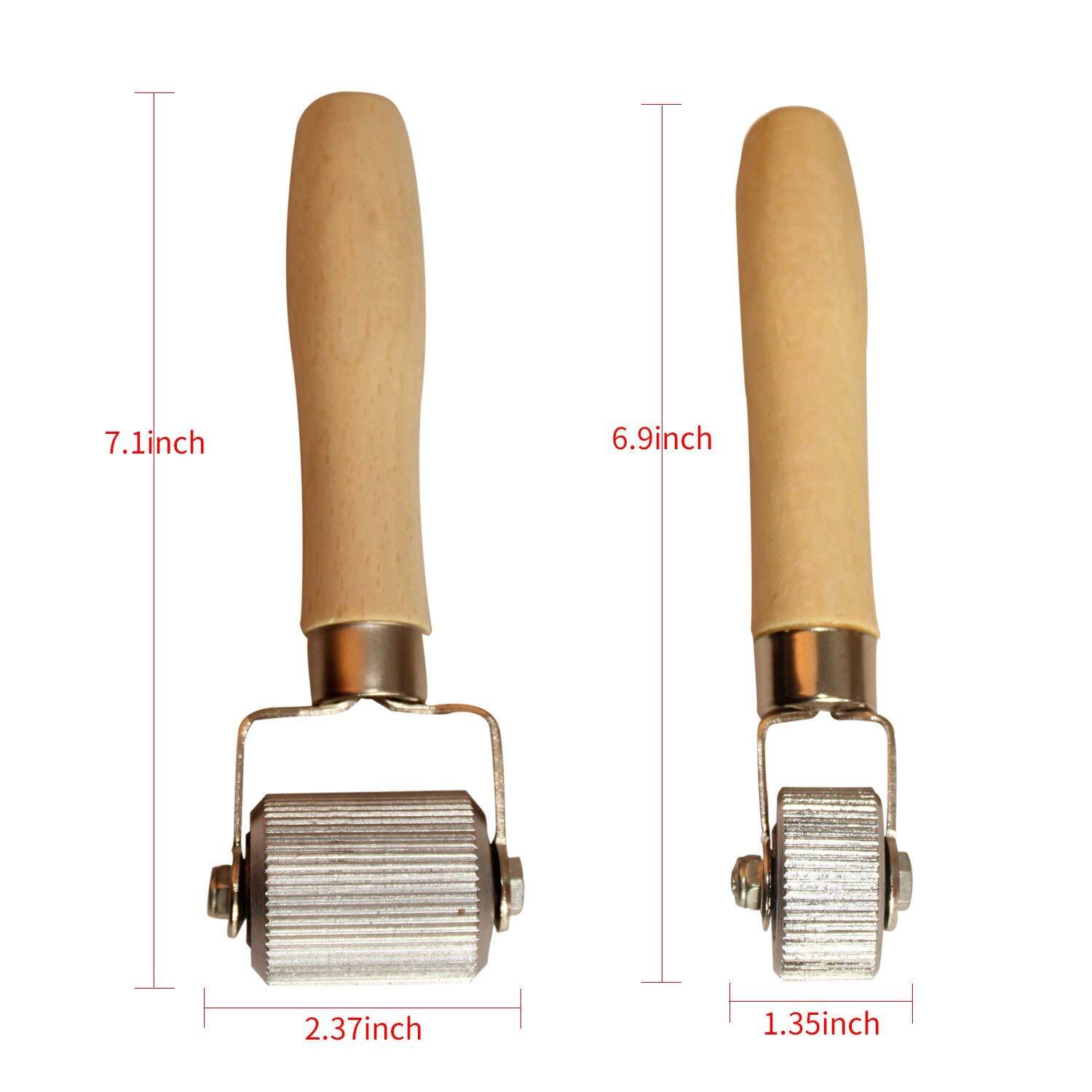 7. If the Material is Odor-free
The main ingredient which is responsible for the odor in the sound deadening compounds is asphalt. The bad smell can really make your rides very uncomfortable.
8. Oil-resistant
Not all automotive sound deadening products are oil-resistant. It is always advised to go for a sound deadening material that is resistant to oil else, the functioning of the material may get disrupted when exposed to oil.
Some of the best oil-resistant products in our list are Noico Sound Deadening Mat and FatMat Self-Adhesive Rattletrap Sound Deadener.
Frequently Asked Questions
1. Peel and Seal vs Dynamat: Should you use Roofing/Flashing materials for soundproofing?
In my opinion, no.
Peel and Seal is another cost-effective alternative to Dynamat but it is not so effective in its operation. It is a self-adhesive instant waterproof repair and flashing material.
Also, the Peel and Seal is that is an asphalt-based product. Asphalt has been scientifically proven to be extremely harmful to human health. It can cause major health issues like headaches, skin rash, sensitization, throat and eye irritation, cough, and skin cancer.
Therefore, I recommend you go for non-asphalt products like Noicio and Hushmat.
Here is a table to depict the differences between Dynamat and Peel and Seal.
| | | |
| --- | --- | --- |
| | Dynamat | Peel & Seal |
| Price | > $4/sqft | < $2/sqft |
| Asphalt in Mixture | No | Yes |
| Asphalt Odor | No | Yes |
| Sag Temp Rating | > 240 °F | < 240 °F |
| Nominal Thickness (mil) | 67 | 45 |
2. GTmat vs Dynamat
GTmat is another strong competitor to Dynamat. It is engineered with low-odor asphalt and contains higher heat resistance properties. The product comes in two rolls. They are 25 sqft in length and 16 sqft in width.
Besides this, in the package are also included 2 GTmat decals, a biodegradable degreaser, and a roller to help you in installing the product easily.
The only difficult part is that you will have to constantly apply pressure while using the roller during the installation process.
Here's a quick comparison between the two:
| | | |
| --- | --- | --- |
| | Dynamat | GTmat |
| Price | > $4/sqft | < $2/sqft |
| Asphalt in Mixture | No | Yes |
| Asphalt Odor | No | less |
| Sag Temp Rating | > 240 °F | > 240 °F |
| Nominal Thickness (mil) | 67 | 50/80 |
3. What Can You Use Instead of Dynamat?
Dynamat is a well-reputed brand known for its effectiveness as sound deadening material. The only downside is that it's a bit pricey.
Fortunately, there a number of budget-friendly and effective alternatives.
From my experience, I'd recommend you go for Hushmat or Noicio.
6. Is Soundproofing Your Car Worth It?
Yes, definitely.
With the help of a good quality sound deadener, you can reduce unwanted road noises that will prevent you from getting distracted while you drive.
You can enjoy clear communication with people sitting next to you or on the phone without yelling at them to make yourself audible. You can also enjoy listening to the stereo without having to increase the volume to compensate for the noises created by the different parts of the vehicle.
The Bottom Line
In my opinion, Noico Sound deadening mat is the best Dynamat alternative for most people. It's 80 mils in thickness and comes with a vibro-dampening layer of butyl that offers perfect noise insulation.
The FatMat is also 80 mil in thickness and features a super-stick adhesive material that's effective even at higher temperatures, thanks to its aluminum coating.
The HushMat can effectively attenuate road noise and vibration and reduces the heat of the vehicles by up to 40 percent.