As an Amazon Associate, I may earn from qualifying purchases at no extra cost to you. These are the same products I'd recommend to friends and family.
Are you troubled by excessive noise from your tires while you drive? Do you wish to have a peaceful and noise-free driving experience?
I found myself in a similar situation a while ago. Every time when I would undertake a ride, the unwanted tire sound kicked in, leading to a sub-par stereo-listening experience. So, I decided to figure out how I could solve this problem.
After lots of evaluation, I have cracked the code of finding the best quiet tires for almost every kind of vehicle—one of which you can pick up today itself.
Ready to pick one for you?
Let's get started!
Product Name
Editor's Choice
Michelin Primacy MXV4
Goodyear Assurance Comfortred
Goodyear Wrangler DuraTrac
Ideal for
Family sedans and mini-vans
Good pick for light trucks
Editor's Choice
Product Name
Goodyear Assurance Comfortred
Ideal for
Family sedans and mini-vans
Product Name
Goodyear Wrangler DuraTrac
Ideal for
Good pick for light trucks
Note: If you're serious about road-noise reduction, you might also love my ridiculously detailed buying guide to help you select a top-notch and quiet motorcycle helmet.
1. Michelin Primacy MXV4 Radial Tire
This product is ideal for people who are in search of perfectly quiet tires. These tires have been designed to provide you with a smooth and comfortable ride on both dry and wet pavements. This is so due to the newly patented rubber tread compound along with auto-blocking sipe technology.
These tires are excellent for coupes and sedans, family minivans and crossover utility vehicles.
The tires also feature the Zero Pressure Technology which enables you to drive up to about 50 miles with zero air pressure. Users get to enjoy long-lasting even treadwear with the help of Michelin's Advanced MaxTouch Construction.
Computer-optimized design is utilized to ensure that the construction of the tires if just perfect to provide a noise-free ride. To provide more biting edges to offer a perfect grip on the road, the tires have active sipes that lock together alternately.
Many users reported that the tires last for almost 60,000 miles.
A downside of it is that they do not work that efficiently on snowy tracks. If you're looking for quietest tires for snow, you should check out Bridgestone Blizzak WS80, which is #6 on our list. They also create noise on warped roads. Many users have mentioned the fact that these are one of the best OEM tires they have ever used and the tires meet their treadwear rating.
Pros:
Best overall quiet tires
Runs smoothly on dry pavements.
One of the best OEM tires.
Numerous biting edges to offer perfect grip while you drive.
Excellent for coupes, sedans, family minivans, and cross utility vehicles.
cons:
Inefficient to provide smooth, noise-free rides on snowy tracks.
Uneven tread wearing might be an issue before the mentioned time period.
2. Goodyear Assurance Comfortred Touring Radial
These Goodyear tires are excellent for family sedans, mid-range, and upscale coupes and mini-vans. These are one of the best quiet tires which is built for great rides on real-life roads. The quality of the materials used in its fabrication is pretty good.
These tires are constructed for different vehicles and hence are available in multiple sizes. In order to provide dry and wet traction, the tires have an asymmetric tread design with independent shoulder blocks.
Improved wet traction is provided with four circumferential grooves which help to remove water. The tread patterns are just perfect for a smooth ride on rough pavements.
The tires provide excellent insulation against vibrations and damages due to potholes due to the presence of a layer of rubber between the steel belts and tread. You can enjoy smooth rides due to its designed polyester cord bodies and twin steel belts. Many customers have reported that the tires work pretty well on light snowy tracks.
Some users have complained that they faced balance issues with these sets of tires. Some customers have also reported that at highway speed, the front end shakes.
pros:
Ideal for family sedans and mini-vans
Excellent insulation against rocky terrain and vibrations.
Runs well on light snowy paths.
The tires offer improved wet traction.
cons:
Balance issues may be faced with these tires.
At highway speeds, the front end may shake.
3. General AltiMAX RT43 Radial Tire
These all-season touring tires are perfect for those who wish to enjoy the noise-free ride without burning a hole in their pocket. These super economic tires provide powerful all-season traction. A smooth ride is ensured with its built-in safety features.
Users are notified of any alignment or tread wear issues via smart monitoring technology. The tread compound makes the tires long-lasting and durable.
The tires provide a better grip on snowy and wet roads with PASD Technology. Tread distortion and abrasion are also lowered due to LSA Technology.
All the road vibrations are absorbed very well due to the twin cushion Silica tread compound along with long wear above a low-density foundation compound.
Low Surface Abrasion Technology construction helps to reduce tread distortion. But many customers who have used this product have reported that they had to face the problem of blowouts with these tires.
The symmetric tread design along with the center rib and independent tread blocks makes use of sound wave suppression technology which cuts off the unnecessary sound coming from the tires. But a major problem faced by the users was that it does not help reduce money spent on fuel.
Pros:
lowest in budget
works well on light snowy tracks
security features keep you alert of any problem in the tires
road vibrations are well absorbed to ensure noise-free rides
cons:
consumers reported problems due to blowout with these tires
cannot save money on fuel
4. Goodyear Wrangler
If you are looking for perfect quiet tires for your SUVs, this is an ideal choice. This traction light truck tire serves multiple purposes. Traction is provided in a wide variety of conditions with its perfect tread design. Customers have reported that these sets of tires have excellent durability.
Confident handling is possible due to its large tread blocks which provide a stable footprint. Enhanced traction is ensured in muddy and snowy paths with TractiveGroove technology.
These tires offer aggressive tread design that can tackle moist, dry, and snowy weather conditions. The tires also contain the Mountain Snowflake symbol.
It is well protected from rough patches and objects due to its durable rubber compounds. But a major disadvantage faced by the users with these tires was that they could become a bit noisy at higher speeds. Also, they had to face the problem of tread wearing.
Pros:
ideal quiet tires for SUVs
highly durable and long-lasting
improved traction in mud, snow and dry paths
cons:
noisy at higher speeds
tread wearing is faced with these tires
5. Goodyear Wrangler DuraTrac Radial
These traction light tires are ideal for light trucks, multipurpose vans, sport utility, and full-sized pickups. They can work perfectly well in wet, dry, and snowy pavements.
In order to increase traction, it has a symmetric tread design that has got a highly angled center tread block along with large shoulders. The TractiveGroove Technology, at the base of the tire's grooves, offers numerous biting edges that increase traction in muddy and snowy areas.
Protection of the wheels from accidental damage is ensured by a built-in rim protector. Rim lock stops the wheel slip. Self-cleaning shoulder blocks are present in them.
They work smoothly on snowy tracks and are provided with Mountain Snowflake symbol. The downside of these tires is that they fail to provide a quite trip at high speeds.
These tires are provided with a Q speed rating. Consumers report that the tires are very durable and can handle rough and rocky terrain. it has also been mentioned by many users that the tires provide excellent lateral stability and traction.
pros:
ideal for light trucks
works smoothly in wet, dry and snowy pavements
self-cleaning shoulder blocks with built-in rim protector
enhanced traction with lateral stability is ensured with these tires
cons:
becomes noisy at high speeds.
6. Bridgestone Blizzak WS80 Winter Radial Tire
These tires are excellent in providing you with a quiet and smooth ride on snowy paths. The hydrophilic coating helps stop the vehicle almost immediately on wet, icy paths.
In these tires, the contact pressure is distributed uniformly with the new cavity shapes on them.
Road grip and braking on snowy tracks happen perfectly due to the bite particles which act like microscopic studs. They grip the ice perfectly with a multicell compound which has millions of pores. Their excellent performance is guaranteed by the consumers who have used it.
These tires are capable of stopping a vehicle traveling at only 30 miles per hour an average of 35 feet shorter on ice which is quite amazing!
3D Zigzag sipes also ensure a better grip and perfect braking on the pavements.
My only gripe is that it had a better tread life.
pros:
perfect on snowy tracks
excellent grip on ice with the bite particles, a multicell compound with numerous pores and 3D zigzag sipes.
the hydrophilic coating helps to stop the vehicles instantaneously.
cons:
tread life of these tires is not quite good
Before you go about making a choice, considering a few key points is necessary so that you can pick up the perfect ones.
Buying Guide: Factors to Consider Before Buying
Here's a rundown of the most crucial factors you must take into account before making the purchase.
All the products mentioned on this list have been thoroughly assessed on the basis of these attributes.
HOW TO CHOOSE THE PERFECT QUIET TIRES FOR YOUR SUV, TRUCK, AND CARS
Here are some important guiding tips to help you enjoy a smooth, noise-free, and comfortable driving experience.
Different tires are designed to meet specific requirements and produce different amounts of noise.
1. The Different Types of Tires
SUVs and Light Trucks:
Highway Touring tires have a ribbed design. They have symmetrical blocks. Goodyear Wrangler happens to be the perfect pick up for your SUVs.
All-Terrain has the open-tread design of off-roads and also works perfectly well back on roads. All-Terrain is louder due to the presence of large voids between the tread blocks. Goodyear Wrangler is the best of the entire list as a good all-terrain tire.
Studded Winter tires provide excellent grip in hard-packed icy tracks. The studs are inserted into a mold dug into the tire treads. But they happen to be the noisiest.
Studless Winter tires push away the thin film of water, ice, or snow from under the tires with deeper tire treads with inherent slits. They prove to be more flexible at low temperatures but are also very loud.
Mud Terrain is used in extreme off-road terrain. It is quite noisy on hard-driving surfaces as they have the largest voids in between treads for traction. The grooves do not fill up so that the tires do not lose traction. The best mud-terrain tire on the list is Goodyear Wrangler.
Thus, for light trucks, Goodyear Wrangler DuraTrac Radia happens to be a perfect choice. For SUVs, Goodyear Wrangler proves to be ideal.
Passenger Vehicles:
Summer touring tires have improved speed and agility. They provide you with a wonderful, quiet driving experience in warm temperature conditions. They perform very well in wet and dry conditions.
Performance tires provide stiff steering responses. They produce less noise at high speeds. They have better pavement ride. these tires have higher speed ratings.
All-Season Touring tires provide you with a smooth and comfortable ride but are not less efficient at warm temperatures compared to summer tires. They are louder than the summer touring tires. They can provide traction in winter.
Winter and Studded Winter tires function excellently on snowy paths. Treads have got a larger gap to provide better traction on snowy pavements. The material of the tires makes it pliable at freezing temperatures. These tires are relatively noisier. Bridgestone Blizzak WS80 Winter Radial Tire is the best pick up.
SUV tires are the perfect choice to enjoy a comfortable ride. They can be used for light trucks. Goodyear Wrangler is the ideal for your SUV.
Thus, for your mini-van Goodyear Assurance Comfortred Touring Radial is ideal.
2. Tire Size
The surface area which comes in contact with the surface directly adds to the amount of noise that is produced. The narrower the tire is, the lesser the noise it will produce.
But this should be kept in mind that the size of the tires depends entirely on the vehicle you are using.
Michelin Primacy MXV4 Radial Tire is the quietest of all and it possesses the perfect size.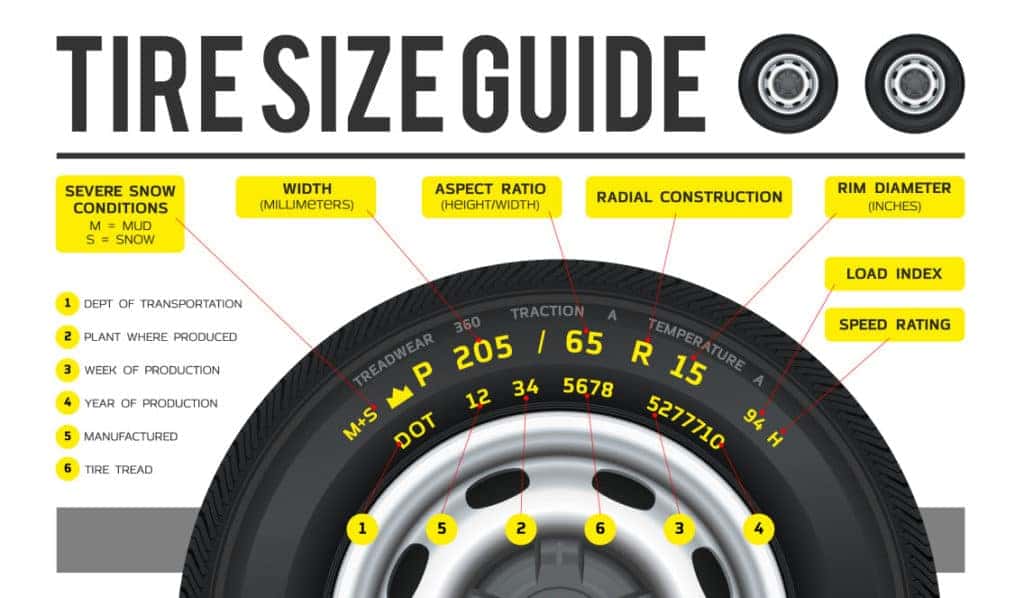 3. Tyre Material
The tires can be made up of either hard rubber or soft rubber. Shape retention is better in hard rubber but it also produces greater noise when rough objects like gravel come in its contact.
Soft rubber, on the other hand, is more flexible and grips the pavement better. This results in almost no noise when you drive them over rough terrain.
Michelin Primacy MXV4 Radial Tire is perfectly soft and offers a better grip on the road.
4. Tread blocks
Uniformly shaped tread blocks (segments of the tire between the grooves) produce a whining sound, called the harmonic noise. In order to minimize this, small tread blocks of different shapes are necessary for the tires.
This tends to produce noises at different pitches which ultimately cancel each other and provide you with a much peaceful journey.
Goodyear Wrangler has got the perfect space between its tread blocks which gives you quiet rides.
5. Voids
As the wheels roll, the air gets trapped in the voids (spaces between the tread blocks), which produces noise. They also help in ejecting any moisture that may enter the tread blocks and interfere in the traction.
Tires with perfect voids in them happen to be Michelin Primacy MXV4 Radial Tire. These happen to be the smoothest riding tires.
6. Channels
Channels (grooves which run along the entire circumference of the tire tread) help to reduce the noise and are present in highway tires. Since it does not contribute to traction, they are absent in snow, all-terrain, and mud-terrain tires. If you are troubled with problems in channels you may like the Michelin Primacy MXV4 Radial Tire.
7. Shoulders
The shoulder is the term used to depict the edges of the tire's treads. They are present in sloped or semi-closed shape in the highway tires to reduce noise.
In all-terrain tires, open shoulders are used and are much noisier.
Open shoulders that are almost square are utilized in snow, heavy-duty, and mud-terrain to provide better traction. You can enjoy the feature of self-cleaning shoulders in Goodyear Wrangler DuraTrac Radial.
8. Speed and Weight
Driving at low speed tends to produce minimum sound. In order to drive at high speed, thicker tires are required which means a noisier ride.
If you prefer driving at lower speeds, then Goodyear Wrangler is ideal and will surely provide you with a quiet ride.
9. Road and Weather Conditions
The amount of noise produced is greatly affected by the terrain you are driving through. A rocky pavement is sure to produce more noise as compared to a smooth road.
Similarly, tires that roll on icy pavements produce a tremendous amount of sound compared to summer tires.
Bridgestone Blizzak WS80 Winter Radial Tire offers you a quieter ride on ice-packed roads compared to other winter tires. In the case of all-season tires, Michelin Primacy MXV4 Radial Tire is the best choice.
Frequently Asked Questions
1. Do Tires Get Louder as They Wear?
All tires have to face extremes of temperature, pavement surfaces, and other weather conditions. The tread designs do not remain that smooth and intact as they were during installation due to excessive use. This adds to the noise.
2. Why are My Tires Noisy?
There are multiple reasons for this.
Firstly, the material that has been used for constructing the tires matters a lot. Soft pliable rubber is sure to produce less noise compared to hard rubber.
Larger tires mean larger surface areas touching the surface. Surface area and noise production are directly proportional. Hence switching to narrower tires can help you get a peaceful ride.
As the tires roll through the pavement, the air gets trapped in the grooves between the tread blocks, which produce a humming noise. Thus, by reducing this space, noise can be decreased.
All tires are built to serve well with respect to a particular type of weather condition. Winter tires are so designed that they happen to make more noise than summer touring tires.
The quietest ride can be enjoyed better in a smooth asphalt road compared to other coarse pavements.
Noise production can also be curtailed by driving at lower speeds. At higher speeds, more air tends to pass through the tread patterns producing higher sound.
3. How to Know if a Tire is Quiet or Not?
A tire is quiet only if it produces a minimum amount of noise at both high and low speeds. You won't hear a humming sound if you drive a good quality tire.
Besides this, if the tire has got tread blocks of varied shapes which creates a pitch pattern, has got shoulders and circumferential ribs with grooves in between and is narrow in size, then the tire might be a good one.
Soft rubber composition also curtails noise production.
4. Does Tire Tread Affect Road Noise?
If the tread blocks are large in size then a huge amount of air will circulate through the grooves and voids which will certainly create high sound. The traction tires also produce loud noise due to the space between the lugs.
Also, tires that are nearing the end of their tread life also tend to produce more noise.
Due to continuous usage, when the tread loses its uniform shape and pattern, it creates unnecessary noise.
5. How do I Make My Tires Quieter? Any More Tips?
You can enjoy peaceful and comfortable rides with minimum noise by following these tips:
Drive at low speeds so that the air circulation is reduced in the tires, which in turn will reduce the noise. Try to keep the tires inflated completely at the optimum recommended air pressure.
Maintaining the tires regularly like rotating, rebalancing, and aligning can also help reduce sound.
You can also replace your current set of tires with quieter ones.
The Bottom Line
Michelin Primacy MXV4 Radial Tire offers the best overall performance and is the quietest tire in the market. Its design is perfect to provide you with the quietest ride.
Goodyear Wrangler provides excellent traction in muddy and snowy tracks and the quietest ride on ice-packed roads can be enjoyed with Bridgestone Blizzak WS80 Winter Radial Tire.
If you need a hand with finding the quietest tires for your drive, let me know in the comment below and I'll be happy to chime in!